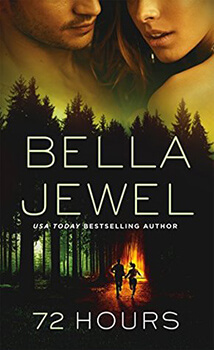 72 Hours
by
Bella Jewel
Published by
St. Martin's Griffin
on April 4, 2017
Genres:
Romantic Suspense
Format:
eARC
Source:
NetGalley
Pages:
304

Buy on Amazon
Goodreads
A FATE WORSE THAN DEATH.
It's all part of his sick game. A game he's been planning for an entire decade. Now everything is perfect: One woman and one man have been selected. They used to be a couple—and they can no longer stand one another. They are the perfect victims. He doesn't intend for the game to be easy. He wants to push them to the brink of insanity, to make his hunt real. . .
A DESIRE WORTH FIGHTING FOR. . .
The couple has been captured and dumped into a massive wooded area. There's only one rule in this fatal game: They will have 72 hours to find a way out before the sadistic serial killer begins his hunt . . .But what he never could have expected was the explosive passion that ignites between the two ex-lovers—one that makes them strong. Fierce. And determined to do whatever it takes to escape—and to survive. . .
This was a deliciously suspenseful read that was part psychological thriller and part second chance romance. Two former lovers find each other again under the most horrid of circumstances. A crazy serial killer's quest to kidnap, manipulate and HUNT a couple he sees as weak has begun. Lara crippled by self-doubt and Noah by frustration.
I know every inch of this forest.
Every. Single. Inch
They won't escape me.
Tomorrow, I hunt.
72 Hours is standalone told primarily from the heroine, Lara's, POV.  It is Bella Jewels first foray into romantic suspense and she does a great job.  Better known for her badass alpha centric contemporary new adult/ adult fiction; her approach to this story is different and appealing.
A significant event happens to Lara that lead to her withdrawing from herself and her relationship with her ex-lover Noah.  She became a shadow of her former self as she's plagued by guilt and when she finds Noah in a compromising situation Lara turns her back on the life they had built.
Noah, however, is devastated and becomes increasingly angry at Lara for refusing to hear him out.  Soon things will come to a head…  There is someone waiting for the perfect opportunity to present itself to take a seemingly broken couple and begin the hunt.  They'll be thrown into a maze of the serial killers making and forced to face their demons or die.
I liked the setting and the concept of the hunt with the serial killer constantly toying with them.  It created a tense atmosphere that kept me eagerly waiting for each encounter between the couple and killer.  Unfortunately, I had difficultly connecting with Lara.  I couldn't quite reconcile her extreme self-doubt and the event that caused it.  It felt like it was a huge over reaction.  As a result I didn't find Lara's behaviour totally believable.  I was also a bit frustrated at times with her treatment of Noah.
Noah has the general characteristics of the alpha you'd expect to see from Bella Jewel but I felt there was an underlying vulnerability that I loved.  I found his reactions much more authentic.
Regardless, the overall story was super entertaining and I would recommend it to anyone.  It's a fast paced, quick read that'll keep you glued to your seat until the last page is turned!  I think this genre suits the author and can't wait to read more from her!
I voluntarily read and gave honest review of an advanced copy of this book.