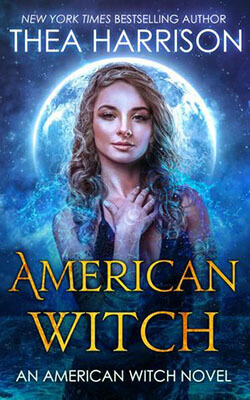 American Witch
by
Thea Harrison
Series:
American Witch #1
Published by
Teddy Harrison LLC
on April 29, 2019
Genres:
Paranormal Romance
,
Urban Fantasy
Format:
eARC
Source:
NetGalley
Pages:
418

Buy on Amazon
Goodreads
Power can change a person…

For months Molly Sullivan endures the inexplicable: electrical surges, car breakdowns, visions. She even wonders if she might be the cause… and wonders if she might be crazy. Then she discovers her husband has cheated on her. Again. Now Molly realizes she is a newly awakening witch and a woman pushed over the edge.

Revenge can shape a person…

Josiah Mason is a Powerful witch and the leader of a secret coven with a shared goal: to destroy an ancient enemy who has ruined many lives. Josiah lost years to this man, and his sole focus is revenge. He's prepared for every contingency—except encountering a beautiful new witch who understands nothing of the immense Power building within her or the attraction she wields over him.

Danger can bring them together…

When divorcing her husband, Molly uncovers a dangerous secret he's willing to kill to protect. She turns to Josiah for help, and they discover a connection between Molly's husband and Josiah's enemy.

As they work together, a spark ignites between them that threatens to become an inferno. But Molly is done compromising herself for any man, and Josiah's mission is his top priority. And the enemy is cunning, cruel, and drawing ever closer.

As the danger escalates, so does the tension between them. Is a lasting relationship possible? Will either of them live long enough to try?
Prepare for all kinds of magic, action and a side of romance! Bestselling author Thea Harrison introduces readers to her new paranormal world of powerful witches.  A spin-off of her popular Elder Races series, Book 1 in the American Witch Trilogy centers around broody witch Josiah and burgeoning witch Molly.
Discovering her husband cheated on her, Molly Sullivan's life nosedives.  Coupled with the awakening of unknown powers, she's struggling to keep up with the drastic changes in her life.  But she quickly starts to suspect her soon to be ex-husband is involved in something illicit.  Molly suddenly finds herself embroiled in a plot for revenge, grab for power and a sexy as sin Josiah Mason.  Josiah is a distraction Molly can't afford; however, she'll soon find that there's more to the self-centered man who calls himself a witch.
Consumed with hate, Josiah is obsessed with getting revenge on a witch who has brought nothing but suffering.  Molly is an unwelcome unknown and linked to his investigation. He doesn't want to be drawn to Molly but can't seem to help his fascination.
Nobody else can teach you what I can teach you. Nobody else will encourage you to be whoever you want the way I would. To shed your inhibitions and explore everything you're capable of being." 
Against their better judgement they can't resist each other. When Molly's faced with the biggest shock of her life, she's determined to get her powers under control and start the new life she deserves. Can it be that simple?
Not surprising given this is the first book, it's heavy on plot development and introduction of secondary characters. I appreciated how well the foundation of the trilogy was laid. However, while the plot was well-defined the emotional element was weak. Given this is also a romance, I was expecting more spark and passion between the MCs. Molly and Josiah as individual characters were somewhat uneven and their romance took a back seat to the plot.
Don't take that to heart though. This author is skilled at creating meaningful relationships as evidenced by her highly successful romances. So, while a bit disappointed, I'm anticipating much more in the next book.
I received an eARC of this book from the publisher via Netgalley. This review is voluntary and all opinions and thoughts are my own.