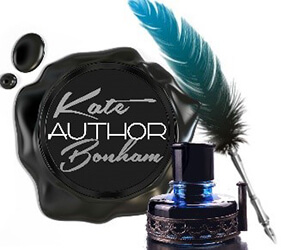 Author BIO

Kate grew up in Western Sydney, Australia, hoping to one day have a pet dragon and castle to roam around in. Then the Khaleesi stole her life and she was forced to reinvent herself.

It was around the age of 15 when she really thought she could make it as a writer, and after course after course on different writing styles, she finally gulped down her fear and pursued independent publishing.

When she's not writing, she's spending time with her boyfriend and their zoo of pets that include snakes, spiders, lizards, turtle, an axolotl and birds.
Author Contacts
Hello All!  I'd like to welcome and thank Kate Bonham for taking the time to swing by Aurora B's Book Blog to share a bit about herself and her newest paranormal romance release Revelations.
AB: Please tell us something about yourself and how you came to be a writer.
Kate:  My name is Kate (obviously, hehe) and I first started writing as a way to express myself to a counselor when I started to have problems with my emotions as a teenager. I soon became addicted to conveying my emotions this way and then I started to make stories in my head and enjoyed it thoroughly. I think I was always meant to be a writer but never really thought about publishing until a few years ago.
AB: What are the primary genre(s) you write and what drew you to them?
Kate:  I primarily write Paranormal – no idea, just always loved the possibilities that the genre brings. I have now started to write dark romance which I love and have received quite a lot of praise for so I am thinking that with the combination of those two genres, I have it made.
AB:  What made you overcome your fears and take that leap into independent publishing?
Kate:  It's a sad story, to be honest. I always wanted to do it but I was too scared of rejection so just assumed I'd never be good enough to publish. When a friend of mine (who had always believed in my writing) died suddenly a few years ago, I was thrust into a deep sorrow and all I could think was 'life is too short'. I then sat down at my computer and out came Fate. When it came to publishing, I had no idea what to do next so I joined a few groups on facebook and asked around. They all suggested I use Kindle Direct Publishing. I have never looked back.
AB:  How did publishing your first book change your process of writing, if at all?
Kate:  It showed me how hard it is to do it on your own. It costs a lot of money to even just hit publish, but it doesn't change my love for it. I will always grow as a writer, and in knowing that, I am excited for what the future holds.
AB:  Who or what would you say has influenced your writing style the most?
Kate:  I love J.R. Ward's writing style. She takes a no holds barred approach and I like that she doesn't stick to the norm.
AB:  Have you ever gotten reader's block?
Kate:  Oh yeah, definitely. I constantly get it which drives me crazy because my kindle library is MASSIVE!
AB:  Can you tell us a bit more about your newest release Revelations?
Kate:  Revelations follows the story of Xavier, a Hunter all his life, who gets the shock of his life when his father and brother's killer, a Nosferatu, comes back to town after a decade of being untraceable. He is set to kill her when she tells him something that completely breaks him, a secret everyone has kept from him.
However, Soleil (the Nosferatu) has something she needs Xavier to help her with which brings the family secret kept from Xavier into the light a little more and all sorts of Revelations come about in the process.
AB:  How did you come up with the idea behind Revelations and why do you think readers will enjoy it?
Kate:  Revelations has always been in my mind since I was about 18, but I could never tell it in a way that would thrill readers. I was able to find a way around an original problem I had but splitting the book in two which I did and it became a more impact driven novel that way and specifically became about Xavier and not Soleil which is what I was after.
I think that if a reader loves novels about tough men who hunt and love vampires, they will enjoy this.
AB:  What does literary success look like to you?
Kate:  Being able to write full time and live comfortably.
AB:  As far as your writing goes, what are your plans for the future?
Kate:  I will always be writing, but I am having to push my release schedule to only doing 2-3 a year instead of 5 like I used to. I am currently working on three different stories so times are becoming a lot more interesting in my head.
AB:  What question do wish someone would ask about you or your book, but nobody has? (then answer it 🙂 )
Kate:  Hmmm…that's a tricky one. I'm not sure I have a question like that, I've never really thought about coming up with one! I am more than happy to answer them though.
AB:  Thanks again Kate for visiting Aurora B's Book Blog and the best of luck with Revelations! 🙂
Revelations
by Kate Bonham
Xavier is one of the only true Hunters left in New York. He doesn't cave under the pressures of the newly appointed Government task force to eradicate the "problem" they had with Nosferatu's feeding on the humans just like the others did. Xavier wasn't fooled by their idea to "help" the Nosferatu blend in – he knew it was highly unlikely the bloodthirsty animals would curb their taste for fresh, hot blood.

When the woman who killed his father and brother ten years ago arrives back in town – he sees red, vowing to end her once and for all….

Soleil has secrets – too many secrets, one in particular had haunted her since the day she'd made the promise to keep it. But the time had come to end her existence, she'd tell Xavier the truth about his family and allow him to kill her. Only…first, she needed to get him to trust her enough to tell him the truth.

Just as she is about to unload, her dark and dangerous past comes back to haunt her – this time, it would take more than a trick to ensnare her enemy and take him out for good – can she enlist Xavier to help her to ensure the world doesn't fall into the hands of an egomaniacal immortal hellbent on using the humans as his slaves.

author Purchase Link:  Amazon