I'm so excited!!  Pepper Winters has generously agreed to swing by to share a bit about herself/books.  Pepper Winters is one of my favorite go to writers when I'm looking to dive into a gripping story full of all kinds of feels.  She has an amazing talent for conveying extreme human emotion, swinging between breathtaking, heartbreaking and back.
Needless to say, Crack A Book Cafe welcomes multiple New York Times, Wall Street Journal, and USA Today International Bestseller Pepper Winters!
Author Interview
Could you please tell us about yourself and what writing means to you?
PW: I adore being able to get into character's heads, lead different lives, and experience falling in love all over again. Being able to create entire worlds and stories is a magical feeling.
Why dark romance?
PW: It allows even deeper depth into a character's mindspace. I try to ask the question 'what would you do if…' The more extreme the event and harder the pressure, the more crazy the reactions are which allows for a great plot!
The Monsters in the Dark Series is one of the best series I've read. What gave you the idea behind it?
PW: Ah thanks so much, that's so kind of you! I can't take any credit. The story all came to me when Q appeared in my head and wouldn't shut up until I wrote his tale through the eyes of Tess.
I'm sure you get this question a lot, but I can't help it, I must ask! Who are your favorite characters? Personally, I LOVE Q, and no one can compare!! LOL
PW: I think I love all my male heroes equally—rather obsessed with them. But I'm also madly in love with my heroines too. They're the ones who make the story, force the males to have growth, and generally take an ordinary tale into something I hope is swoon-worthy. I think I'll always have a soft spot for Ren though from The Ribbon Duet
As your both traditionally and self published what are the pros and cons of each?
PW: Yes, I am. Both are great and it's been awesome to experience the two. There isn't really pros and cons of each, just differences that, when blended together, make a great business decision.
Outside of writing, do you have any hobbies and/or anything you're passionate about?
PW: Yes, I love horses and have four (2 big ones and 2 minis). If I'm not riding, I'm reading. And if I'm not reading, I'm at Hot Yoga and Bikram. LOVE the steamy workout.
If you could describe Pepper Winters in 4 words what would they be?
PW: Happy. Content. Animal-obsessed. Grateful.
Tell us about your latest news.
PW: Don't really have much. I'm soon to release THE SON & HIS HOPE which is a spin-off of The Ribbon Duet and I'm VERY excited about it. I'm busy healing my two horses (one had an accident and another has a stone bruise)  and spending time with my adorable house rabbit, Mo.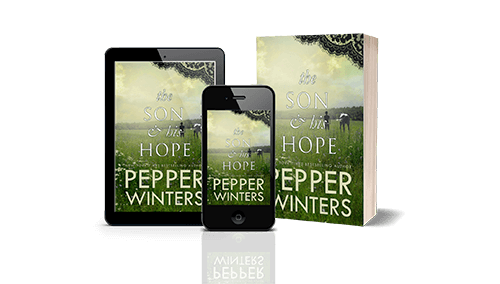 Anything specific you want to tell your readers?
PW: Yes, a MASSIVE, MASSIVE thank you to everyone who has given my work a go and for their incredible support.
Thanks so much for swinging by to chat with us here at Crack A Book Cafe!  We wish you continued success and my TBR  pile is eagerly awaiting your new/upcoming releases 😉

Pepper Winter's Series
Ribbon Duet
The Boy & His Ribbon / The Girl & Her Ren
Dollar Series
Pennies / Dollars / Hundreds / Thousands / Millions

Monsters in the Dark
Tears of Tess | Quintessentially Q | Twisted Together | Je Suis a Toi
Indebted Series
Debt Inheritance | First Debt | Second Debt | Third Debt | Fourth Debt | Final Debt | Indebted Epilogue
Pure Corruption Series
Truth and Lies Duet Series
Crown of Lies | Throne of Truth
Pepper Winter's Standalone Novels