Crack A Book Cafe is so happy to welcome the fabulous Mary Calmes; author of various amazing series such as Marshals, Change of Heart, A Matter of Time and stand alone novels such as Frog and Acrobat.  No matter what it is, you're guaranteed some heart stopping moments, sweet love, excellent world building and of course that ultimate HEA. Thank you for swinging by Mary!
The Interview
What is guaranteed to put a huge smile on your face?
MC: I love having veg days to do nothing but snack and binge watch my favorite shows like Queer As Folk, Hawaii Five-O or Parks and Recreation. Freezing cold days spent inside are my favorite and I will be smiling all day.
Do you have a specific writing style? Is there anything about your style or genre that you find particularly challenging?
MC: I'm a pantser which means I have a very general idea of where a story is going when I start. I usually labor over the character names and then sort of blast off really high where I can barely see the road below. Somehow, in the end, it works.
You've been very successful with many brilliant series! One of my personal favorites is the Change of Heart Series with Marshals being close second. How do you fit writing into your life?
MC: Thank you so much and writing is my life so everything else, kids, hubby, pets, friends, fits in around that. I think that's the same for every writer. It's not something you turn off and a writer who hasn't written for a couple of days is not a happy camper.
Your characters are amazingly well developed. Logan for example, from the Change of Heart Series, is very alpha without being a jerk but is sweet and loving to Jin without appearing weak. How are you able to achieve that type of balance in your characters?
MC: I always think, how would I want someone to treat me and then work that into my characters. If I were Jin, who would be perfect for me? What qualities would I need in a mate? The balance comes from thinking how do these characters fit together? Like Sam and Jory. If Sam were any different, he and Jory wouldn't fit. Like if Rand and Jory were together, that could never happen because Rand is too unbending and Jory is too scattered for Rand. The fit is what creates the balance.
What is your favorite holiday themed book?
MC: I have to say that this year I love Homebird by Amy Lane as a holiday theme and then Tutus and Tinsel by Rhys Ford is the perfect Christmas story that is so beautifully crafted.
What's your favorite book and movie of all time?
MC: I have far too many books to count but one that I've read a billion times is One Hundred Years of Solitude and every time I read it, I find something new. From a romance perspective, I reread Damon Suede and Amy Lane and Rhys Ford and TJ Klune just to name a few. As far as movies, it's Jaws. It has the whole man vs man, man vs nature, love, friendship, primal fear—if you want it, it's in that movie.
What's your favorite holiday candle scent?
MC: I'm a huge candle snob and at the moment cardamom & coffee by L'Apothicaire is my favorite scent because I love coffee but that's not all I want to smell. A close runner-up is Reading At The Café by Frostbeard which is coffee and chocolate. It's like crack, it's that addicting.
What's your latest news?
MC: His Consort, my vampire book, came out on November 20th and Frog was turned into a manga and that will be released on December 18th.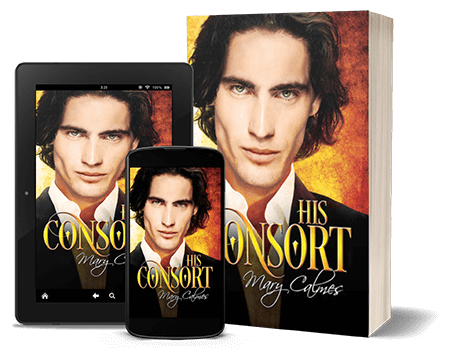 Anything specific you want to tell your readers?
MC: That I appreciate all of them so very much.
What question do you wish someone would ask about you or your book? (then answer it 😊)
MC: Why are the names so important in your books? Most couples I know have names where one person has a name you don't hear every day and the other has the one that is common. Because I've noticed that over and over I try and follow that convention with my characters as well. For instance, Sam (very common) and Jory (not so much), or Logan (which lots of people have) and Jin (which you hear less and Jinnai, which is Jin's whole name, even less). There's Rand and Stef, Miro and Ian, Cyrus and Weber. I like the balance of the names.
Again thank you for swinging by and best of luck with your newest release.  Happy Holidays from the Cafe!!