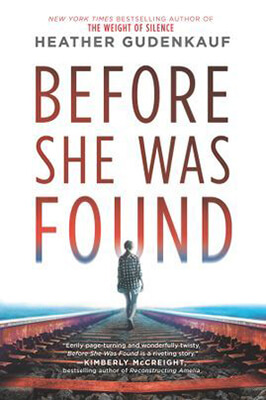 Before She Was Found
by
Heather Gudenkauf
Published by
Park Row
on April 16, 2019
Genres:
Mystery
,
Suspense
,
Thriller
Format:
eARC
Source:
NetGalley
Pages:
368

Buy on Amazon
Goodreads
A gripping thriller about three young girlfriends, a dark obsession and a chilling crime that shakes up a quiet Iowa town, from the New York Times bestselling author of The Weight of Silence .

For twelve-year-old Cora Landry and her friends Violet and Jordyn, it was supposed to be an ordinary sleepover--movies and Ouija and talking about boys. But when they decide to sneak out to go to the abandoned rail yard on the outskirts of town, little do they know that their innocent games will have dangerous consequences.

Later that night, Cora Landry is discovered on the tracks, bloody and clinging to life, her friends nowhere to be found. Soon their small rural town is thrust into a maelstrom. Who would want to hurt a young girl like Cora--and why? In an investigation that leaves no stone unturned, everyone is a suspect and no one can be trusted--not even those closest to Cora.

Before She Was Found is a timely and gripping thriller about friendship and betrayal, about the power of social pressure and the price of needing to fit in. It is about the great lengths a parent will go to protect their child and keep them safe--even if that means burying the truth, no matter the cost.
Bestselling author Heather Gudenkauf paints a graphic picture of what happens when three young girls are placed into a toxic environment caused by family influence, small town mentality, childhood cruelty and pranks. Told from multiple points of view, Before She Was Found is both thrilling and a dark reflection on teenage issues and the adults around them.
The stage is set when three 12-year-old girls become friends. Cora, born and raised in the town of Pitch, is timid and lonely. Jordyn, also raised in Pitch, is the most popular girl in school and mean! Then there's Violet, the quiet new girl in town who's just trying to fit in.  The dynamic between the three isn't a very healthy one. Jordyn is manipulative, alternating between bullying and being kind to Cora. Cora, is confused, but is so desperate for friends that she's willing to continually make excuses for her. Violet is caught in the middle being pressured to like one more than the other.
The girls are assigned a group project in class requiring they choose and research an urban legend. The girls choose urban legend Joseph Wither – a decades old murderer from the town of Pitch. What starts off as a simple research project quickly turns into obsession. When someone claiming to be Wither says he'll be at the town's abandoned rail yard, the girls can't resist. During a sleepover at Cora's, the girls sneak out hoping to prove once and for all whether or not Wither is real. But that's not their only motive… What follows is the discovery of a shocked Violet covered in blood, Cora beaten on the tracks and Jordyn nowhere to be found.
Gudenkauf's unique narrative lures the reader into the minds of these girls, their families, a judgmental community and the psychology behind the why of it all.  She crafts an engaging mystery thriller, walking the reader through a maze of potential perpetrators and events leading up to the horrific discovery of Cora's beaten body.  Ultimately, leaving behind the devastation of not only the three girls but an entire community who will forever be scarred.
While incredibly well written, I thought it was a bit predictable and the character development somewhat uneven. I also felt that nearing the end, the story had lost some of its momentum. It could have ended a bit sooner. However, overall, I really enjoyed the book and those of you who love thrillers should definitely get your paws on it!
I received an eARC of this book from the publisher via Netgalley. This review is voluntary and all opinions and thoughts are my own.