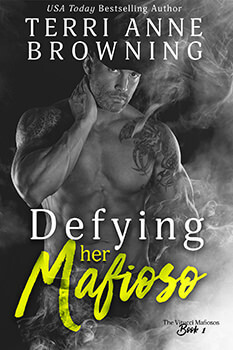 Defying her Mafioso
by
Terri Anne Browning
Series:
The Vitucci Mafiosos #1
Published by
Anna Henson
on October 4, 2016
Genres:
Adult Fiction
,
Contemporary
,
Romantic Suspense
Format:
eARC
Pages:
202

Buy on Amazon
Goodreads
Ciro Donati was many things:
My father's most valued and trusted soldier.
My brother's best friend and second in command.
And the only man I would give up everything for.

I fell hard for the Mafioso at the tender age of eleven. This beast of a man who I knew made people disappear—and probably enjoyed every second of it—was also the sixteen-year-old boy who had picked me up after I'd fallen flat on my face during my dance recital and told me I was the best ballerina he'd ever seen. He's watched over me, protected me like I was the most precious thing in the world to him.

And then he sent me away.

Scarlett Vitucci was many things:
The daughter of the biggest Cosa Nostra boss from New York to Chicago.
The sister of the man I would gladly take a bullet for.
And the only woman I would ever love.

Sending her away was the hardest thing I've ever done, but I didn't deserve her or her love. For three years I stayed away, ignoring the gnawing ache that her absence left in my chest. Now, she was back and fighting what I felt for her was impossible. Letting her go had been a huge mistake.

One I would never repeat.
Defying her Mafioso is the first book in the new The Vitucci Mafiosos series by Terri Anne Browning. Told from alternate points of view this story centers around Ciro and Scarlett. They grew up together but as time passes they become very close but Ciro feels that the only way to keep her safe is to have her sent away.  Then she comes back and all bets are off as they try to deny their feelings but in the end Ciro knows that he should never have let her go.
I didn't deserve her, but I'd destroy anyone who tried to take her away from me.
Ciro is a loyal soldier in the Costa Nostra run by Scarlett's father Vito.  Scarlett means everything to him and he would do anything to protect her even if that includes himself.  He thinks he's a monster and that being close to her would put her in danger from his enemies.  I did find this a little difficult to believe as justification for Ciro getting Scarlett sent away for 3 years.  I could believe the "I see myself as a monster" angle but as far as being in danger from his enemies…not so much.  The idea that she could be in any more danger with a soldier of the Costra Nostra then her father who leads it didn't feel quite right.
However, it didn't detract too much from the storyline because I loved Ciro!  He cared so much for Scarlett and I felt for him and his internal struggle. Everyone around him knew they belong together but he's stubborn as hell!
Now that Scarlett's back she's determined not to let the man who broke her heart affect her; no matter how much she still wants him. As Ciro and Scarlett navigate the feelings they have for each other enemies are closing in leading to unexpected alliances and attractions.  In particular, Victoria, Scarlett's twin sister becomes completely infatuated with a member of Russian mafia, Adrian.  It happens so fast that it didn't feel wholly genuine but I definitely felt the connection between them. That's ok though!  I loved Victoria.  She's sweet, happy but I got the feeling that she's someone you wouldn't want to mess with.  I'm really intrigued by her story…
We also get a glimpse into a potential storyline that could follow Scarlett's cousin and another member of the Costra Nostra.   Guess I'll just have to wait and see!!!
The story was a bit predictable but Scarlett and Ciro were two pieces of a whole that I was routing for throughout the story.  Overall it was definitely an enjoyable read that I found very entertaining.  I look forward to the next book in this seriesJ
"I won't let you go this time, vita mia," he said as he released my lips and pressed his forehead against mine.
*ARC provided by author in exchange for honest review*
author Buy links
Amazon US:  http://bit.ly/DefyingHerMafiosoAMZ
B&N: http://bit.ly/DefyingHerMafiosoNOOK
Kobo: http://bit.ly/DefyingHerMafiosoKOBO
iBooks: http://bit.ly/DefyingHerMafiosoIBOOKS