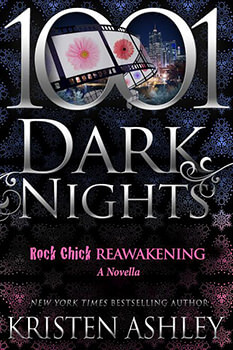 Rock Chick Reawakening
by
Kristen Ashley
Published by
Evil Eye Concepts Incorporated
on January 3, 2017
Genres:
Contemporary
,
Romance
Format:
eARC
Pages:
120

Goodreads
From New York Times bestselling author, Kristen Ashley, comes the long-awaited story of Daisy and Marcus, Rock Chick Reawakening. A prequel to Kristen's Rock Chick series, Rock Chick Reawakening shares the tale of the devastating event that nearly broke Daisy, an event that set Marcus Sloane—one of Denver's most respected businessmen and one of the Denver underground's most feared crime bosses—into finally making his move to win the heart of the woman who stole his.
This stand alone Rock Chick novella was nothing but beautiful heartfelt emotion. In classic Kristen Ashley style she's given us character's with remarkable depth, who grow and evolve around an unshakable love (with super alpha growls and possessiveness thrown in LOL).  Two people who on the surface appear to have nothing in common but underneath have suffered, overcome and moved forward in what's their version of a happily ever after.
As a HUGE fan of the Rock Chick Series I was really excited to get my hands on this book!  I mean REALLY excited! I've always been intrigued by Marcus and Daisy so when I saw this was their story I almost started doing a jig…almost 😉
If you've read the Rock Chick series you've already been introduced to Marcus.  He's dark and dangerous; someone you definitely don't want to mess with.  He's also a fabulously hot alpha male who wants nothing more than to protect and cherish the beautiful stripper Daisy.  Marcus is so totally understanding and supportive of Daisy.  He's freakin' amazing.  He gets how she needs to feel like she matters and is willing to do anything to be her prince charming.
But holy hell did I fall in love with Daisy's character.  I was moved in a way that was almost too real considering Daisy is just a character in a book.  I admired her strength and her approach to life. Even when horrible things happen she gets back up and moves forward appreciating all the good, if and when it comes.
"I'd been knocked down. Again and again. I just kept getting up. And I was still standing, in platforms, with great hair."
Gotta love it! But what touched my heart was that bright vulnerable light almost hidden behind the ugliness she suffered in her life.  She's such a sweet and good person.  Even in her darkest moments that doesn't waiver.
Marcus saw that as well.  He was drawn to it and understood her in a way that no one else could.
"A woman like you should have had a momma who loved her. A daddy who adored her. Friends who thought the world of her. She should have grown up every day knowing that straight to her soul, never doubting it, not for a second"
He also knew to his core that Daisy was the one for him even when she didn't believe it.  And when Marcus wants something he gets it!
"You know every step of your life was leading you right here.  You're the women for me, which means, darling, I'm the man for you.  And you didn't tell me to leave because you know that just the same as me."
Boy did I love the ending. Kristen Ashley writes THE BEST epilogues, hands down! Made my heart happy and brought huge smiles to my face.  Truly beautiful read.  Rock on Marcus and Daisy!! Hahaha
Note: This book was provided in exchange for honest review as part of this Blog Tour.
From New York Times Bestselling author Kristen Ashley, comes ROCK CHICK REAWAKENING, the long awaited story of Daisy and Marcus, brought to you by 1,001 Dark Nights! Be sure you grab your copy today
Direct Link: https://video214.com/play/WNx2mKBbgjZWmY0hWUnX0g/s/dark
A Message from Kristen:
Dear Reader,
I'm beside myself with glee that this prequel to my Rock Chick series has been unleashed! There was some time when I never thought I'd write it. When I couldn't be in that terrible place with Daisy. But I'm oh-so glad that she called to me, demanding her story be told so she could give it to me and now I can give it to you! I loved every moment spent with Daisy and Marcus. And I hope you do too!
~Kristen Ashley
Purchase Links
Kristen Ashley's ROCK CHICK REAWAKENING – Review & Excerpt Tour Schedule:
January 4th
All Romance Reviews – Review & Excerpt
Books Need TLC – Review
Garden of Reden – Review
Lit. 4 Ladies – Review & Excerpt
Straight Shootin' Book Reviews – Review & Excerpt
The Book Maven – Review
Three Girls and a Book Obsession – Review & Excerpt
January 5th
Books to Breathe – Review & Excerpt
KT Book Reviews – Review & Excerpt
Literary Misfit – Review & Excerpt
Once Upon a Book Blog – Review & Excerpt
Pretty Little Book Reviews – Review
Scandalicious Book Reviews – Review
Words We Love By – Review & Excerpt
January 6th
Books,Dreams,Life – Excerpt
Shameless Book Club – Review & Excerpt
Smut Book Junkie Reviews – Review & Excerpt
Once Upon a Page – Review & Excerpt
Read-Love-Blog – Excerpt
Stacey is Sassy – Review
The Cantu Sisters Book Reviews – Review & Excerpt
January 7th
Brittany's Book Blog – Excerpt
Random Book Muses – Review
Read more sleep less – Review
Reviews by Tammy and Kim – Review & Excerpt
Shayna Renee's Spicy Reads – Review & Excerpt
Sizzling Pages Romance Reviews – Review & Excerpt
January 8th
Confessions of 2 Book Lovers – Review & Excerpt
Crazy Chaotic Book Babes – Review
Dog-Eared Daydreams – Review
Night Owl Reader – Review & Excerpt
Reading Between the Wines Book Club – Excerpt
January 9th
Aurora B's Book Blog – Review
Vagabonda Reads – Review & Excerpt
Always YA at Heart – Review & Excerpt
Oh My Growing TBR – Review & Excerpt
Red Cheeks Reads – Review
Romanticamente Fantasy Sito – Excerpt
January 10th
Desert Divas Book Addiction – Review & Excerpt
BFD Book Blog – Review & Excerpt
Lit Slave – Review & Excerpt
MrsLeif's Two Fangs About It – Review
Under The Covers Book Lovers – Review & Excerpt
Guilty Pleasures Book Reviews – Excerpt
January 11th
Blushing Babes Are Up All Night Book Blog – Review
Bookalicious Babes Blog – Review & Excerpt
Fangirl Moments and My Two Cents – Review & Excerpt
Knotty Girl Reviews – Review & Excerpt
Talk Books to Me – Review & Excerpt
Love Between the sheets – Review & Excerpt
January 12th
Feeding My Addiction Book Reviews – Review & Excerpt
I'm A Sweet And Sassy Book Whore – Review & Excerpt
Nicely Phrased – Review & Excerpt
Viviana, Enchantress of Books – Review & Excerpt
What Is That Book About – Excerpt
Nerdy Dirty & Flirty – Review & Excerpt
January 13th
Angie and Jessica's Dreamy Reads – Review & Excerpt
Dirty Girl Romance – Review
Fictional Rendezvous Book Blog – Excerpt
Nose Stuck in a Book – Review & Excerpt
The Book Bellas – Review & Excerpt
The Silver Dagger Scriptorium – Excerpt