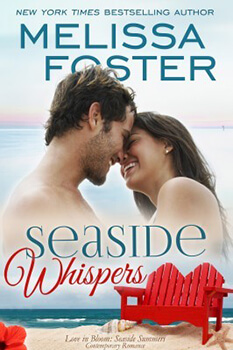 Seaside Whispers
by
Melissa Foster
Series:
Seaside Summers #8
Published by
EverAfter Romance
on November 30, 2016
Genres:
Adult Fiction
,
Contemporary
Format:
eARC
Pages:
300

Goodreads
Having a mad crush on her boss's son, Matt Lacroux–an intriguing mix of proper gentleman and flirtatious bad boy–is probably not the smartest idea for single mother Mira Savage. Especially when the company, and her job, is already on shaky ground. But as a Princeton professor, Matt's life is hours away from Mira's home on Cape Cod, keeping him safely in the fantasy-only zone. And as a single mother to six-year-old Hagen, with a floundering company to save, fantasies are all she has time for.

With hopes of becoming dean off the table, and too many months of longing for a woman who lived too far away to pursue, Matt's publishing contract couldn't have come at a better time. He heads home to Cape Cod on a brief sabbatical, intent on starting his book, and finally getting his arms around sweet, seductive Mira.

A surprise encounter leads to white-hot passions and midnight confessions. The more time Matt and Mira spend together, the deeper their relationship grows, and the love and attention Matt showers on Hagen is more than she has ever dreamed of. But Matt's sabbatical is only temporary, and Mira's not saving his father's company so she can leave it behind. Will their whispers of love be enough for one of them to change their life forever?

Seaside Summers is a series of stand-alone romances that may also be enjoyed as part of the larger Love in Bloom series.
What a sweet and heartfelt love story! A friends to lovers romance that revolves around two people who clearly want each other but life is standing in their way. This is book 8 in the Seaside Summers Series but can be read as a standalone.Matt Lacroux is a professor from Princeton who just signed a book deal. He decides to go on sabbatical and return home to Seaside for 3 months; not only to contemplate his future but to finally pursue the woman he's felt such an intense connection to for the past year. A woman who also happens to be an employee of his father and a single mom to an adorable little boy.
Mira also feels the connection with Matt but she has to consider the potential consequences. As a single mother, most of Mira's decisions are made with her son and his welfare in mind. Working for Matt's father is important to her and how would a temporary relationship impact her son? But deep down there's an underlying vulnerability that I found touching. She's been a single mom for so long she's forgotten how to do something solely for herself and open her heart to someone else.
It was a treat to see how Mira's son and Matt interacted.  He was fabulous with him and the relationship they developed was separate and unique to them. Matt didn't necessarily see him as an addition to Mira but a separate little person that he truly cared for. Too often I see in stories of this nature where the kid(s) are seen as more of an accessory to the mother, which bugs me.
Overall, what I really enjoyed most about this book was witnessing the process Mira goes through as she struggles to come to terms with herself as both a single mom and as a women. She needed to reclaim her identity separate from the "mom" and recognize it's ok for her to go after what she wants.
"She'd take whatever she could get and deal with the aftermath later. Tonight she wasn't just a mother. She was a woman."
Ultimately, while the storyline wasn't wholly unique, the characters were endearing and the relationships well developed. Matt and Mira made a beautiful couple in a story that brought both a sense of hope and deep heartwarming love.
NOTE: eARC was kindly provided via author or publisher in exchange for an honest review as part of the Seaside Whispers Blog Tour.
Purchase Links
Goodreads / Amazon / Barnes & Noble / Kobo / GooglePlay / iBooks / Smashwords