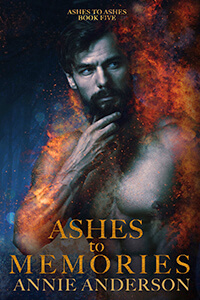 Ashes to Memories
Annie Anderson
(Ashes to Ashes #5)
Publication date: October 13th 2017
Genres: Adult, Paranormal, Romance
What she doesn't know just might kill her.

Nicola is having trouble settling into her new life.
Memories assault her at every turn – even in her dreams. When a friend comes to her for aid, Nicola is once again thrust into a dangerous world – a world she still cannot remember.

Kyle thought the worst was over.
Sure, his wife can't remember their beginning, but even with a few bumps, having her is better than not. But keeping Nicola alive is a full-time job even he might not be able to fulfill – especially when his darling wife decides to jump into the fray.

It turns out the worst has only just begun.
Goodreads / Amazon / Barnes & Noble / iBooks / Kobo
EXCERPT
There are too many people here. Too many chances for me to be touched by these strangers. I don't want their memories or lives or future on my soul.
I don't want this. Am I supposed to save them? Should I change their lives? I did with the sorority girl, but was I right to do so? Did I do the wrong thing? What right do I have to change their circumstances? Isn't that what Iva was doing – changing the position of the players on the board until all she could see was how she could move them?
My breaths come fast and shallow. Even though I can't see a single thing, I'm dizzy in a way that I know I'm about to pass out on the pavement.
Panic attack. This is a panic attack.
But I'm saved again when the warm, safe touch of Kyle's fingers thread with mine before another person can steal my sight – before I have to see how awful their deaths will be.
"Jesus. I looked back, and you were gone. What the fuck, Nicola, you started walking the other way," he growls in my ear, but he must sense that I'm hanging on by a thread because he wraps an arm around me, protecting me from the crowd. Even in the heat, his warmth is a balm to my tattered nerves. I claw at him, burrowing into his chest as I grip the fabric of his shirt.
"I can't see, Ky. Too many visions. You have to get me out of here," I whisper, trembling so bad I have trouble getting the words out. I know he hears me fine when he sweeps me up into his arms and moves us. Cool air conditioning caresses my face, the scent changing drastically once we get inside.
"Can I help you? Oh my god, is she okay?" a young yet smoky female voice calls.
"Yeah, it's the heat. We're from up north, so she's not used to it," Kyle replies.
"I have some bottled water in the employee fridge. I'll be right back," the woman offers and her footsteps float away.
Information comes to me faster than I can help. Her name is Grace. She's twenty-nine and single. Her only real companion is a German Shepherd named Joe who hides out in the back room of this boutique until she can close up for the day and moves to her apartment upstairs. She owns this shop, scraping together everything she saved and the inheritance from some long dead grandmother to buy it. Grace is also nearly a full-blooded Witch and has absolutely no idea. She was adopted at birth to a lovely, healthy, close-knit human family.
Fabulous – well, I sort of mean that one. Honestly, believing she's human might be the best thing for her in this climate, but right now that helps us precisely nil. Except for maybe the bottle of water she's holding in her hand as she passes it off to Kyle. I guzzle the cold liquid, letting it cool the burn in my throat – allowing it to quiet the scream brewing there. I hate that I can only see her in my head and not with my eyes.
While I may be happy Grace – as sweet as she is in my mind's eye – isn't mired in the violence that is coming, we came to New Orleans for answers, and she doesn't have them.
Or at least I don't think she does.
"Y'all aren't even close to human. The way she's lighting up like a Christmas tree and the cast of your eyes, I'm gonna go ahead and bet on it. Let me turn my sign to closed, and you can tell me what in the blue hell you think you're doing here in my shop. The coven knows they aren't welcome and if you're here to start trouble, you aren't either," Grace informs us in her smoky southern drawl. The slide of the deadbolt and slither of the sign against the glass door makes me shiver a little.
"We aren't here to cause trouble, but it does seem to follow us around like a magnet. We were getting out of the foot traffic," Kyle assures her, but I do the exact opposite of what I'm supposed to do. I do the exact opposite of what he wants me to do, too.
I cause trouble.
© Copyright 2017 Annie Anderson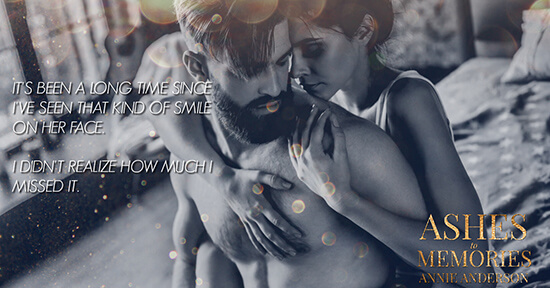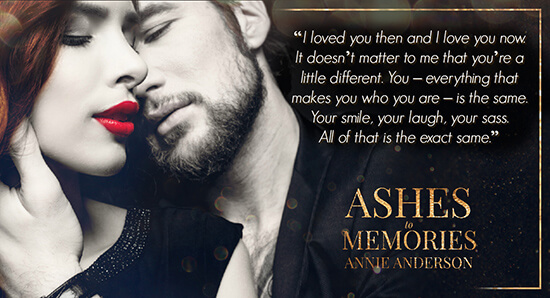 GIVEAWAY!
a Rafflecopter giveaway