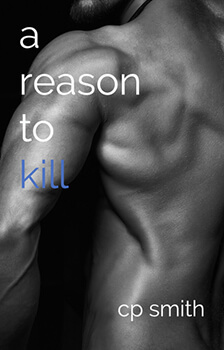 A Reason to Kill
by
C.P. Smith
Series:
Reason #2
Published by
CreateSpace Publishing
on November 21, 2014
Genres:
Contemporary
,
Romantic Suspense
Format:
eBook
Source:
Purchased
Also in this series:
A Reason to Live
Pages:
368

Buy on Amazon
Goodreads
WARNING: Author believes in soul mates and insta-love, proceed with caution if you're not a romantic at heart.

You've met Jack from "A Reason To Breathe" now meet his cousin and lumberjack Max, Max Hunter or as Mia likes to call him Thor, God of Thunder

You know what they say about lust at first sight.....It's a seven deadly sin but when you sin . . . you sin hard.

Max Hunter has a problem, well, two, actually. One he fished out of the river and the other...A killer.

Mia Roberts has a problem that stands six foot five and swings an axe like a God. On assignment to study the grizzlies of the Alaskan frontier, she stumbles across a body and then stumbles into the arms of a lumberjack she can't resist.

Throw in Max's mother, a handful of crazy friends and family and you have a recipe for adventure.

Rated B for Bossy, F for funny, T for Thor, God of Thunder, R for language, explicit sexual content and EDIBLE UNDIES. For mature audiences only. 18 and above.
This is soooo what I needed! I've been on a kick reading books on the darker side and needed a lighter book. This one did the trick! This is the second book in the Reason Series by C.P. Smith, however can be read as standalone and has a resolved ending with no cliffhanger.
Here's the scoop:
We start the story with our heroine, Mia, flying into a small Alaskan town to study grizzly bears with two of her research team. Mia is sweet, intelligent, kind, somewhat insecure and awkward around men and is passionate about her bears! She tends to overthink everything which fits into her character as a zoologist and researcher. She is NOT, however, outdoorsy. She hates bugs, is clumsy at the best of times and hasn't camped a day in her life. Needless to say she has no field experience and wouldn't have even gone on the expedition if not for her sneaky boss who manipulates her into going when he couldn't go; or so he says……
Max is a sexy as hell super alpha lumberjack who owns the lumber company that supplies the majority of the town's jobs. He truly cares about both his family and the people of the town and will do anything for them. He's been burned before by a woman who left him for the city because she couldn't handle his way of life. He's not interested in finding a woman right now and definitely not one that can't handle his way of life.
Max first sees Mia as she literally trips over her own luggage at the bottom of the airplane when she gets off. He immediately knows two things. One she's gorgeous and two she's nothing but trouble!
Mia and her intern Lucy go to the local bar to relax before heading up the mountain to begin their research; so when Max shows up and sees Mia he can't seem to take his eyes off her.
"Her black locks were up in a high ponytail and she wore a T-shirt with a fuckin' Care Bear on the front that read, "Cuddle me.""
That is when I absolutely knew I was going to love Mia! Who doesn't love Care Bears, right?? hahaha!!
When a murder happens she becomes the prime suspect and the mystery surrounding her, her team and the town begins to unfold. Since they weren't allowed to leave town they end up staying with Max's mom, Maxine. She was so funny and, just like her son, was passionate and protective of those she loves. AND best of all; she is crazy!!
"…….she used my dad for target practice so she's proficient with an axe as you well know. But even so, she's just plain crazy." "You don't think she could have –" "No way she killed him," Max chuckled. "How can you be sure?" "His balls were left intact."
Between Maxine, her friend Martha, Mia's friends and her nutty aunt they begin their own investigation to find the killer. Of course, their antics cause all kinds of mischief and fun.
When our sex on a stick, super alpha and BOSSY Max decides he wants Mia he won't take no for an answer.
"You're not gonna push me away because you're scared of whatever the fuck it is you think about me, do you hear me? While you're here, we're gonna ride this until we fall off battered and bruised or hold on tight 'cause it's what we both want," he ordered."
Mia of course won't be bossed around and so ensues the struggle between two polar opposites who still fit together in all the ways that count.
"You and me, we aren't done, not by a long shot. I'll see you later and then we'll talk about your disappearin' act."
"I'll be busy later," I informed standing my ground.
"Yeah, you will, but not doin' what you think you'll be doin'."
"I'll be "doin'" exactly what I planned on "doin'" which doesn't include "doin'" something with you."
And let's not forget the awesome chemistry and all kinds of smexy! These two were HOT.
Max is the best of both sexy alpha and super sweet. He loves Mia so much…ahhhh. (I might be developing a lumberjack fetish! Hahahaha) I loved Mia's quirky personality and how she doesn't take herself too seriously. She may be a city girl but she's relaxed and certainly doesn't act like one. The banter between the two was hilarious! We got to see a little bit of Jenn and Jack from the first book and I loved the epilogue!
While I enjoyed the first book I liked this one better! We're given a sweet, funny story full of romance and mystery but without the superfluous twists and turns. Just enough on the lighter side to keep you giggling and enough mystery to keep you guessing.