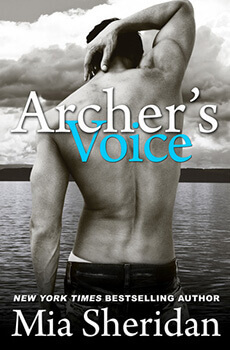 Archer's Voice
by
Mia Sheridan
Published by
CreateSpace Publishing
on January 25, 2014
Genres:
Contemporary
Format:
eBook
Source:
Purchased
Pages:
345

Buy on Amazon
Goodreads
A New York Times, USA Today, and Wall Street Journalbestselling book. Archer's Voice is a full-length, standalone romance.

When Bree Prescott arrives in the sleepy, lakeside town of Pelion, Maine, she hopes against hope that this is the place where she will finally find the peace she so desperately seeks. On her first day there, her life collides with Archer Hale, an isolated man who holds a secret agony of his own. A man no one else sees.

Archer's Voice is the story of a woman chained to the memory of one horrifying night and the man whose love is the key to her freedom. It is the story of a silent man who lives with an excruciating wound and the woman who helps him find his voice. It is the story of suffering, fate, and the transformative power of love.

THIS IS A STANDALONE SIGN OF LOVE NOVEL, INSPIRED BY SAGITTARIUS. New Adult Contemporary Romance: Due to strong language and sexual content, this book is not intended for readers under the age of 18.
OMG!! I've read hundreds of books and this is by far one of the most beautiful romances I've read!!! Archer and Bree were amazing. I loved these two characters individually and together. I felt there love, passion, fears, heartache and hope right along with them. It practically, lept off the page. The way the author was able to breathe life into these characters and make us FEEL how love and the human spirit can/will prevail when given a chance is amazing.
Here's the scoop:
This book is part of the A Sign of Love Series, however can be read as standalone and has a resolved ending with no cliffhanger. This story is told primarily through Bree's POV though we do see some from Archer in the form of flashbacks throughout the story and then present day at the end.
Archer suffers from a very tragic event as a child that left him voiceless and isolated from the outside world. He lived with his Uncle until he passed away leaving Archer completely alone rarely leaving the property unless he needed to go to town to obtain necessities. Because of that solitude, Archer essentially becomes his own prisoner with no real life experiences or ability to socialize with people "on the outside". And further, has no real way of easily communicating with the surrounding inhabitants because he can't speak.
He is awkward, shy, sweet and has a huge heart. That said he was a bit abrasive at times at the beginning of the story which was perfect as it reflected his lack of social skills, discomfort with others and general bitterness with his condition. This isolation also results in the town developing the unfounded opinion that Archer is essentially a dumb mute who they shouldn't even bother with.
Bree also suffers from a tragic event resulting in her packing up and moving to Pelion, Maine, where the story is set, to start afresh and heal. Bree is special to me in a way that separates her from a lot of other typical female characters I come across. She is understanding, supportive, kind and is passionately in love with Archer. I'm not sure exactly how to put into words what made her so special. Ms. Sheridan was able to create a subtly strong female character without those characteristics being thrown at us or emphasized over and over as we so often see in other stories.
Bree and Archer meet during one of Archer's rare trips to town. Bree immediately recognizes a connection between them and can feel how special Archer is. Bree initially persists in her pursuit of learning about Archer but it stems from real interest and concern for Archer. Bree can communicate via sign language and overtime we watch a friendship grow and ultimately leads to love. The development of their friendship first was very important as we see Archer's journey to becoming something better then what he thinks he can be and finding his own strength. At the same time Archer provides Bree the support she needs to also find that same strength and heal. When they become lovers it is HOT. There's just something about a virgin hero that's super fun LOL!!!!
Of course, throughout, there are external forces at work that cause mis-communication, angst as a result of both Archer's issues/inexperience and the individuals who run the town trying to wreak havoc on the relationship between Bree and Archer while at the same time hiding the mystery behind the tragedy Archer suffered.
Archer loves Bree so much I think he had trouble understanding those feelings and fears that his past and lack of experience with people and outside world in general will ultimately be the cause of their ruin.
"I want to be able to love you more than I fear losing you, and I don't know how. Teach me, Bree. Please teach me. Don't let me destroy this." ~Archer
To make the relationship between the two believable you can't ignore the issues and Ms. Sheridan doesn't at all. Archer had to learn more about himself, the world and needed to gain experiences and develop self-worth on his own in order for him to build a "normal" life and have a chance with Bree in the long run. I was in tears when Archer proceeded to do just that. For a while we were left somewhat in the air as to the direction of the relationship. I won't tell you event that caused that particular cry fest but it led to something beautiful.
Ms. Sheridan does not make the relationship easy and puts them through a lot. I loved how it took work, perseverance and the realization that sometimes growing as a person and subsequently strengthen your relationships require creating our own path without the assistance of outside influences including that of the person you love. This is more realistic and meaningful.
This story also shows how a town can grow and learn to stop judging and better accept those people that may appear different.  The story was written with a level of maturity and finesse that is lacking in a lot of the romances out there today and I both appreciate and respect the author for it. As I'm an avid reader I typically move on to the next book adventure right away. With this story I had to take a step back and couldn't stop thinking about it for a week.
OK I'm gonna stop gushing now before I write a novel on how much I love Archer's Voice LOL. I would highly recommend! Just make sure you have a box of tissues!