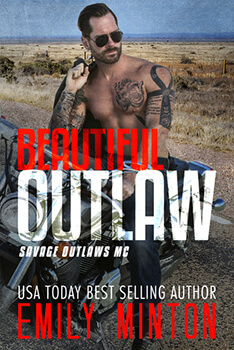 Beautiful Outlaw
by
Emily Minton
Series:
Savage Outlaws MC #1
Published by
CreateSpace Publishing
on November 16, 2014
Genres:
Adult Fiction
,
Contemporary
Format:
eBook
Source:
Purchased
Pages:
335

Buy on Amazon
Goodreads
After ten years of surviving as a walking, talking, living doll, Laura feels dead inside.

She has sacrificed everything for her family, marrying a man she could never love. Her husband doesn't beat her, doesn't berate her. He transforms her, forcing her to live as a stand-in for his long dead wife. She stays silent as piece after piece of herself disappears, willing to do anything to protect the people she loves.

When his demands go too far, she finally tells her brother the ugly truth.

Wanting to protect her without putting the rest of their family at risk, he sends her to the one place he knows she'll be safe. He places her into the hands of his best friend, Vice President of the Savage Outlaws MC.

Once again, she is transformed into someone new; Shay.

Bowie has spent many nights dreaming about his best friend's little sister. The reality is so much sweeter than his dreams. He wants to be more for Shay, needs to protect her, but he's not sure if he knows how.

Can an Outlaw show her how beautiful life should be?
This is the first book in the Savage Outlaws MC Series by Emily Minton and can be read as standalone. There were some darker elements and violence and of course some great sex scenes!
I did enjoy the book but was a bit torn and not sure how to rate at first. I was drawn in from the start and as the story progressed it slowly started to fall flat for me. The story is about a girl, Laura aka Shay who is on the run from her emotionally abusive and crazy husband. She had married him to help her family but after 10 years she couldn't take it anymore so she asked for her brother's help. He helped her "disappear" and sent her to his army buddy Bowie, who also happens to be the VP of the Savage Outlaws MC, to keep her safe.
Bowie is waay over the top possessive and hawt as hell. He didn't grow up with the best of role models and had a rough childhood. Laura grew up with a loving family but ended up in an abusive situation with a delusional ex. So both have emotional demons they need to address before they can truly be happy with each other.
Bowie is also having difficulties within the MC and is struggling with a betrayal and a club being run into the ground. Compounded with his growing obsession with Shay and her being in danger from her ex there's actually quite a bit going on; at least on his "side" of the story. I had issue with Shay. While for the most part there really wasn't anything that I really disliked about her I didn't get the feisty vibe the author was trying to portray as Shay regains her sense of identity. Shay never fought back when Bowie was being overbearing and just agreed with everything. So rather than feisty I got doormat.
I like the writing style and we did see some real character development which was nice but it was pretty predictable. There was the typical family issues, betrayal within the club, "who dunnits" and a bit of suspense but in the end this was a very typical damsel in distress story. I like damsel in distress stories though so if you do too you'll likely enjoy this book as well.