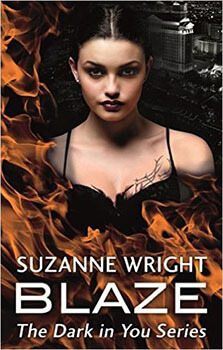 Blaze
by
Suzanne Wright
Series:
Dark in You #2
Published by
Piatkus
on September 1, 2016
Genres:
Paranormal
Format:
eBook
Also in this series:
Burn
Pages:
368

Buy on Amazon
Goodreads
Defeat the enemy. Win the boy. Live happily ever after. But life "ever after" isn't as easy as it used to be. Harper's gone from being a member of a small demon lair to co-Prime of one of the most powerful lairs in the US with a mate who, though hot as hell, is just a mite overprotective - I mean, you get kidnapped by dark practitioners just once ...

Then one of Knox's demons goes rogue, and in his madness decides Knox Thorne must die. Harper's worried. Knox isn't - at least until he discovers his mate's willingness to get between him and danger.

Now, Knox has a new priority: Keep Harper safe ...no matter what it takes. But Harper begins to suspect there's more danger than one rogue demon. It seems the combined strength of Harper and Knox has upset the balance of power in the demon world and there are those who are determined to right that wrong. Because when you move up the food chain, sometimes the other predators just want to take a bigger bite.
Harper and Knox are back in Suzanne Wright's Dark in You series! This is book two told from alternate POV's and picks up a couple of months after the first book, Burn, left off. These books should be read in order 🙂
After reading the first book Burn, I couldn't WAIT to get my little paws on Blaze. Again we're immersed in the world of demons as Harper and Knox work on building their relationship while dealing with the mystery surrounding Harpers estranged mother's disappearance.
This book was a bit slower with most of the focus on relationship building between Harper and Knox. In particular we watch Harper struggle to navigate the many changes occurring in her life after mating with the mega powerful and sexy Knox…yummy! So much is happening and on top of that she has to come to terms with her role as co-prime to Knox. A role see never wanted. Harper recognizes that she's not comfortable with either change or assistance from others but is determined to work through it. One of the things I loved about Harper is how strong and confident she is while recognizing her own flaws. She owns it and is willing to work through her issues for the sake of her relationship with Knox and herself! There simply isn't another option for her. Knox is her everything and that means taking on what goes with the territory!
"You're my home now," I tell him. "Wherever you are, that's my home." I don't care where that may be."
Knox and Harper are amazing together, but holy shit I loved Knox even more in this one! He's overprotective, dominant and amazingly sweet. He works hard to keep himself in check and understand and respect Harper's boundaries. His love for her is absolute and that feeling remains steady and true throughout the entire story even when mistakes are made.
"You're the missing piece I wasn't looking for, angel."
Oh and I loved their banter!
"You're still not fearing my mighty wrath."
"I'm trying."
"One day I will unleash it and you will flee in terror. Why are you laughing? It's only the truth. A sphinx in full-on berserker-mode can wreak major destruction and instill fear into the hearts of all who… stop laughing!"
Of course the awesome secondary characters I fell in love with the first book are ever present, bringing with them laughs and support. Harper's family just brought huge smiles to my face as they thieve, lie, set stuff on fire, take risks and exude pure wildness! They bring so much color to the story!
Harper stood. "So freaking dramatic." Khloe snorted. "Duh. Imp."
I was so happy to see the OCD, sarcastic and oddly sweet Lou (Lucifer) show up! The author's take on the devil freakin' cracks me up!
"So you hate it when anyone plays tricks on you, but you're totally okay with it happening to others?" He pointed at himself and snickered. "Hello, the Devil."
He's such an endearing little shit! Bahahaha
While I felt the level of suspense wasn't that high, the intrigue and guessing was entertaining and did at times keep me on the edge of my seat. Particularly at the end. There were also some pretty gruesome scenes, on in particular kind of made me uncomfortable. But let's face it… this is a world full of demons so guess I should suck it up. LOL
We're left with a strong couple and a plot that promises more intrigue, new villains and conspiracies exposed! Most definitely leaves you wanting more and considering who this author is I'm betting the next book in the series will be even better!!!
Other Series by this Author