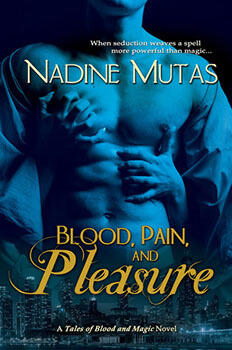 Blood, Pain and Pleasure
by
Nadine Mutas
Series:
Tales of Blood and Magic #1
Published by
CreateSpace Publishing
on May 28, 2015
Genres:
Paranormal
Format:
eBook
Source:
Purchased
Pages:
322

Buy on Amazon
Goodreads
When seduction weaves a spell more powerful than magic...

Desperate to save her demon-abducted sister, witch Merle MacKenna breaks the law of her Elders. As a last resort to track down the kidnapper, she unleashes another demon, Rhun, from the magical prison of the Shadows. Determined to bind him again after he helps her, Merle vows to keep him tightly controlled. Easier said than done when her own personal demon is hellbent on charming his way into her pants – and her heart.

After twenty years in the Shadows, bound for a crime he didn't commit, Rhun is past caring about anyone but himself. The plan: Seduce the sexy witch, steal her powers, break the magical leash to her, and then be on his merry way. But when a heinous betrayal in the ranks of the witches forces Merle and Rhun to work even closer together, Rhun's plan backfires – and the witch he meant to play gets under his skin. With his unbidden feelings for Merle vying with his need for freedom, he struggles with a bitter realization: Being a selfish bastard is a lot harder when love is involved.

Warning: Includes lots of witty banter and snarky humor, as well as a charmingly disrespectful demon hero who's hot enough to melt panties with a look.
Wow!  This book was a gem!  It is the first book in the Tales of Blood and Magic Series. The characters were well developed, the plot well thought out and just enough humor infused throughout to make for a super fun read.  The banter and interaction between the two main characters cracked me up; I'm still snickering LOL
First of all I'd like to give the author a big kudos for the amazing job she did creating a well-developed world with enough background and detail without overwhelming the reader. So often I find the first book of a series with this type of world building go a bit overboard.  This was the perfect balance of providing the background we needed while still leaving us wanting to learn more in the next books.  I loved the description of the witches and their culture as well as the conflict with the demons.
Our heroine Merle is a powerful witch who suffered devastating loss at a young age. She's now the head of her family line and the responsibilities weigh on her as she struggles with confidence in her abilities as a young witch and tries dealing with the great losses she's suffered.  All she has left is her sister Maeve who she loves more than anything.  When Maeve is kidnapped Merle is shattered and is determined to find her.  In a bid to find her sister she defies her Elders' and does the unthinkable… she summons a convicted demon imprisoned in the Shadows to help her find the demon who took her sister.
This of course is where we meet our hero Rhun.  When Rhun is brought back from the Shadows (type of prison) after 20 years for a crime he didn't commit he is pissed!  Not only is he summoned back, but he's summoned back by the granddaughter of the woman who sent him to the Shadows in the first place and is now bound to Merle to keep him under control. Yup, he's definitely pissed!  Merle wants him to help her and in exchange she's willing to feed him; at least partially. She doesn't realize he needs more than blood. He feeds off Blood, Pleasure and Pain to survive.  One thing is clear, Merle intends to send him back to the Shadows once they find her sister and Rhun won't be sent back, so he plans to seduce her and destroy her so he can be free.  Let the battle of wills begin!  Hahaha
Boy I loved him from the start. He was so arrogant, witty, mischievous, dark and utterly charming.  Really, I fell completely in love with him within the first chapter.  He's a possessive, alpha who is unapologetic about who he is and loves, of all things, to snuggle 😉 Of course he's panty melting hot. Seriously, how can I not be swooning…sexy, dangerous bad boy demon who likes to snuggle; need I say more?  Didn't think so!!  hahaha.
"You know," he said, a whisper of dark need behind his words, "I don't mind posing nude for females."
Rhun keeps us grinning throughout the entire book as he's constantly trying to push Merle's buttons and seduce her at the same time.
He sighed. "There smitten."

"Smitten?"

"With me.  You know, they see me and they're addicted."  Shrugging one fairy-laden shoulder, he smiled smugly.  "Not that I can blame them.  I am gorgeous."
Arrogant yet charming!
One of the things I loved about Merle was her strength.  You can almost feel the weight on her shoulders as she struggles to keep herself together through betrayal, pain, despair, and feelings she knows she shouldn't have for her demon.  There were moments where I was thinking is this the moment she breaks?  The moment where she starts to go over the edge?  It was heartbreaking and amazing as she pull herself together over and over again to save the person she loves and that of the demon she's coming to care so much for.  It's that will to fight for what she believes in and her fiery passion that made me just love her.  Her character was very well developed and mature; she was willing to listen and think rationally even when she definitely didn't want to at times.
Another thing I found refreshing was that the author didn't try to give Rhun that air of broody self-loathing because of his darker needs, such as his need for pain. There were a couple of scenes where it could have been considered a bit difficult to read when Rhun is feeding his need for pain and revels in the torture he's causing, while not going too far.  But he makes no apologies for enjoying himself as he accepts all aspects of himself.
Throughout the story we're run through a gambit of raw emotions, betrayal and delve into a world that is beyond any of Merle's experiences and of course a sweet love story that defies the odds.
This book really was amazing and sets up the rest of the series spectacularly.  The plot carefully thought out while leaving us wanting more of the world she's created. One thing that I didn't expect which kind of sucked was how I was left in a state of desperation for the next book. While this was standalone I just didn't get enough!!  I need more!!  I can't wait for the next book, which I believe, based on the author's website is about Merle's best friend Lily.  I really really want to see Maeve get her HEA. But Lily's awesome so I'm good LOL