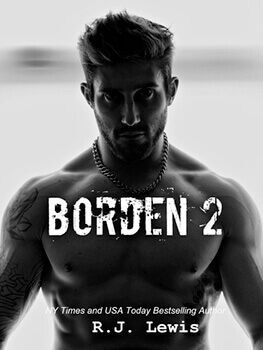 Borden 2
by
R.J. Lewis
Series:
Borden #2
Published by
Millstream Publishing
on October 12, 2015
Genres:
Adult Fiction
,
Dark
Format:
eBook
Source:
Amazon
Also in this series:
Borden
Pages:
295

Buy on Amazon
Goodreads
******* WARNING: This book contains sexual situations - of a very rough nature - violence, and strong language that may be offensive to some.*******

I fell in love with a very bad man.

Marcus Borden is that very bad man, but I knew that already. I accepted it. I just didn't expect to be pulled into the darkness of the world he'd worked so hard to hide from me. Now he's let me in and showed me what he's capable of - and it scares me. It scares me to think I'm in love with a man that has enemies who would do anything to hurt me.

And with a dark threat on the horizon, I need to ask myself just how far I'm willing to go to be with him. And how deeply in love I am with him to accept his darkness.
This is the second and final book in the Borden Series, told through alternate POVs, and picks up where the last book left off.  There was definitely more action, suspense, violence and heat in this book which was fantastic!  After receiving a threatening text, Borden is absolutely determined that nothing bad will happen to Emma even if that means making a deal with those he loathes.  Anything to keep her safe.  As Borden, Hawke and their new partners close in on the person orchestrating the threats against Borden/Emma; the tension begins to build as we wait for the proverbial shoe to drop.  Once it did, wow, I was zooming through the pages!
I felt like the author showed us a more vulnerable Borden, particularly in relation to his fear of losing Emma.  It was almost palpable.  My heart broke for him knowing where that fear stemmed from.  Between the loss of his previous love and his love for Emma, it's no wonder that he'd do anything to keep her safe. Because to lose her would destroy him.
"He looked at me like I meant so much to him, like I was the fucking sun and he was a planet orbiting it."
Emma was amazing in this book.  She's level headed, perceptive, genuine and tough.  Furthermore, as she struggled with her emotions, I loved how honest she was with herself and her feelings for Borden.
"The man was a lunatic. I didn't care. He was possessive and violent. I still didn't care. He was jealous and rude, and he took what he wanted without fear or regret. And I didn't fucking care."
She also, in my opinion, showed maturity when she admitted when she was wrong, apologized and moved on after Hawke called her out on her behavior with her friend.  It was really funny seeing her, Graeme and Hawke cut loose and have fun.  You could see the mutual respect they developed for one another. I have to say I was so relieved that the author didn't make Emma one of those dumb heroines who constantly puts themselves in danger while insisting they can take care of themselves…  That can be sooo annoying!
Not only was it nice to see how Emma and Borden's characters developed but to get to know my favorite secondary characters, Hawke and Graeme, much better was amazing.  They're so loyal to Emma and Borden and will do anything for them.  Honestly I might have a bit of a crush on Hawke LOL. Oh… and what we find out about Hawke…what a twist!!  I didn't see that coming!
This was a great ending to a great duology and the epilogue was beautiful!
The first book in series: Borden