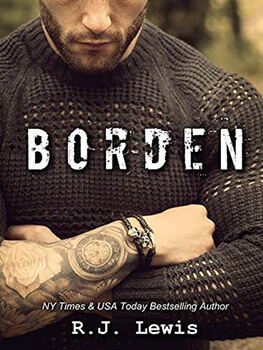 Borden
by
R.J. Lewis
Series:
Borden #1
Published by
Millstream Publishing
on August 1, 2015
Genres:
Adult Fiction
,
Dark
Format:
eBook
Source:
Amazon
Also in this series:
Borden 2
Pages:
302

Buy on Amazon
Goodreads
Marcus Borden has always been used to power and control. After a crime-filled upbringing in a very harsh neighbourhood, Borden leaves his hometown, returning four years later mysteriously rich and unrecognizable, with one woman on his mind.
A woman he'll never have.
Pained by his devastating loss and filled with rage and guilt, Borden's world turns dark.

*
As a fiercely independent woman, Emma Warne knows all about hard living. Having kept to herself most of her life, the last thing she expects is to be thrust into the world of infamous criminal Marcus Borden, the dangerous man the entire city fears and loathes. But the more she pushes him away, the more he comes back, taking over her life and stripping her of her control she desperately clings to.

Once Borden has his sights on her, Emma is going nowhere anytime soon, and what she doesn't expect least of all... is that she may not want to either.
It's gritty, tough, and heart wrenching.  Borden is the first book in the Borden Series.  It does end on a bit of a cliff hanger but not to worry because Book 2 is already available.  This is the first time I've read anything by R.J. Lewis and wow was I blown away. The book actually has two parts and by the end of Part 1 my heart was crushed!  BUT it made the second part that much more amazing and the connections between the main characters is almost tangible!
Please note: Even though you may think this is a love triangle at first it's absolutely not.  So for those of you, like me, who hate love triangles rest at ease!
We're introduced to our brooding anti-hero, Marcus Borden, through the eyes of his first love Kate who is telling her story while bound and terrified in a dark cellar waiting to die.  She's all things sweet, innocent and comes from a world totally opposite of his own.  They come together in secret and Marcus treats her like she's the brightest light in his life.
"You're the sun, babe, and I'm the fucking darkness…"
But he leaves and when he comes back 4 years later the unspeakable happens and Marcus faces a tragedy no one should and as he holds his love in his arms he changes fundamentally.  He becomes angry and cold.
"That was the moment the colours in his world diminished."
After I stopped my sniffling and put the tissues away we're re-introduced to the present Marcus through the eyes of Emma as she's brought in front of him after witnessing a murder in the alley behind his club.
Marcus terrifies Emma.  He's huge, intimidating with an aura of barely restrained violence.  But there's something about him that intrigues her even through her fears.  One of the things I liked a lot about Emma is that she wasn't a fearful little mouse.  She was level-headed and acknowledged her fears and tried to push through them rather than have someone walk all over her. Even to the point of lashing out when pushed too far.  I admired that and apparently Marcus does too…in a different way "wink wink".
Marcus recognizes Emma from when he saved her from being assaulted almost a decade prior.  She couldn't have been more different.  She's as tough as nails, defiant, down to earth and vulnerable all at once.  He's immediately drawn to her and the spark she causes in him cannot be denied. He quickly becomes obsessed with her and how she makes him feel more alive.
"He could practically taste the colours; they were there, lingering around the edges, trying to break through."
The attraction between the two leapt off the page!  The sexual tension was off the charts and when they finally come together they were smokin'.  The depth of these characters and their passion was beautiful.  How the author emotionally guided the reader from the Marcus "before" to the Marcus "after" was masterful.  For me it was like emotional whiplash.  I was heartbroken by his loss, shocked by his transformation into someone so angry, cold and violent and then saddened yet hopeful as we begin to see his vulnerability shine through making Marcus's desperate need to love and to be loved evidently clear.  I appreciated how the author didn't try to downplay Marcus's emotions for one over the other.  They were just different people.
I can't wait to read the next book… so I won't! LOL I'm off to read Book 2.