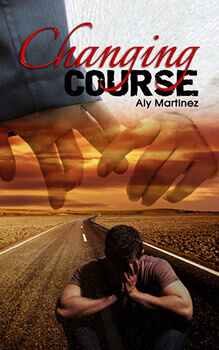 Changing Course
by
Aly Martinez
Series:
Wrecked and Ruined #1
Published by
Self Published
on January 29, 2014
Genres:
Adult Fiction
,
Contemporary
Format:
eBook
Source:
Purchased
Also in this series:
Stolen Course
Pages:
259

Buy on Amazon
Goodreads
I met Sarah Kate Erickson when I was twenty-one years old. I was lucky enough to keep her for seven years before a tragic accident stole her from me. She didn't die, but sometimes I think it would have been easier if she had.

I lived in a haze for those four years after the accident. Catering to her every need, even though she hated the very sight of my face. I tried to hold on to her and the future that we were supposed to build together. But you can't hold on to someone that doesn't exist anymore.

It wasn't until I met Jesse Addison, a barista at the local coffee shop, that I realized I didn't just lose Sarah that tragic night, I lost myself as well. Jesse taught me how to let go of the past and learn to love again. But what happens when your past haunts your present and the woman you used to love refuses to accept the woman you can't live without?

**Intended for readers 18+. Each book in this series can be read as a standalone.**
Wow! Just wow. This story truly moved me. It's heartrending, emotional, full of angst, funny and smoking hot. It felt emotionally connected to the characters and was taken along for the roller coaster of a ride called the journey of healing and letting go.  This is the first book in the Wrecked and Ruin Series by Aly Martinez and tells the story of a grieving Brett and the woman who brings the sun back into his life. It's from multiple POVs and has a resolved ending with no cliffhanger.
For those of you out there who shy away from plots with cheating and/or love triangles I just want to clarify that though the blurb may imply a love triangle or cheating, because technically our hero Brett is still married to Sarah, it really isn't the case. It won't feel like it either. They have not been together for years, don't live together and there is no chance of them getting back together. It also doesn't want to make you curl in a corner and bawl your eyes out for hours though I'm betting there will still be plenty of tears with some laughs along the way. Of course we don't want to forget the HOT steamy action we all know and love… LOL And there is a lot!
Brett is a detective who tragically lost his wife Sarah to an accident. Now she didn't actually physically die but her mind is affected, so for all intents and purposes who she was before the accident (the woman Brett fell in love and married) is gone. So really it's as if Sarah herself died.
Brett was madly in love with Sarah when they got together and lived happily for 7 years before the accident. Not just love but the once in a lifetime kind of love. When the accident occurred Sarah changed completely and turned into a hateful, manipulative and guilt ridden women both due to guilt and brain trauma. Brett is the primary target of her hate and she can't stand him. He is a reminder of her guilt and she's Brett's endless reminder of what he's lost. Brett still feels obligated to continue caring for Sarah even after she moves out and breaks things off with him. So over the next 4 years Brett's life is consumed with Sarah's care and bearing some hope that "his wife Sarah" will come back even though he knows that'll never happen.
Queue in Jesse, a barista at a café Brett and his partner (and best friend) frequent. She becomes his light and with a nudge from his friend their love story begins.
Brett is the total sexy protective alpha-man. He's sweet, compassionate, loyal and what he has endured broke my heart and so the water works began. I wanted to reach into the book and give him a hug. Like damn, I couldn't even imagine. It took me a bit of pondering to understand why the heck it took 4 years? That's a really long time, but is it really? Each person's grieving process is different and in this scenario the fact that Sarah is still alive makes it worse. At least there would have been closure if she died but instead Brett is constantly thinking of her, taking care of her and at times hoping that he'll see the wife he loves show up again. Compound that with Brett's loyalty and initial unwillingness to just let her go there's a recipe for disaster.
"He's trapped. Torn between doing the right thing as a man and a husband, and making himself happy." ~Caleb (Brett's best friend)
Jesse is a sweet, shy and often time timid because of her insecurities. But despite that she is a strong character with a great capacity for compassion and understanding of others. She provides an environment where Brett can begin to face his life and grief and begin to work through it. The chemistry is amazing and they are absolutely HOT. Lots of lovin happening!
"But for me, these last few days have been an awakening. I now see the sun behind the fog, and it's a damn good feeling" ~ Brett
But this is no easy task. Jesse and Brett's relationship is turbulent to say the least. They're trying to navigate the intricacies of Brett's grief and inability to fully face reality and making a break with his past to pursue his future. On the flip side Jesse doesn't want to lose Brett because she loves him and hopes that if she's patient he'll come around. So they both essentially end up doing the same thing both to themselves and each other. Brett is afraid of the future and Jesse is afraid of being compared to his past.
"He and I live in a perfect little world of denial. We don't talk about Sarah or our feelings. We definitely don't talk about a future together. We just exist, hanging out and talking about our days, but never our tomorrows." ~Jesse
Brett could definitely be a dumb ass! He messed up sooo many times but he is open and always honest which allowed for open communication between the two so they could resolve each issue as they arose. But it is still difficult and with Sarah being manipulative and volatile we get a heavy dose of angst!!
It wasn't always pretty but it was mature and believable. The author was able to take a difficult topic and steer us through the process of growth and healing that was necessary to make Jesse and Brett's relationship work. Her writing flowed smoothly, the sex scenes hot, and I greatly enjoyed her style. She made me feel compassion for everyone including Sarah. She exposed the flaws of each character and made it real. I could actually imagining this happening. This story was beautiful and I loved it!