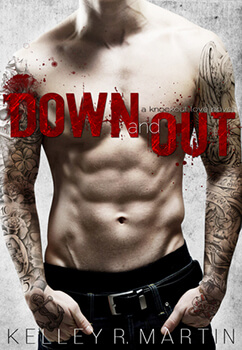 Down and Out
by
Kelley R. Martin
Series:
Knockout Love #1
Published by
Self Published
on September 28, 2014
Genres:
Contemporary
,
New Adult
Format:
eBook
Source:
Purchased
Pages:
286

Buy on Amazon
Goodreads
*Don't read this book if you don't like snarky, dominant, tattooed men who say things like "Open your mouth, and I will," after you tell them to shove it. And don't read this book if you don't like sassy, strong-willed, fiercely independent heroines who use phrases like "bossy asshole" as a term of endearment. You have been warned.*

"Tattooed package of sin."

That's how Savannah Ryan would describe her new boss, Declan Whitmore, the deliciously tatted and pierced fighter who holds the top spot in Boston's newest underground fighting organization. She'd also describe him as bossy, arrogant, and—depending on what he does to piss her off that particular day—an asshole.

It's that aloof attitude, along with Savannah's witty comebacks and tight little body that land her on his radar. Unfortunately for her, Declan is relentless when he sets his sights on someone, both in and out of the ring. Unfortunately for him, this recently reformed bad girl is trying to go straight after heading down a dangerous path. She's not going to make this easy for him. In fact, she's going to make it—and him—very, very hard.

Declan's not worried, though. He'll have Savannah come hell or high water, because if there's one word he'd use to describe her, it's "MINE."

Ages: 18+
Unfortunately this didn't do it for me. I tried but couldn't get past my dislike for Savannah. The general premise of the story was good and it started out alright but the more I read the quicker it went downhill. Now I know it's mentioned many times that Savannah is feisty and can be mean but jeeezz.. There's a limit. I loved the Hero which made Savannah's character that much worse. I just couldn't get why Declan was so into her. The author was constantly telling us that he loved that stubborn, argumentative and sometimes mean personality. It felt like the rationale behind him liking her so much was pushed on the reader because we wouldn't be able to see it ourselves which would be true. There wasn't a lot actual actions that gave substance or credence to the relationship. Savannah is extremely selfish and treats him like crap and then won't apologize when she actually is being a bitch and knows it. At times it almost felt emotionally abusive. Declan even realized that her behavior wasn't the best but still didn't step up to work through it with her.
"I was starting to think of us as a team, but now I realize how stupid that is. It's always been Team Savannah, and it's always going to be Team Savannah. I'm just her pathetic cheerleader, stuck on the sidelines" ~Declan
It was an observation he made, pushed aside and concept not revisited later in the book. In my opinion this is an apt description of their relationship throughout the book. Like I said the premise of the story is good and the book's not bad I just couldn't get past the heroine. With that said, if you like Savannah's character then my guess is you'll love this book 😉