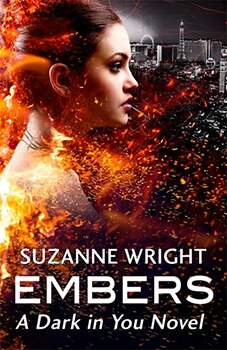 Embers
by
Suzanne Wright
Series:
Dark in You #4
Published by
Piatkus
on July 3, 2018
Genres:
Paranormal Romance
Format:
eBook
Source:
Amazon
Also in this series:
Burn
Pages:
352

Buy on Amazon
Goodreads
Harper and Knox are back and better than ever! The fourth book in Suzanne Wright's globally bestselling The Dark in You series is not to be missed.

The final horseman awaits . . . and the stakes have never been higher.

With the birth of their son, Asher, Harper and Knox are both more powerful and more vulnerable than they've ever been before. Asher's charm has seduced even the devil himself, but Harper knows that the real villain is still out there, and as desperate as ever to see the Primes fall. They're laying low, and there's no way to tell which one of their circle is really a deadly foe . . .

When the final horseman makes their move, Harper and Knox will have to use all the considerable power at their disposal - and that may even include Asher's mysterious abilities. One thing's for sure - this is a baby who's more than a match for any demon coming after him.

It's time for the world's most formidable family to take the fight to the enemy . . .
Embers, book 4 in Suzanne Wright's Dark in You Series, is just as amazing as the previous 3!  This is the final book focusing on Knox and Harper and we get to meet their adorable tiny addition, Asher!  I don't want to ruin the series for you, so I won't go into detail regarding the plot line. It's my opinion that this shouldn't be read as standalone.  You'll need to start from the beginning to fully enjoy and appreciate the cast of characters.
I will say that we've gone on quite the ride with these two.  They've had their emotional ups and downs while navigating their unique relationship.  Over the course of the series, Knox and Harper take a journey of self discovery, growth and deepening passion; which I adored.
"I've never had someone as deeply enmeshed in my life as you are, Harper. Never wanted anyone to be. I don't have any real experience with emotional intimacy, which means I'm often flying blind here. Not being good at something pisses me off. But you … you're something I need. I absolutely refuse to live a life that doesn't have you in it."
Of course, all while being attacked from both internal and external forces!  There's lots of intrigue that will keep you guessing as Knox and Harper try to uncover a conspiracy.  A conspiracy that could upset the demon world 😉
As typical with all the books by this author, there's a lot of fun and hilarity that brings all the characters together and highlights how close they are. Completely drew me in.  The secondary characters surrounding Knox and Harper are fantastic.  I can't say enough good things about them.  Adorable, evil, trouble makers, scary as hell and loyal to a fault. AND my review wouldn't be complete if I didn't mention Lou (short for Lucifer).  He's an endearing socially inept goof! Major comic relief moments for me… He doesn't show up a lot but when he does he's hilarious.
"What time did you get here?" Knox asked him.

Lou pursed his lips. "I'm too stoned to be entirely sure, if I'm honest.  And I'm rarely honest. But then, maybe that's a lie"
And boy did I love Asher!  He's too cute.  He has everyone wrapped around his chubby little fingers.  It was definitely a treat to see super scary, potentially world destroying Knox soften just a bit around the edges. Aside from Harper, his son means everything to him.
Ultimately, I was left totally satisfied with the ending of their story.  But there is consolation because we'll see them again.  It's my understanding that the series will continue with the secondary characters getting their own stories.  Which I'm stoked about!  I can't wait.  Truly, if you're a fan of exciting paranormal romances with a huge dose of laughs and mystery you'll love this.  Suzanne Wright is fabulous and if you haven't read any of her works; get on it!!! I beg of you LOL
Check out the other books in the series:
Book 1: Burn (my review)
Book 2: Blaze (my review)
Book 3: Ashes