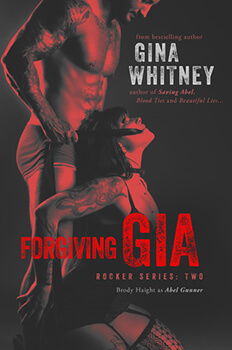 Forgiving Gia
by
Gina Whitney
Published by
Self Published
on October 20, 2014
Genres:
Contemporary
,
Erotica
Format:
eBook
Source:
Purchased
Pages:
246

Buy on Amazon
Goodreads
Abel Gunner is a rock-star with legendary skills both in and out of the bedroom. He swore he wouldn't fall for another woman after being schemed and manipulated by an ex-lover. He kept that vow until he met Gia Mastro. The Dom inside of him awoke the moment he set eyes upon the submissive beauty. His dark soul hungered for her submission and affection. The deep connection they share leaves him desperate for something he never expected – her love. Her pain brings him the pleasure he craves. Her smile calms the beast that rages within him. Gia loves Abel more than life itself, but Abel is disillusioned by love and wrecks Gia in the process. Her life hangs in the balance. His life depends on forgiving her. This couple must face many truths. Is love enough to overcome the damage that dwells within? Gia's experiences with love have been nil until meeting the infamous bad-boy rocker, Abel Gunner. Swept up in a mind-bending, Dom/submissive love affair, she's forced to make decisions that both help and hurt their relationship. They both have to face their demons before they can embrace a future together. In the end, they're faced with two choices: Fight for their love, or die with their demons.

Book 2 of 3...Must read in order. 18+ BDSM themed Rock Romance.
Was it everything I expected? No, it was better! I didn't think it was possible but I liked this one even more then the first book.This is the second book in the Rocker Series by Gina Whitney. WARNING: The last book left us with a massive cliffhanger so this is NOT standalone!!! You must read the first book before this one.
The book picks up where we left off in Saving Abel and it breaks your heart; both for Abel and Gia. Now that everything is out in the open we start to see the story unfold as they both try to work through their issues and rebuild trust. Abel's still our fabulous dirty talking, sex fiend, mega alpha, Dom extraordinaire. And well Gia… I loved her so much more in this book. The development of her character is very well done. You can really see the shift from shallow, conflicted and self-serving person from the first book to a person who sincerely wants to start the healing process by working through her own issues as well as the relationship with the support and mutual efforts made by Abel. We begin to better understand why Abel is the way he is as we learn more about his past and see healing of old relationship. The dominant / submissive relationship is more of a lifestyle change then just left in the bedroom. So not only are they working on their relationship but incorporating the lifestyle in a way that works for both of them in the long run. Was tastefully done….well with a lot of smokin HOT dirty talking sex including all the BDSM accessories! (Hmmm maybe I should rethink my personal definition of tasteful hahahaha:)
I absolutely hated Gia's mom and Abel's ex-psycho Morgana even more! I wanted to hunt them down and kick their ass! I swear they are the devils incarnate. Actually Morgana would have made the perfect daughter for Gia's mom. I can just here them cackling together LOL
A big surprise for me is I fell in love with Abel's dad in this one. I didn't think that was possible because boy did I want to bitch slap him in the last book. The things he does for Gia and Abel are so great and Abel finds there might just be more in common between him and his dad… teehee!! I wouldn't mind reading a book about him!
There isn't an excessive amount of angst between the two MCs. I'd say as the story progresses they're fairly solid as a couple. BUT there IS a lot more happening in this book. I don't want to ruin the book so I'll leave it at that. This one doesn't leave us with a big cliffhanger so I guess in my opinion we have a very satisfying HFN for the overall story. Holy cow I can't wait for the next book!!!