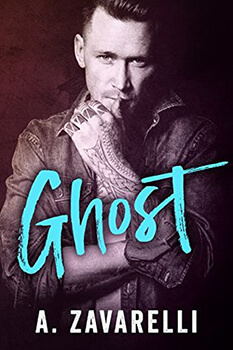 Ghost
by
A. Zavarelli
Series:
Boston Underworld #3
Published by
CreateSpace Publishing
on August 27, 2016
Genres:
Adult Fiction
,
Contemporary
,
Dark
Format:
eBook
Pages:
288

Buy on Amazon
Goodreads
Talia.
I have always been a bird. Caged by one prison or another when the only thing I ever wanted was to fly away.
Sold. Beaten. Starved. Drugged.
Nothing scares me anymore.
Until him.
He makes the numbness go away.
He is hazardous to me. It has nothing to do with his mafia lifestyle, and everything to do with what he offers.
A gilded prison.
A retreat from everything that I once knew. The reality I have no desire to return to.
He thinks he's caged me, but soon…
I'm going to fly.

Alexei.
I live by a code. The Vory code.
In this mafiya world, there are traditions.
Expectations.
She does not care for these things. She does not care about anything.
She thinks she has me fooled with her haunted eyes.
What she can't know is that I see her better than most.
She wants to fly.
But I'm going to clip her wings.
And make her my wife.
A.Zavarelli has taken us into the world of the Russian mafia, where the second in command and a slave girl come together in a most unlikely union!  LOVED.IT. This is book three in the Boston Underworld series but can be read as standalone. It's told through the eyes of our two MC's Talia and Alexei.  Note: There are some tough topics and very descriptive scenes that may be triggers.
Alexei
Alexei is the second in command of the Vor, which is the Russian mafia.  He's grown up in the life and has a strong sense of tradition.  But he is damaged and has a secret he's kept his whole lifethat could threaten his life and position.  As a result he struggles with his self-worth and lives like a recluse in his home out in the middle of nowhere.
In the Vory culture family is huge.  Alexei is at the age that he is expected to settle down, marry and start a family of his own.  But the woman everyone expects him to marry, Katya, betrayed him and is a manipulator.  He sees right through her crap and is determined not to marry her.. But in order to do that he's got to find an alternative so that he can appease his boss and he starts to plan…
In previous book Alexei is asked to find a friend who was taken and from the moment he laid eyes on her picture he saw her as solnyshko "the sun".  So things take a bizarre turn when he decides to take a slave he hasn't met as his new wife. So he carefully plans her retrieval and when he does he forces Talia to marry him.  Talia really doesn't have a choice.
Talia
After having her heart ripped out through the worst kind of betrayal and a year in captivity, Talia's given up.  She's past coping and now her only reason for living is to find a way to die.  She'd then be able to finally disappear and make the pain go away.
Boy does the author do a fantastic job making you feel the desolation.  Not simply self-pity or sadness but a chasm of desolation so vast that you simply aren't capable of anything but numbness.  It was believable and I felt the shear hopelessness that Talia felt. It was awful!
Needless to say, when Alexei saves her she is a shattered soul.  But there's something about her shattered soul that calls out to his incredibly damaged one.
These two definitely struggle as they begin to feel more.   It's more than evident that they are beginning to care deeply for one another but they fear it.  There's no trust.  Alexei in particular refuses to fully believe that he could love.  He doesn't want it but he can't help but feel…
"Solnyshko," he says sincerely.  "You terrify me."  I swallow, and he kisses me softly.  "I know," I tell him.  "Because you terrify me too."
To make things more complicated Talia is trying to navigate a culture she knows nothing about, try to heal her own mind and Alexei has enemies that want to see him suffer.  In between it all Alexei is trying to help his new wife heal and find some measure of peace.
"Do you want to drown, baby?" he asks. "No," I answer. "I want to fly."
But just when they're making solid progress in their relationship, the worst thing that could possibly happen to Alexei happens.  He's betrayed and a secret weakness revealed.  It starts a chain reaction of events that leads to a trail of heartache and death.  Alexei starts to drown in hatred, distrust and self-pity while Talia takes the brunt of it; causing her world to again spiral out of control.  I was pissed! But while I felt for Alexei I was so annoyed with his pigheadedness.  I wanted to slap him around while at the same time give him a heartfelt hug.  LOL
Talia was so strong. Her capacity to love even as she's left taking the brunt of an impossible and hurtful situation is incredible.
The story was emotional, dark and beautiful.  It's about growth and healing.  Each had to work hard to overcome their own fears and open themselves up to trust and the resulting vulnerability.  More importantly, they had to learn forgiveness.
"…I will make you mine all over again.  Every day, for the rest of my life Solnyshko.  That is my promise to you.  I will make you fall in love with me every day for a lifetime."
The character development was awesome and feelings expressed intense.  I'd definitely recommend this book to readers who love stories about the healing of tortured souls with a mafia twist.
Other Books in the boston underworld Series:
Book 1: Crow
Book 2: Reaper
Question for ya:  Why do you think a fabulous mafia romance appeals so much?  After all they are criminals… (sexy ones but still LOL)