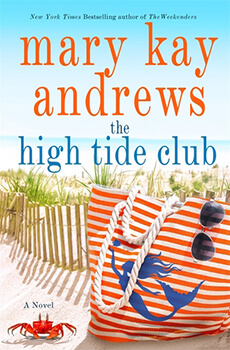 The High Tide Club
by
Mary Kay Andrews
Published by
St. Martin's Press
on May 8th 2018
Genres:
Mystery
,
Romance
,
Womens Fiction
Format:
eARC
Source:
NetGalley
Pages:
480

Buy on Amazon
Goodreads
From the New York Times bestselling author of The Weekenders comes a delightful new novel about new love, old secrets, and the kind of friendship that transcends generations.

When ninety-nine-year-old heiress Josephine Bettendorf Warrick summons Brooke Trappnell to Talisa Island, her 20,000 acre remote barrier island home, Brooke is puzzled. Everybody in the South has heard about the eccentric millionaire mistress of Talisa, but Brooke has never met her. Josephine's cryptic note says she wants to discuss an important legal matter with Brooke, who is an attorney, but Brooke knows that Mrs. Warrick has long been a client of a prestigious Atlanta law firm.

Over a few meetings, the ailing Josephine spins a tale of old friendships, secrets, betrayal and a long-unsolved murder. She tells Brooke she is hiring her for two reasons: to protect her island and legacy from those who would despoil her land, and secondly, to help her make amends with the heirs of the long dead women who were her closest friends, the girls of The High Tide Club—so named because of their youthful skinny dipping escapades—Millie, Ruth and Varina. When Josephine dies with her secrets intact, Brooke is charged with contacting Josephine's friends' descendants and bringing them together on Talisa for a reunion of women who've actually never met.

The High Tide Club is Mary Kay Andrews at her Queen of the Beach Reads best, a compelling and witty tale of romance thwarted, friendships renewed, justice delivered, and true love found.
The High Tide Club by Mary Kay Andrews is a heartwarming tale with low-key drama, intrigue, suspense and tons of southern charm!
Set in coastal Georgia, 99-year-old Josephine is seeking to make amends and save her family island. She reaches out to a lawyer, Brooke, to track down the descendants of her old friends and save her island. An island that happens to be on the cusp of being taken away from her.
Brooke has her own issues and she's trying to start fresh after running from a life that was suffocating her.  She's unsure why this strange old woman wants to hire her but really needs the money.  So she takes the job not knowing the connection she already has to Josephine.  But she's soon to find out as she embarks on a journey of hope, healing and coming to terms with her own mistakes.
Years ago, Josephine and her 3 friends; Varina, Ruth and Millie created The High Tide Club on the beach of Josephine's family's island. They committed to skinny dip in the ocean every year and shared their hopes and dreams.
I loved this concept.  It created an immediate connection to the girls and gave a whimsical feel typical of youth.  And given how the book's told via two timelines, it creates an emotional link to the past that's essential to the story. In the 1940's I got to know the group of friends as they grow into women and start life.  But as life often does, people age, mistakes are made, and shocking crimes are committed!!  But I won't go there. You'll have to read the book to find out ?
In the present I got to know Brooke, who has her own journey.  As she follows Josephine's wishes she finds out who she is by learning about the past and the people she's connected to.  Ultimately leading to a new sense of self and discovering what she wants out of life.
For me, stories told with flashbacks tend to make me leery because not all authors can pull it off well.   However, I thoroughly enjoyed the skill with which the author took us back and forth through time.  Even better was the amazing job Mary Kay Andrews does interweaving the lives and connections created between the characters; both past and present.
All the characters are well developed with great depth.  I only had one issue.  While I connected well with the characters, I felt the first part of the book was slow.  That's really the only reason it didn't get full starts.
Regardless, by the end of the book everything came together beautifully. I was left with a feeling of completeness as the story came full circle.  It was heartwarming and emotional in so many ways.  Overall Mary Kay Andrews crafted a wonderful story.  I'd recommend this to all beach book / Chick Lit lovers!
I received an eARC of this book from the publisher via Netgalley. This review was voluntary and all opinions and thoughts are my own.