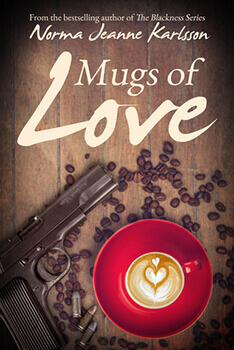 Mugs of Love
by
Norma Jeanne Karlsson
Series:
Stories of Love #1
Published by
It's Publishing
on December 22, 2014
Genres:
Contemporary
,
Dark
,
Romantic Suspense
Format:
eBook
Source:
Purchased
Pages:
405

Goodreads
Serving promise, one cup at a time.

When his world came crashing down around him, Garrett Sharp didn't run. He stood like the man he is and took his punishment. Eight years later, he finds himself in a new life. It's not the life he grew up believing he would live, but it's a life all the same, albeit numb and empty. Well, not entirely.

Every day across the street from his furniture store, Garrett steals moments full of warmth from Emily Garner. As she floats happily through her coffee shop, Emily provides him glimpses into her soul. She's pure and full of life in a way Garrett's never experienced. He's never heard her voice and doesn't know the color of her eyes. But he knows she lights up like a beacon when she serves coffee to couples on their first dates. Emily can feel the tingles of new love even when she's not the one experiencing the thrill. And Garrett can feel Emily's joy from across the street.

When Emily finally enters Garrett's store for the first time six months after he opens, both their lives change. Garrett must battle the demons of his past to be a man worthy of the woman he's fallen for from afar. Emily has to move beyond her ex-boyfriend and his betrayals to find trust again. If it were only the past challenging Emily and Garrett, their story would be easy.

Life is never easy.
I definitely had a bit of sub-genre whiplash with this one. What I expected vs what I got were two different things and actually almost split in the book. When I started this boo I was expecting light with a bit of angst. As the story progressed my jaw dropped about halfway through because here we start to see a shift to a much darker storyline without actually removing all the sweet moments I had experienced thus far. I love all romances so it didn't bother me so much as surprise me. In fact I kind of liked it because since I like dark and didn't expect the shift it made it more interesting. Sooooo those who don't like graphic violence beware. This is told in multiple POV's and is standalone.
Emily owns a coffee shop where she loves interacting with people and bringing a bit if light into their lives through her perpetually happy/loving personality. She's a big romantic at heart and especially loves watching people have their first date over a cup of coffee at what she refers to as the date table. She's always makes different designs in the latte foam which I thought was cute.
After spending 8 years in prison Garrett opens a furniture store across the street from the cafe. He's cold and feels nothing other than various levels of anger. Over the next six months he "steals warmth and light" from Emily as he watches Emily through his shop window. Even thought he doesn't talk to Emily and doesn't attempt to approach her because he doesn't feel like he's good enough for her he starts to develop deep feels for her. Of course he doesn't know that the sweet Emily is watching him right back.
When a friend of Garretts asks him to watch over his woman Jesse while he's away on MC biker business. Since Jesse frequents the cafe and befriends Emily Garret has the opportunity to meet Emily and this is where there romance actually starts to develop.. Over extremely short period Garret just can't help himself and decides he can't go without her and they fall madly in love.  They were soooo HOT! Was fanning myself a few times. The relationship moved fast but I was fine with that.
"Time is an illusion, Emily. I spent eight years in a cell and it felt like ten lifetimes. I've spent six weeks with you and it feels like a second of time has passed. And, in that second, I've experienced more life than I did in all those lifetimes I lost"
Sooo sweet. Sigh….
There were a few things that didn't make since to me in terms of character relationships. I had trouble reconciling the closeness of a few characters with what the relationship is supposed to be. Or at least my definition of what "closeness" is in a relationship. For one, Emily's best friend Jordon is carefree, funny and daaark. I loved him; he always made me smile even when he was torturing someone. BUT I was a bit confused regarding how close their friendship was. There is no unrequited love, or desire of any kind for the two, however there was a lot of physical interaction (the random touches, sitting on lap, sleeping together). It sort of pushed the boundaries and had me thinking a time or two if we were going to see a love triangle. THANK GOODNESS WE DIDN'T. It also didn't fit with the type of character Garrett was. Considering Garrett is super alpha, over protective etc (had a very Kristen Ashley alpha male feel), you'd think he'd have problems with Jordon but he didn't at all. I loved how Jordon described Garrett as BAMF (badass motherfucker) LOL!!! Soo funny.
There was a couple of other instances where I was a bit uncomfortable with some of the interaction between characters. I won't get into it but I think you'll likely pick it up too.
There are secrets of course, but Emily and Garrett work things through together. Somewhat bizarre considering Garrett's dislike of talking LOL.
"I'm just not a fan of communicating. It's overrated. People talk all the time and say absolutely nothing"
But you read the book and you'll see what I mean hahahaha. Works great for them. So the majority of angst between their relationship is a result of outside forces.
If you're looking for redemption don't expect it. For the most part their isn't true remorse for any of the stuff they do, whether murder OR torture, which is absolutely fine by me and was true to the characters. They are who they are. I really really liked this book. Both the light and dark. It had a beautiful HEA and I greatly enjoyed the style of writing. I'll be reading more from this author!