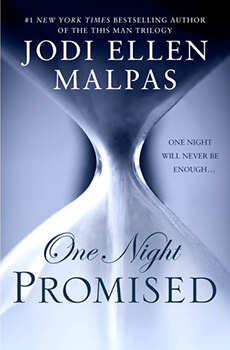 Promised
by
Jodi Ellen Malpas
Published by
Forever
on July 17, 2014
Genres:
Adult Fiction
,
Contemporary
,
Dark
Format:
eBook
Source:
Purchased
Pages:
415

Buy on Amazon
Goodreads
Livy notices him the moment he walks into the coffee shop. He's heart-stoppingly stunning, with a blue-eyed gaze so piercing she's almost too distracted to take his order. When he walks out the door, she thinks she'll never see him again. Then she finds the note he left on his napkin . . . signed M.

All he wants is one night to worship her. No feelings, no commitment, nothing but pleasure. Every defense mechanism Livy has adopted during her solitary life is at risk of being obliterated by this confounding man. He's obnoxious but well-mannered. He's a gentleman but aloof. He's passionate but emotionless. Yet the fascination is so powerful, Livy can't deny him... or herself.

M awakens something in Livy, something deep and addictive that she never knew existed -- and that she fears only he can satisfy. But she senses that behind the fast cars, fancy suits, and posh apartment, he's aching inside. To have him, body and soul, she'll have to brave his dark secrets. Delving into his world and breaking down his defenses become her obsession - an obsession that could shatter her heart beyond repair..
Ok. Not sure what to say. I'm a bit conflicted. It wasn't my favorite book by Jodi Ellen Malpas. Though I adored her This Man series this one fell flat for me. This definitely isn't the most popular rating so the review likely won't go over so well but please don't be mad at me my book loving buddies! LOL Just being honest:)
Here's the scoop:
This is book one of a three part series. There is a cliffhanger. You'll need to read this series in order. The story revolves around a 24 year old girl named Olivia (Livy) Taylor and 29 year old Miller Hart (also referred to as M) and is told from Livy's POV. Thankfully for those like me who go nuts waiting for the next book, they are now all released.
Book 1: Promised
Book 2: Denied
Book 3: Unveilded
Livy works in a coffee shop and takes care of her grandmother whom she lives with. She prides herself on being sensible and keeps herself isolated from the world in an attempt to avoid heartache and repeating past mistakes. She doesn't want to become what she most loathes….her mother. All she really has is her Nan, best friend Gregory and a friend from the coffee shop, Sylvie. This also means not facing her demons. One night while she's working our hero Miller Hart, otherwise referred to as M, walks in to grab a coffee. Livy is stunned by the beautiful man in front of her and is rendered speechless.
Miller Hart is a man with a crap load of demons and has a secret he absolutely doesn't want to share. He's emotionally unavailable because of what he does for a living ("his business") and his past. He has obsessive tendencies; incredibly cold demeanor and is maybe an alpha-male??? I can't be certain about that last one. I didn't feel genuine. I got too many vibes from his character. One minute I was getting alpha vibe, the next I was getting an insecure vibe, the next sugary sweet and then something else altogether. I felt like I couldn't get a good handle on what his character is supposed to be.
When he sees Livy in the coffee shop he's also totally taken aback by what he sees in her and his reaction. He leaves and Livy happens to come across him again at a gala where she's a server. The sexual tension is palpable.
Miller can't stop thinking about her. So he returns to the coffee shop and offers her 24 hours with him no strings attached.
"Twenty-four hours, no strings, no commitment and no feelings, except pleasure."
Of course after much internal debate, Livy eventually agrees.
There were a lot of contradictions between the character's personalities and their actions. Livy would say one thing and behave in a completely different way. She's erratic with her dealings with Miller and acts incredibly naïve and at times childish, which I found bizarre given her past. Her Nan was also a contradiction and I found it a bit annoying and on the verge of offensive at times. She wanted to see Livy get out there and live her life so when she gets wind of Miller she's incredibly eager to push Miller and a relationship with him on her, even though she knows that Livy is having issues with him. Nan is supposed to love and support her but I felt like she was supporting Miller more in a desperate attempt to hook her granddaughter up.
I felt like there wasn't a great deal of structure within the story. Just a series of yes/no's from Livy. 'I can't give you what you need' and serious mood swings from Miller. A LOT of sex. OK that part didn't bug me so much. Nothing wrong with a good dose of smexy. hahahaha
I didn't get into the book until about 75% in. I had to put it down a few times. It did pick up rather quickly near the end but even then it felt like it was too little too late to compensate for the slow and somewhat confusing story of the first 75%.
I don't mean to compare and maybe my expectations were very high because I loved the This Man series….Jesse Ward will always have a place in my heart! LOL This Man had focus and flowed well with defined strong characters and solid start to storyline. That was what I was expecting when I started this book, but unfortunately didn't get.
I didn't particularly feel the connection between these two, other than extreme lust. It seemed like lust was driving the story with some mystery, angst and some dark elements thrown in.
Please don't get me wrong, it's not that the book is bad per se. I think this author is very talented and I'll definitely be reading more of her future work. I was just thrown for a loop with what I got vs what I expected. Unfortunately, I don't think I'll be continuing with this particular series. I guess I'll just have to see 🙂