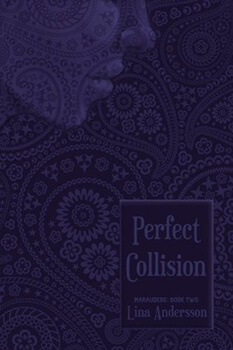 Perfect Collision
by
Lina Andersson
Series:
Marauders #2
Published by
Self Published
on April 19, 2014
Genres:
Contemporary
,
Erotica
Format:
eBook
Source:
Purchased
Pages:
325

Buy on Amazon
Goodreads
Brian 'Bear' Warren, the Vice President of the Marauder Riders MC, is a typical biker. He likes beer, women, and bikes. His only soft spot is his youngest daughter, Violet.

She's a shy, careful, and insecure girl, who generally did her very best to be noticed as little as possible. Bear always did his best to protect her, especially from her own mom, but did an almost too good job at it. Because by the time she turns eighteen, she's still a shy, careful, insecure, and slightly naïve girl. No one could've guessed she'd grown up in a biker club.

He knew Vi'd had a crush on Mac Baxter since her early teens, but around her eighteenth birthday, Mac starts to take notice of Vi as well. As far as Bear was concerned, Mac might be good guy, a fellow member of the Marauder Riders MC, his best friend's son, and someone Bear'd known since the day he was born—but he still didn't like the thought of his Vi with a six years older biker. Not at all. At the same time, he knew he had to accept that his daughter was growing up. In the choice between Vi with Mac, or Vi with some other guy, Mac might be the better option.

There wasn't much Violet Warren considered easy in life.

Even just talking to people was a challenge, because she tended to stutter and blush whenever she opened her mouth. On the other hand, she didn't like all that many people. Her dad was one of few people she loved, simply because he understood her. Or at least tried to understand her, as opposed to her mom.

Then there was Mac... She couldn't really say she knew Mac, but he'd been around her entire life, since he was the son of the club's President. She liked him. He was the one who suggested she could become a tattoo artist, an idea she loved, since drawing was one of few things she considered herself good at. Her dad helped her to get a spot as an apprentice at Wicked Ink. That's when things started to look up, and she owed it to Mac. She wasn't sure how to thank him properly until he asked her to do a tattoo on him. It sort of went downhill from there.

Marcus 'Mac' Baxter couldn't really say he knew Vi.

She was just the tiny, shy girl who'd always had a sketchbook in her lap. He knew she'd been crushing on him when she was a kid, but he'd never thought much about it. She was simply one of the younger club kids, and not one of those you took notice of. When he decided to become a Marauder, he left Greenville, Arizona, to join the Emporia, Kansas charter instead. He wanted to make a name for himself and not just be 'Brick's son.' A few years later he transferred back, and realized Vi had grown up while he was away.

But you didn't take advantage of a girl who'd been crushing on you for years, a girl who was the daughter of a fellow member. You just didn't.

And you definitely didn't kiss her. That was insane...

But that's what he did.

Please note: though Perfect Collision occurs in the same world asArrow of Time, this story is a standalone. Warning: explicit sex, not for younger readers.
This is book 2 in the Marauders Series by Lina Andersson, but can be read as standalone. It's from multiple POVs.
I'm a big fan of biker romances. There's something out those big scary over the top possessive alpha's that make me swoon, however this was not what I expected. This is simply the sweetest biker romance between 2 club kids who grew up together and ended up finding love. I'm not going to go to much detail regarding the story as the book summary is more than enough. Essentially, we have the Vice-Prez's (Bear) shy, introverted and artistic daughter Vi and the Presidents (Brick) protective, sweet (or at least as sweet as someone part of an illegal MC) son Mac. Mac's also a member of the Marauders MC Club. Vi's had a huge crush on Mac for as long as she can remember. Mac leaves to prospect somewhere else and when he comes back Vi catches his attention in a whole other way then the shy "invisible" Vi from before. She's grown up. But there still is the 6 year age difference between them that keeps anything from happening until she turns 18 and Mac just can't stay away anymore. Mac is gentle and supportive of Vi all the time and helps her grow both sexually and on personal level. He's head over heels in love with Vi but not in a completely domineering way which is a nice change. None of the "you're MINE" statements similar to what you see in other alpha male biker books. Don't get me wrong there's the I'm it for her but not extreme. Vi and Mac just fit.
He put his big hand on my neck and stroked my chin with his thumb. " I don't care what we call it, but you're my girl, and I'm your guy. If you wanna call me your boyfriend, I'm okay with that. Think I'd even like it." ~ Mac
There are a couple of things I really really liked:
This is the first time I've actually read a book about two kids who grew up in the same MC club. Sort of a biker coming of age story lol. I'm sure there are a lot out there but I just haven't read them:) I found it very refreshing
We also hear a great deal from Bear, Vi's dad. Which is awesome! He's sooo funny and the love he has for his daughters is beautiful to behold. His comments and actions are hilarious/loving and GASP level headed. What!!! I would have expected an "over the top beat the crap out of you" biker daddy reaction but he allows himself to take a moment to think before he acts; most of the time. I thought that was a rather pleasant surprise. The author could have created a lot of angst from this alone but instead gave us a look inside his head allowing us to experience his struggles as a father wanting to keep hold of his baby girl and his understanding that he needs to let her go so she can reach for her current and future happiness within a loving environment.
Now while Vi's young we see her mature and grow as a person so we aren't left with the feeling of an immature girl but a more mature woman by the end.
Yes there's still illegal activity, roughness etc. so no worries there but the biker business still seemed more in the background and not main focus. There were parts nearing the end that I felt kind of dragged but overall I loved this book!