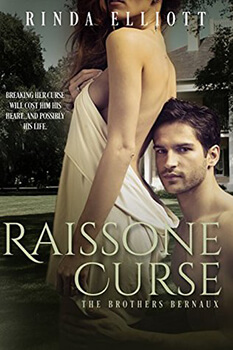 Raisonne Curse
by
Rinda Elliott
Series:
The Brothers Bernaux #1
Published by
Samhain Publishing
on July 14, 2015
Genres:
Paranormal
Format:
eARC
Source:
NetGalley
Pages:
254

Buy on Amazon
Goodreads
Breaking her curse will cost him his heart...and possibly his life.

The Brothers Bernaux, Book 1

For the past five years, Elita Raisonne has been on the run from a curse that started with her grandmother, and gradually reached out evil tendrils to kill her mother and her aunts. Now, healing from another nasty accident, Elita can feel the curse coming for her like icy breath on the back of her neck.

Her only hope: trek deep into Louisiana's Atchafayala Basin and ask the mysterious Bernaux brothers for help.

Pryor Bernaux takes one look at the black smudge clinging to Elita like a shroud, and recognizes the work of a powerful hex worker. Together, all three Bernaux brothers could easily break it—if Mercer and Wyatt weren't away.

As the curse sinks deeper into Elita's soul, Pryor realizes time is running out for the beautiful redhead who makes him want things he and his brothers swore they'd never have. He has no choice but to help her. But the magical backlash is torture. And without his brothers' help, it could even be deadly.

Product Warnings
Keep a cold beverage on hand, because the bayou isn't all that's hot and steamy in this book. Deadly hexes, naked spellworking, mouthwatering court-bouillon, and sexy Cajuns will curl your toes…and maybe your hair.
Love and magic in the Bayou….yummy!  This is the first book in the new The Brothers Bernaux Series.  And what a fantastic start! It's told from alternate POV's.
This was an interesting story.  It had love, magic, banishing of evil with a bit of horror thrown in.  I liked how it was set in the Bayou with a culture that accepted the existence of "backwoods" magic as part of the norm; at least in the Basin.
Our Heroine, Elita Raisonne, is desperate to break a hex (curse) that was put on the women in the Raisonne family line as a result of her grandmother's refusal to marry the man who cast the hex…Rattrap Rousalard.  Elita's tried running from it but that didn't work so she heads back home to Louisiana where she stays with her Grandmother Ninette.  It's at this point that Ninette tells Elita that she's going to have to ask the three Brothers Bernaux to break the hex.  So she goes to see the Bernaux Brothers.  What she finds is the sexiest man she's ever seen in the form of one Pryor Bernaux!  The chemistry is hawt and she's immediately drawn to him.  I would be too after that first scene (you'll know exactly what I mean when you read it) I was breaking a sweat there was so much heat coming off the page!!! LOL
The three Bernaux Brothers are cursed themselves.  They are destined to remove hexes placed on others when asked.  They cannot refuse a request and their magic is tied to the Bernaux's swamp. Every hex they break requires payback and WOW do they pay back and it's tortuous! The curse has run through their family for generations and has caused a great deal of suffering and heart break.
While Pryor is confident that he and his brothers can break the hex on Elita, his other two brothers are out of town and he needs to wait for them or the price he pays may be too high if forced to do it alone. I loved Pryor!  He was sooo sweet, charming and had a playful side that was totally endearing.  He would do anything to help Elita. He was like sex on a stick!  Almost made me want to take a trip to Louisiana!!! Hahahaha
It was heartbreaking watching him struggle with his demons and his soul deep need for Elita. The suffering and hell he and his brothers have endured is horrific but he doesn't let himself become too bitter or angry and his kindness is evident in all his actions and words.
Elita was strong, caring and a fighter!  Not only for herself but for her family and the man she's coming to care so much for.  She faced her fears and moved beyond them.  She had a level of subtle confidence without going overboard that I found completely appealing.   Her kindness, core strength and flirty personality was a perfect fit for Pryor.  The two of them together was amazing and exploding with passion!  It made me all squishy inside! LOL
"You know, we're in danger of sticking to each other for life here," he murmured. "Melting into you wouldn't be such a bad thing," she whispered.

"Melt into each other." His voice, again low and rumbly. "Have to admit I love the sound of that."
The other two brothers were swoon worthy as hell and the deep connection between the three is so touching and is unbreakable.  Of course let's not forget the crazy secondary characters!  Elita's grandmother Ninette is a hoot!  She's blunt, honest, has no problem with sex and showing herself off even if that means nude! Bahahaha.  Throughout the story we meet some wild and crazy people that I couldn't help but love.  I think the author did an amazing job of using her colorful secondary characters to accentuate the feel and context of the world she was building.   Unfortunately, one of the reasons my review isn't rated higher is because I felt like there were a lot of holes in the history and there were a lot of questions left unanswered.  BUT…with that said maybe we'll see those answers in future books and believe me I WILL be reading the next book!!
ARC kindly provided by publisher via Netgalley in exchange for an honest review.