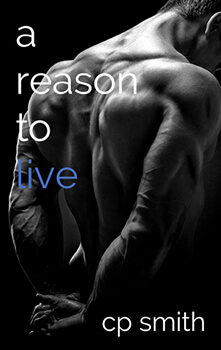 A Reason to Live
by
C.P. Smith
Series:
Reason #3
Published by
CreateSpace Publishing
on February 21, 2016
Genres:
Adult Fiction
,
Romantic Suspense
Format:
eBook
Source:
Amazon
Pages:
268

Buy on Amazon
Goodreads
WARNING: Author believes in soul mates and insta-love, proceed with caution if you're not a romantic at heart.

Love's greatest cure is salvation of one's soul.

Shane Sherman has a problem. Well, two, actually. One has auburn hair and pale-green eyes, and the other? . . . Is a secret. One he doesn't want to talk about. But all that changes when Sage comes to town.

Sage Sloan is being stalked. So she runs to Trails End and the bravest man her sister said she'd ever met. Sergeant Shane Sherman.

Sparks fly, tempers flare, and bears misbehave as Shane and Sage find a way to coexist in Trails End. That is, until a killer comes to call. Then all bets are off. Shane isn't about to lose his saving grace.

This is the third and final book in the Reason Series. I highly recommend you read books one and two before "A Reason To Live."

Rated R for sexual content and language and M for Maxine.
Again we're treated to a fantastic cast of characters and oh so sexy mega alphas!  This is the third and final book in the Reason Series by C.P. Smith; however can be read as standalone. BUT to get the most enjoyment I'd highly recommend reading the first two books.  The couples from the previous two books, Jack & Jenn and Max & Mia are part of the story as well as the crazy gang of troublemakers that will crack you up!
Shane's from Trails End, Alaska and left home to become part of the military with the intent of saving lives. However, after watching 10 years' worth of war and death he couldn't take it anymore and decided to leave at the end of his tour.  Just before he's to be sent home from Afghanistan, something horrible happens and some of his team dies.  But one in particular was a very young women named Emma who he'd taken under his wing.  He felt personally responsible for her safety.  He swore he'd protect her but nothing can be predicted in war and she dies.  He's devastated and a deep seeded guilt begins to grow.
When he gets back to the states he attends her funeral where he and Emma's sister Sage set eyes on each other for the first time.  There was a spark and a moment of silent shared grief before he turned and walked away.
Months later Sage finds herself in a dangerous situation as it becomes clear that she's being stalked.  She works with Child Protective Services as a liaison with the court and in her line of work she has to make tough decisions which means a lot of angry parents and she thinks it could be one of them.  In order to keep herself safe she knows she has to leave town.  She recalls her sister telling her a great deal about what a good, brave man Shane is, so with nowhere else to turn she decides to go to Alaska to seek his help.
When Sage arrives and sees Shane, the devastation and guilt in his eyes shocks her.  She realizes Shane is still suffering and blames himself for her sister's death.
"You're lost aren't you?"
He didn't answer at first. Then he mumbled softly, "Yes."
Sage desperately wants to be the one to help him heal but it's apparent that Shane doesn't want anything to do with her.  All he sees when he looks at her is her dead sister.  But when he finds out she's in danger he's determined that he'll keep Sage safe and not fail her like he did her sister.
Shane, like the other hero's in this series, is an over the top, extremely possessive alpha who will do anything for his woman (even when he keeps saying she's not LOL).  As he struggles to come to terms with the past, he stubbornly continues to push Sage away.  It's obvious his stubborn ass needs a lot of help, so in steps Maxine Hunter, Max's mother whom we met in Book 2.  Shane is like a second son to her and she's determined to push Shane towards his happily ever after…whether he likes it or not! With the help of her daughter in law Mia and friends they begin to plan… Maxine is the absolute best.  The trouble these ladies get into is all kinds of fun and the author does an amazing job, as always, using their shenanigans to bring much-needed humor to a sometimes intensely emotional story.
I loved how steadfast and compassionate Sage was.  She saw right through his shit and continued having faith in him when he himself faltered in believing he was still a good man worthy of love.  I wanted to shake Shane at times he was so hot and cold with her! Than he pushes too far and Sage snaps inside.
"If you'd given me a chance, I would have tried to be your anchor, to keep you grounded, given you a reason to live. You could have breathed me in, even when it hurts to breathe, and I would have helped you heal. You could have found love so profound it stopped time in the face of it—that's what I would have given to you if you'd been brave enough to try."
That just broke my heart!  BUT Sage being Sage remained patient and Maxine being Maxine continued to meddle in the funniest of ways.  Shane didn't stand a chance bahahahaha.
The sexual tension was HOT.  The chemistry between them was tangible! So when they finally got together it was an explosion of hot sweaty all night passion.  I kept having to fan myself LOL.  But when Shane finally opens his heart to Sage I wanted to jump for joy it was so sweet and heartwarming.
"After months in the dark, you've woken me up. All I see now is you. I can hear your heart beating from across the room. It calls to me. Beats for me. This, this right here is all that matters. Nothin' else. Only you."
The stalker plot sort of fell a bit flat for me. I felt this book was more about healing and a sweet love story between two damaged people. The author also did an amazing job tying up loose ends.   It was awesome seeing all the secondary characters and main couples together for a wonderful finale to a great series. I'll definitely miss the gang!  Thanks C.P. Smith!
The other books in this series: