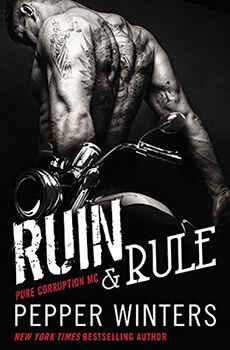 Ruin & Rule
by
Pepper Winters
Series:
Pure Corruption MC #1
Published by
Forever (Grand Central Publishing)
on July 7, 2015
Genres:
Adult Fiction
,
Dark
Format:
eARC
Source:
NetGalley
Pages:
452

Buy on Amazon
Goodreads
"We met in a nightmare. The in-between world where time had no power over reason. We fell in love. We fell hard. But then we woke up. And it was over . . ."

RUIN & RULE

She is a woman divided. Her past, present, and future are as twisted as the lies she's lived for the past eight years. Desperate to get the truth, she must turn to the one man who may also be her greatest enemy . . .

He is the president of Pure Corruption MC. A heartless biker and retribution-deliverer. He accepts no rules, obeys no one, and lives only to reap revenge on those who wronged him. And now he has stolen her, body and soul.

Can a woman plagued by mystery fall in love with the man who refuses to face the truth? And can a man drenched in darkness forgo his quest for vengeance-and finally find redemption?
Holy Cow!  This was Amaaazing!!  I LOVED IT.  Motorcycle Club (check), epic romance (check) dark and gritty (check)! First let me say that I love Pepper Winters and her twisted mind.  She makes you feel for her characters in a way that gives me goosebumps.
This is the first book in the Pure Corruption Duology and while told from dual point of view the majority of the story was told through the eyes of the heroine. This is not a standalone novel and must be read in order and contains a cliffhanger; though manageable.  Now those who read the "Monsters in the Dark Series" you might be expecting something really dark and while this book is dark it isn't as intense.  By the way if you haven't read Monsters in the Dark…READ IT! LOL
I was immediately immersed into the story from the first page as the heroine Cleo Price/Buttercup/Sarah Jones wakes up blindfolded and bound.  But what made the situation particularly bizarre was how detached she was from what was happening. She analyzes her surroundings and noted three very important things. One she was obviously a captive, two she couldn't remember anything about herself or past, three she wouldn't give up until she had answers.  Her control over her own emotions and reactions showed natural core strength.
Then the world explodes around her as bullets start to fly and as quickly as it started it stopped and the next thing she knows someone she immediately feels an inexplicable connection to takes the blindfold off and she looks into his eyes and a spark of recognition passes between them.  Even in the absence of memory she could feel it all the way to her soul.
"My life – past, present, and future – lost all purpose the second I stared into his soul"
Our hero Arthur Killian (aka Kill) can't believe what he's seeing!  A mirror image of the girl he lost.  But this girl is both destroyed and beautiful in the scars on one half of her body and tattoos on the other. He refuses to believe that the girl in front of him is real but instead an imposter.  He's so damaged and consumed with guilt and need for vengeance for the girl he lost that it's all he can see.
"Pure in thoughts and vengeance, corrupt in all things that matter"
He's been abused, manipulated, used and tossed aside in so many ways over and over again. As the author navigates us through both past, present and the merging of the two, our eyes are opened to a man, both a genius and complex, trying to cope the best way he can in a world that has treated him cruelly and caused devastation.  He's made a victim of his own reality and watching him transform from naïve boy to killer, millionaire investor and cold hearted leader of an MC that was handed to him by his mentor is heartbreaking.  I felt so many emotions for him.  He was so many things.  A libra, cold, cruel, smug, angry, loyal and so stubborn I wanted to strangle him.  But underneath it all he had such depth of emotion. I both hated him and loved him! lol
And boy did I feel for Cleo/Sarah/Buttercup.  Lost and unable to remember but knowing deep down that this man she feels connected to may have answers regarding her past.   I felt her confusion, frustration and pain. Why does she feel for her captor and can't seem to run? One minute being pulled into his sphere, the next being tossed aside like garbage.  But she remained steadfast in her need to find answers and her belief that there's more to the jerk he is at first.  She was a sagittarius, strong, brave and worked to push through her mental barriers when her memories wanted to stay hidden. I did think, however that Cleo was a bit too quick to forgive.  I mean I wanted to beat him for what he tried to do!
What also moved me and brought a few tears to my eyes was what they had lost as a couple and time spent apart.  Years of believing she was gone and her not remembering something so special as to who and what they were together.  But boy when they came together…truly epic!
 "Everything is always for you, Cleo…"
In a way they were both ruined and beautiful. But when faced with a betrayal that brings her to her knees I'm left waiting for the next stupid book!!!  DAMN IT!!!  Why I torture myself with cliffhangers I'll never know.  I'll say it again I HATE them. Bahahaha!  Again it's not unmanageable 🙂 One of the great things I love about this author is her ability to wring contradictory emotions out of you that leave you feeling drained and exhausted. Of course, the off the charts sexual tension and hot sex scenes were fantastic! hahaha
Amazing story full of heartbreak, vengeance, lies, betrayals, club politics and intrigue. I definitely went through the wringer with this one.  I can't wait for the next book!!!
ARC kindly provided by publisher via Netgalley in exchange for an honest review.