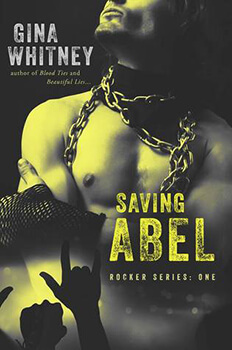 Saving Abel
by
Gina Whitney
Published by
Self Published
on June 26, 2014
Genres:
Adult Fiction
,
Contemporary
,
Erotica
Format:
eBook
Source:
Purchased
Pages:
224

Buy on Amazon
Goodreads
Abel Gunner, the lead singer of the band Lethal Abel, is what beautiful nightmares are made of. His gritty, melodic rasp threatens to rip your heart out of your chest and leave you gasping for the very breath he robbed you of. His kisses, detonating on impact, leave you ruined. Abel is also a Dom, and his appetite for seduction is legendary and intense. After a chance encounter with Gia, his need to dominate this woman increases tenfold. He wants to consume her, merge with her, and never leave her body.

Abel's emerald eyes touch the deepest part of Gia's soul in a way that terrifies her. She fears he can see her secret. Lies, guilt, and betrayal lay beneath her skin, and she's terrified of being exposed. How will Gia ever begin to explain? She doesn't believe she's worthy of him, and her greatest fear is that her carefully guarded heart will be shattered. However, she finds herself unable to deny this rogue tattooed rocker whose kisses just might ruin her.

Warning: Written for mature audiences 18+ Includes: Possessive Alpha Dom Rocker, profanity, detailed sexual encounters, alcohol, drugs, BDSM themes, and cliffhanger.
Ohhhhh! What a pleasant surprise. Rockstar meets BDSM. This is an awesome start to a Rocker series by Gina Whitney, where we're taken on a roller coaster of a ride. We've got our alpha boy Abel, BDSM, superhot rock stars, the psycho bitch ex-girlfriend, instant chemistry, betrayal, jealousy etc….. I was starting to get tired of the typical rocker romances out there but then comes Saving Abel!
This is the first book in the Rocker Series. A warning to those out there that this is NOT a standalone and ends on a cliffhanger, and it's heartbreaking!!! So if you don't want to replace your e-reader after chucking it against a wall and/or guzzling a bottle of tequila, I'd recommend having the next book, which is already released, downloaded and ready to go.
Ah Abel…. Swoon
~Dirty Dirty talker
~Dom extraordinaire
~Sex crazed
~Uber Alpha
I loved, loved, loved Abel!! He lives his life the way he wants, accepts who he is including his BDSM lifestyle and makes no apologies for it. I might have to go on a pilgrimage and track me down some of my own Abel hahaha!!
Gia on the other hand, not so much, at least in the beginning. After reading the blurb, I immediately formed an extreme dislike for Gia but not all is what it seems. Gia hasn't lived the best of lives and with an evil mother constantly looking over her shoulder we start to see why. She was beginning to grow on me….sort of.
Gia works as a secretary for Abel's lawyer father in hopes of meeting Abel. She has ulterior motives namely money and prestige. She is not your innocent girl so she plans on seducing and using him. She gets her chance when Abel and his band arrive for a meeting with Abel's father regarding Abel's psychotic ex-bitch Morgana, who is trying to blackmail him by exposing his certain proclivities (love of whips, floggers, bondage, controlling etc….) to the public. There is instant chemistry but Abel's been screwed over and is afraid to get into another relationship. Not only that but Gia is not familiar with Abel's BDSM scene and he doesn't like dealing with untrained subs so he tries to stay away. On the other hand Gia is hiding all kinds of secrets and has no clue when it comes to relationships.
Of course, they can't resist each other. So when Abel decides he has to have Gia, he approaches her with a contract and introduces her to the world of BDSM. So begins the love affair.
"When you signed that agreement, you gave me your mind, body and soul. Your mind will be focused on me, always. Your body will be under, on top, or spread wide open for me- always. Your soul will be intertwined with mine, forming one physical body of unity- always." ~Abel
As they get to know each other and Gia falls hard for our sexy Rock star, she starts to realize her priorities aren't straight. She decides that she doesn't want the things she did before. She wants to tell Abel but before she gets the chance he finds out and some of her secrets and BAM everything falls apart from there. He loves her so much and to be, in his mind, screwed over AGAIN, let's just say it's not pretty. He was absolutely devastated. And that ending!!? I cried big fat tears! It was horrible!!! Stupid cliffhangers!!! Thank goodness I had the next book right beside me or I might have curled up in a little ball somewhere to recover…
This was an excellent story. The characters were well written, and I thought the author did an amazing job of weaving the BDSM lifestyle into the Rockstar Romance which made it different than other rocker stories I've read. Seriously, if you like reading about celebrities and like BDSM than read this. Actually even if you're unfamiliar with BDSM type books this one is likely as good a starter as any. So don't let that stop you.