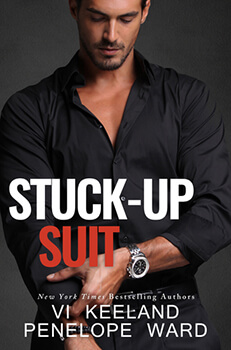 Stuck-Up Suit
by
Penelope Ward
,
Vi Keeland
Published by
EverAfter Romance
on April 11, 2016
Genres:
Contemporary
Format:
eBook
Source:
Amazon
Pages:
328

Buy on Amazon
Goodreads
From the New York Times Bestselling authors of Cocky Bastard, comes a sexy new standalone novel.

It started out like any other morning on the train.
Until I became mesmerized by the guy sitting across the aisle.
He was barking at someone on his phone like he ruled the world.
Who did the stuck-up suit think he was...God?
Actually, he looked like a God. That was about it.
When his stop came, he got up suddenly and left. So suddenly, he dropped his phone on the way out.
I might have picked it up.
I might have gone through all of his photos and called some of the numbers.
I might have held onto the mystery man's phone for days―until I finally conjured up the courage to return it.
When I traipsed my ass across town to his fancy company, he refused to see me.
So, I left the phone on the empty desk outside the arrogant jerk's office.
I might have also left behind a dirty picture on it first though.
I didn't expect him to text back.
I didn't expect our exchanges to be hot as hell.
I didn't expect to fall for him―all before we even met.
The two of us couldn't have been any more different.
Yet, you know what they say about opposites.
When we finally came face to face, we found out opposites sometimes do more than attract―we consumed each other.
Nothing could have prepared me for the ride he took me on. And I certainly wasn't prepared for where I'd wind up when the ride was over.
All good things must come to an end, right?
Except our ending was one I didn't see coming.
This is a standalone book told from both MC's POV and is a mixture of humor, love and struggle.  The amazing Vi Keeland and Penelope Ward have come together again to bring us a story with depth and feeling that pulls at your heartstrings and puts a smile on your face.
The opening of the book is through the eyes of Soraya, the sassy, smart and beautiful heroine who brought a huge smile to my face. She has issues of her own but I loved how fearless she was! She's an assistant to an advice columnist and the first advice she writes on behalf of her boss is hilarious and you'll get more of it throughout the book as this is used as another method of communication between the crazy couple.  It's absolutely comical!  She's on a train going to work when events leave her with a certain Graham Morgan's cell phone and quite the impression of an angry, cocky and very sexy rich business man; hence stuck-up suit!  With her dyed hair and take no shit attitude and his cocky, arrogant rich business man style, these two couldn't be more different.
Graham is a hardened, bitter and under all the layers a lonely man who through events in his past shattered his trust in others and closed his heart off to avoid feeling pain.  So he deals in the only way he knows how and that's through never ending work, cutting himself off from any possibility of getting close to anyone, and being a grade A jerk.  Yet there is a vulnerability and kindness in him that's just waiting to get out (It's there honest!!! LOL).
When Soraya goes to his office to take the cell phone back, what she finds is a massive jerk who treats his employee's and her like crap!  But our feisty Soraya won't take it and tells him off in a way only she can LOL.  Trust me you'll be doubled over laughing!   Soraya provides just the shock he needs to pull his head out of his ass and begins to take a hard look at himself and how he treats others. Thus begins the chase as Graham begins pursuing her relentlessly beginning with some really awesome texts! Graham, being his cocky self, isn't shy about expressing his attraction to Soraya as much and as outrageously as he can.  Though, at first, Soraya doesn't want anything to do with him she can't help but love it!
"As ridiculous as it was, I really looked forward to his angry, horny texts."
Through this hilarious cat and mouse game Soraya gives as good as she gets; driving Graham crazy.
"So I tapped down my nerves, added some sway to my hips and decided I would not be a mouse to his cat.  I would be the dog"
As their relationship develops, their chemistry cannot be denied and it explodes into a hot sweaty mess! They come together in a rush of crazy hot passion that you can almost feel. They were sweet and lovable even when Graham was being a cocky, possessive jerk.  I also loved how once he made up his mind that was it, decision made.
"Let me tell you something, Soraya. I may not be the nicest guy on the planet or even the best fit for you. In fact, I know I'm not. But you can't deny what's going on between us…"
It was so nice to see a couple that talked things through and a relationship built on honesty.
"…I prefer blunt honesty to anything else.  I always want you to tell me the truth, even if you're afraid it might offend me.  I don't think you understand how much I just need the truth."
But then, BOOM, a plot twist occurs that rocks the foundation of their new relationship.  I was shocked and frankly, a bit put off.  But then again so was Soraya and Graham. They're happy space was suddenly injected with some hard truths and becomes incredibly complex.  As the nature of their relationship changes, it becomes soul wrenching to watch them attempt to adapt and the battle each has with themselves in overcoming their individual demons.  In particular, the situation hits painfully close to home for Soraya because of her past.  As her own insecurities become harder to deal with we begin to see her crumble emotionally.
"Seeing her like that, hearing that sound of pain come from deep within, it felt like someone had cracked open my ribs and gripped my beating heart in their hands only to nearly squeeze the life out of it.  I held her as tight as I could for a few minutes while…"
What follows made me incredibly angry and I almost put the book down.  A decision one of the MC's made, for me, seemed sooo out of character and hurtful that I almost couldn't believe it.  I understood the reasoning but I still didn't feel it totally fit and it just didn't sit well with me which is why I didn't give it full stars.  But, I obviously kept reading and, of course, the two authors brought us to an ending that was beautiful and heartfelt and the epilogue was perfect! Highly recommended read!
Another Book by these Authors: