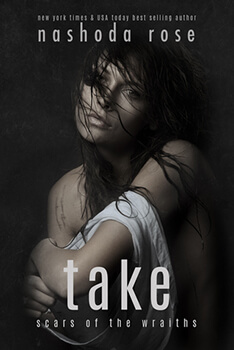 Take
by
Nashoda Rose
Series:
Scars of the Wraiths
Published by
Nasholda Rose
on February 21, 2015
Genres:
Dark
,
Erotica
,
Paranormal
Format:
eBook
Source:
Purchased
Also in this series:
Stygian
Pages:
208

Buy on Amazon
Goodreads
From the New York Times and USA Today Bestselling Author comes a sexy paranormal romance.

MAX

Feelings are a luxury I can't afford. Hidden behind a shield of quiet placidity, I keep my secret safe from those who'd use it against me. Until him—the tatted up, self-centered Scar assassin hired to protect me.

He takes pleasure in tormenting me, chipping away at my defenses as if I'm a toy to be played with. I hate that he continuously reminds me that I'm nothing more than a job. I hate that my body responds to his touch. I hatehim.

JASPER

I'm not a good guy and I don't pretend to be. Condemn me if you want, I don't give a crap. You're nothing to me. No one is … except her—Max. She's my target. And I was hired to do a hell of a lot more than protect her … I was hired to kill her.
It should've been simple, but it was complicated as hell.

*Full-length novel. Come meet the Scars.

Scars: Immortal warriors with capabilities derived from the senses: Trackers, Sounders, Healers, Tasters, Visionaries, and the rare Reflectors. They each have what is known as an Ink, a tattoo that can be called life.
This is the first book in the Scars of the Wraiths series by Nashoda Rose. It's alternate POVs and can be read as standalone, so no cliffhanger!!! This is not the first book I've read by this author and I just love her so when I saw a PNR book with Nashoda Rose's name on it I couldn't wait to read it!!
I loved the premise and the world building was unique! The story revolves around immortal beings called Scars who generally act as warriors/assassins and have ink (tattoos) that help protect them. Similar to personal guardians, if they call to their ink then their guardian comes to life. They are a very important part of whom and what they are. Their powers are loosely based around the senses (i.e. Scars who can see very well are visionary, those who can feel others emotions are reflectors) and they live in groups called Talde's..
Our heroine Max (aka Breanna) is a Scar healer who watched her world fall apart when her family and Talde were burned to the ground by one of the most powerful Scars, Drake. Drake is demented and wants to take over all Scars. His ink was destroyed by their Goddess to render him weak and because of that needs regular healing to stay strong. So he takes Max into captivity at the young age of ten and for 6 years she endures torture until she's rescued by another powerful Scar named Xamien. But those 6 years were devastating, leaving Max both physically scarred and completely numb to everyone and everything around her. She stays with Xamien and tries to heal from her ordeal while at the same time harboring a secret that could bring death to her door and destruction to the other Scars…
Max had to learn that to survive she would need to bury all emotions and reactions. To expose herself would not only be making herself vulnerable to Drake's abuse but would be disastrous because her secret would be exposed. So she becomes a carefully constructed shell; completely emotionally numb while maintaining tight control on her actions and reactions to her environment. This by no means implies weakness. She's brave, shrewd and has a big heart. Max is a fighter! She's not helpless she just chooses how she's going to control her actions and emotions for the purpose of surviving. Of course, after maintaining that shell for so long she doesn't know how to feel or live. Her shell simply cannot be cracked.
Jasper is a Scar sounder (can hear from great distances) who lost his Ink after a terrible event which left him a broken piece of his former self.
"The final pieces of me burned into ash then scattered into the sky – disintegrating. Disappearing." ~ Jasper
He has no real friends, closed himself off and keeps everyone at a distance to ensure he doesn't form any connections. He has no morals and is an EXTREME jerk to everyone. Why I insist on loving super-hot, alpha jerks I'll never know, but this author has a real talent for creating the perfect over the top asshole you can't help but love! LOL
Max meets Jasper during one of his visits to Xamien. She wakes up in the middle of the night from a nightmare and Jasper hears her. He walks right into the bathroom just as she starts to get into the shower after waking up. Once he sets his eyes on her he can't help but want her.
""Sunshine, I don't give a shit what you're hiding." He boldly looked me up and down then drawled, "Except perhaps what's under that towel." ~Jasper
He has no shame…hahaha! Love it! Jasper, however, can't help but feel drawn to her.
"But the longer I watched her the more I wanted to see what was beneath the hard outer shell she hid behind. I wanted to set her free, crack the seal and hear it hiss and bubble and scream" ~Jasper
Then he's hired to protect her and doesn't want any attachments and blames his feelings of connectedness on lust. The banter between the two is so funny and gives just enough light to provide a break in a story that otherwise veers a bit towards the darker side.
"Very funny, princess." "So, now I'm a princess?" "Yeah you're a fuckin' princess. And right now, you're my princess." He pushed down on my head. "Get in the car.""~Jasper
I really liked how the author conveyed the feelings and struggles each character had with themselves and each other. She was able to make us see and almost feel the destruction of who they were and then putting the pieces back together. One showing it on the outside through the scars and burns on her body and the other by the black tarnishing his soul. Two completely different reactions to horrific events for two people who fit so beautifully together.
"You're the stars that burn away the darkness, Max. That's what it feels like when I'm with you. Like I'm all lit up inside with brilliant specks of light. And when I touch you, it's like I've grabbed one out of the sky and I'm holding it in my hand. Flawless. Bright. And fuckin' beautiful" ~Jasper
Ahhhhh! See what I mean!?! Over the top asshole you can't help but love…sigh. I'd definitely recommend it to anyone who loves PNR with a damaged and HOT super-alpha male with a bit of darker edge.