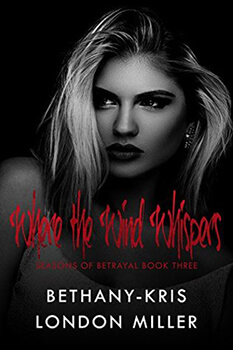 Where the Wind Whispers
by
Bethany-Kris
,
London Miller
Series:
Seasons of Betrayal #3
on October 10, 2016
Genres:
Contemporary
,
Dark
Format:
eARC
Pages:
260

Buy on Amazon
Goodreads
There is death where the wind whispers.

Left for dead by his own father on a snowy sidewalk, Kazimir Markovic finally understands what true betrayal really means, and just how far one will go to keep a secret. He only needs to survive, to make it home alive to his wife, and then everyone else will know what it means, too.

It will all come to an end …

Right back where it first started …

New York's streets are bloodier than ever.
No souls are safe in this war.
The games are over.

From authors Bethany-Kris (Donati Bloodlines Trilogy) and London Miller (Den of Mercenaries) comes the final installment of Kaz and Violet's journey in the Seasons of Betrayal series.
This book was an emotional rollercoaster!  Where the Wind Whispers is the final book in the Seasons of Betrayal Series by Bethany-Kris and London Miller. It follows the relationship between Violet and Kaz as they struggle to find happiness in the midst of a war between their two families who are bent on destroying them.  She the mafia princess and he the Bratva prince determined to be together even in the face of hate, violence and the worst kinds of betrayal.
The story picks up where the second book, Where the Sun Hides, left off.  Kaz is fighting for his life in the hospital after his father Vasily leaves him bleeding out in the snow.  Violet is devastated but refuses to believe Kaz might die.  It was so descriptive that I felt like I was there with her; witnessing her sorrow.  Kaz's brother Rus is also devastated and I felt so bad for him.  I fell in love with his character during the course of the series.  Unfailingly loyal to his family (father excluded of course LOL).
The two brothers are so close. It's in light of this fact that I almost broke my kindle later in the book when Kaz is forced to make an impossible decision. Just thinking about it pisses me off!  I'm not going to say anything.  You'll just have to read it, but holy hell it almost put me in a rage 😉
Kaz is stubborn and in his usual fashion essentially flips death off and is determined to hunt down everyone standing in the way of his and Violet's happiness.  When Violet shares unexpected news that will change their lives forever he knows he has to quickly end the family feud.  Both Violets father Alberto and Kaz's father Vasily must die.  But it won't be that easy.
What appears to be a simple task of eliminating the final threats to their happiness takes some nasty twists and turns.  Then it morphs into a sinister psychological game.  Violet has pushed her father to the brink and he's snapped.  Alberto's hate riddled mind conjures a plan to slowly bring these two lovers to their knees.  He wants to punish her by taking her heart and soul.
"You'll understand soon enough what it feels like to have your entire soul ripped away from you while you're laughed at.  You'll understand how much this hurt and what if feels like to lose your heart." ~Alberto
Boy did I hate Alberto! He was cruel, selfish and an absolute master manipulator.  Where Kaz's father was more physical in his approach, Alberto is absolutely vicious when it comes to the steps he takes to emotionally shred them.
They're just hit with one blow after the other while trying to keep their family from falling apart.  But even in their darkest moments, their love and passion shines through.  Kaz is determined to keep his promise of making Violet happy.
"…I love you, Violet." And that, she knew, was why they'd be just fine.  He loved her too much to fail"
The depth and growth of these characters was phenomenal!  The Violet in this story is totally different then the mafia princess who was easily manipulated by her father from the first book.  She's strong and determined to fight back for both herself and Kaz.  It seemed that with each book in this series, multiple new layers were added to the characters and I loved it.  The authors did an incredible job fleshing out not only the MC's but the secondary characters.  In particular, Alfie and Rus.  I'd loooove to read their stories!
But really, when all was said and done was the death and blood worth it??
When she turned smiling eyes to him,  he remembered what had made him fall in love with her in the first place.
Violet was his sun.
I guess so… Love you Kaz and Violet!! Great read.  I'm soooo glad I stumbled upon these books.  Definitely in my top list of all-time favorite mafia couples.
*ARC given in exchange for honest review*