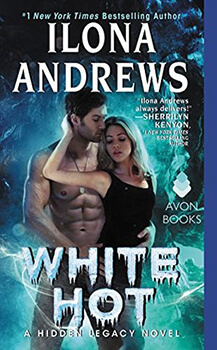 White Hot
by
Ilona Andrews
Series:
Hidden Legacy #2
Published by
Avon
on May 30, 2017
Genres:
Paranormal Romance
Format:
eARC
Source:
Edelweiss
Also in this series:
Burn For Me
Pages:
389

Goodreads
Nevada Baylor has a unique and secret skill—she knows when people are lying—and she's used that magic (along with plain, hard work) to keep her colorful and close-knit family's detective agency afloat. But her new case pits her against the shadowy forces that almost destroyed the city of Houston once before, bringing Nevada back into contact with Connor "Mad" Rogan.

Rogan is a billionaire Prime—the highest rank of magic user—and as unreadable as ever, despite Nevada's "talent." But there's no hiding the sparks between them. Now that the stakes are even higher, both professionally and personally, and their foes are unimaginably powerful, Rogan and Nevada will find that nothing burns like ice …
Nevada and Connor 'Mad' Rogan are back in White Hot, Book 2 of the Hidden Legacy series!  White Hot is fast paced, magic packed with loads of action. Once again the extremely talented husband/wife duo known as Ilona Andrews blew me away.  We are taken deeper into the world of Houston's magic elite where powerful mages called primes head up magical houses that basically rule the city.
Rogan and Nevada haven't seen each other for two months following the ending of the first book Burn for Me.  A fact that drives Nevada batty even though she doesn't want to admit it! 😉 When Cornelius, a powerful animal mage we met in Burn for Me, walks into Nevada's office he begs her to find his wife's killer. He's devastated, and while normally she wouldn't even consider a case this risky she doesn't have the heart to turn him away.
Soon enough, as Nevada starts to investigate, she and Rogan are thrown back together! Much to Nevada's annoyance they'll need to partner up to solve a case of not only murder but a brewing conspiracy.  The heat builds and these two fall right back into their old ways.  Seriously Nevada and Rogan are a perfect match.  The sexual tension was insane and as always their banter hugely entertaining.
"Is this my replacement?"  What?  "I didn't replace you!"  "Of course not.  I'm irreplaceable"
Ya Rogan's not arrogant…much.  I want my own Rogan dammit!!! LOL
There's a lot going on in this book.  Nevada has to learn to navigate the politics surrounding the magical Houses as she works with Rogan and team to track down Cornelius's wife's murderer.  Rogan is trying to protect Nevada and deal with his own demons.  At the same time these two are becoming closer and trying to figure out what the means to them; at least when they're not panting over each otherJ
Nevada's family is also back in a big way!  They were more involved in this book and I was thrilled. They are absolutely hilarious as they support Rogan and Nevada in their investigations and the craziness that's surrounding them.  I love the good natured ribbing Nevada gets from her family, who are constantly pushing her to marry Rogan with massive grins on their faces!
"Did you see how she got all hot under the collar?" Grandma Frida said in a theatrical whisper behind me. She's not over him.

"I can hear you!"
There's a lot of character development which was awesome to see.  Both for the MC's and the key secondary characters.  I thought Rogan's character in particular began showing real depth and was way more dynamic. He isn't just the feared "Mad' Rogan anymore. There are also shocking revelations that'll have a big impact on Nevada, her family and will change the dynamic between her and Rogan.
I LOVED this book!  It's amazing and I can't wait for the next book in the series Wildfire.  I highly recommend this book to all paranormal romance / urban fantasy lovers! Absolutely fabulous!
I received an eARC from publisher via Edelweiss in exchange for my honest and voluntary review.
Check out my review for the first book in the Hidden Legacy series!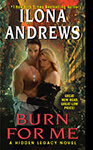 My Review