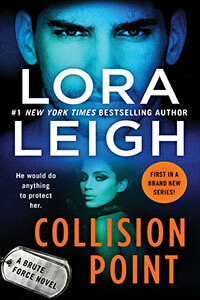 Collision Point
by
Lora Leigh
Series:
Brute Force #1
Published by
St. Martin's Press
on February 27, 2018
Genres:
Contemporary
,
Romantic Suspense
Format:
eARC
Source:
NetGalley
Pages:
331

Buy on Amazon
Goodreads
Riordan "Rory" Malone is a force to be reckoned with. A member of the Brute Force Protection Agency and an operative working with the Elite Ops, Rory is the fiercest of warriors and protectors. Honed from the strong Irish stock of their grandfather and sharpened to a razor's edge, Malone men live for one single purpose: to protect the women who own them, body and soul. From the moment he saw Amara Resnova, he knew she could be that woman.

But Amara, daughter of an alleged notorious crime lord, is a force in her own right. When she betrays her father, she's finds herself in the arms of a man who is dangerous for her body and soul.

Can Rory keep Amara safe while protecting his own heart? Can Amara trust Rory not to break hers even as the danger mounts, threatening to take them and their passion to a breaking point?
Collision Point is the first book in Lora Leigh's new Brute Force Series.   This is a spin-off from her popular Elite Ops Series; which I would recommend checking out!
I must start with how much I love Lora Leigh! If I'm feeling the need for a steamy romance with a good story to boot she's one of my go to authors.  However, I'm sad to say that this book fell a bit flat for me.  While I enjoyed it, I didn't love it.
Riordan almost lost his life saving his love Amara.  But after months of not hearing anything from her he's not a happy camper.  Even so, he can't turn Amara away when she shows up on his doorstep asking for help.
I liked Riordan.  He is the typical possessive alpha male, which will appeal to all the ladies out there who love these swoon worthy men.  But for me he was just skirting the edge of over the top jerk.  Regardless, I thought he was intense and passionate.
Amara lost her memory.  She's looking for answers but when she finds herself in danger she knows in her heart that Riordan is the only person she can turn to.  I didn't like or dislike Amara.  She's the typical heroine in distress with both likeable and irritating characteristics.  As a result, I could neither connect or truly see a connection between her and Riordan.  I wanted to get to know her more but as soon as I started to become invested in her character I was yanked back.  I know exactly why too…the sex.
Steam doesn't bother me in the least.  However, I also like a story.  There is definitely potential for a very good romantic suspense here BUT the potential was overshadowed by the extreme sexual escapades.
Lora Leigh is generally very good at balancing steam and story development.  She can give her readers the best of both worlds; but this book came across as straight up erotica.  Don't get me wrong what we did get of the actual plot was good but wasn't quite enough.
With that said it was entertaining as a whole, just a bit underwhelming when compared to her other works.  Either way I look forward to reading the next book in the series to see where it goes.
I received an eARC of this book from the publisher via Netgalley. This review was voluntary and all opinions and thoughts are my own.