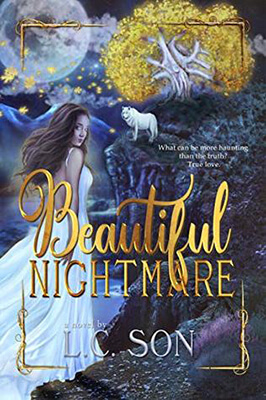 Beautiful Nightmare 
by L.C. Son
(Beautiful Nightmare, #1)
Publication date: February 14th 2019
Genres: Adult, Paranormal, Romance
Damina Nicaud, a beautiful, successful art buyer in Washington, D.C., has been plagued by hauntingly romantic dreams of a mystery man every night. While she knows she shouldn't consider her dreams to be anything more than anxiety brought on by her upcoming nuptials, she can't help but be lured into its entreat. Unbeknownst to her, the dreamscape that plagues her mind will be all that carries her through eventual heartbreak and learning the truth of her orphaned lineage. She is more than human.

Escaping to New Orleans on the heels of her broken heart, she begins to unravel the mystery of her life while discovering a love powerful enough to unleash an ancient power residing within herself. Weaving through a world of artistic passion, vampires, wolves, and the supernatural, Damina Nicaud begins to take hold of her Beautiful Nightmare.
Excerpt
This is our spot. The place where he comes to see me. I know he can see me because the moonlit sky illuminates the area where I stand like a spotlight. But under the golden oak is shadow cast. I can only see his silhouette.
I've never seen his full face. Just his eyes. The look in his crystalline green eyes paralyzes me with awe, fear, endearment, and safety.
He stays in the shadows, waiting for me to come closer. But I cannot. There are stirring shadows all around us. He is unmoved. I am afraid.
My fear keeps me from going closer and running into his embrace. I know that he will wrap me in his arms, and I will be safe. But I stand still. Frozen.
Review Snippets
"A well-written paranormal romance, Beautiful Nightmare seamlessly blends the real with the fantastic. The novel delivers with a creative story and the element of fantastic that's simply put, quite fantastic. Son uses location and setting effectively to convey emotion and atmosphere; her dream sequences are eloquent with a poetic flair, and there's a careful reverence in the words she's chosen, elevating the novel over other works in the genre." Self-Publishing Review, ★★★★
"Filled with twist and turns, and an ending that makes me desperate for the next book, this book is definitely 1-click material. The characters, their connection, their journeys, and developments were well crafted and superbly detailed. Enjoy getting lost in this fabulous paranormal fantasy romance." Bex 'n' Books, ★★★★