Alpha Squad: Infiltrator
by Lorelei Moone
Alpha Squad #3
Publication Date: May 19, 2017
Genres: Adult, Paranormal, Romance, Shifters
For love or for honor? Sometimes being fated to each other just isn't enough.

For the past six months, wolf shifter Thomas Blackwood has been serving two masters. He believes in Alpha Squad's mission to help the newly outed shifter population integrate into human society, and has done his best to contribute to its success. At the same time, he's been reporting on the squad's activities to his alpha back home. But everything changes when the squad is sent in to investigate a string of crimes with a pack of renegade wolves right at the center of the case. Suddenly Thomas must choose: follow his alpha's orders and kill the investigation before it even starts, or remain true to Alpha Squad's calling and uncover the truth; whether it implicates members of his own species or not.

And that's not even the worst part: the woman he's been admiring from afar since joining the squad already doesn't give him the time of day. What would Private Callahan think of him if she knew he was a traitor?

Private Jill Callahan has been doing her utmost to ignore the one Alpha Squad member who could turn her world upside-down: Thomas Blackwood. From the moment the handsome wolf shifter arrived on base, her emotions have been trying to get the better of her. So in the interest of maintaining her professionalism, she has been avoiding him completely.

When Blackwood starts acting suspiciously, and nobody seems to notice it but her, Jill no longer has that luxury. She feels compelled to investigate what's really going on and if it ends in heartbreak, then so be it.

Jill and Thomas's loyalties are tested when they realize why they haven't been able to shake their attraction to each other. They're meant for each other, but sometimes things just aren't so simple. The mission – and the squad – must come first.

Join Alpha Squad in this steamy paranormal romance you won't want to put down. If you like Alpha City by Bryce Evans or Bear Patrol by Scarlett Grove, then you will love the Alpha Squad Series by Lorelei Moone!
BUY Links
Excerpt
Prologue
*Six Months Ago*
"Thomas," Eric Blackwood, alpha of the Wolf settlement in Rannoch, Scotland, spoke in a low but determined voice.
"Yes, Alpha." Thomas Blackwood averted his gaze, as was customary when the pack leader addressed an underling.
"As you know, since the emergence of the New Alliance and the exposure of our kind to the world, we've been trailing behind the rest of shifterkind in our efforts to come to terms with the new reality. Now that the human government is starting some kind of law enforcement program with the New Alliance, we cannot afford to remain complacent any longer. We must act!"
Thomas blinked a few times. Where was this conversation headed? "I agree, Sir."
"What would you say if I asked you to join this new initiative? To be our eyes and ears within this… what is it called again?"
"Alpha Squad, Sir."
Alpha Blackwood scoffed. "That's right. Alpha Squad. I've managed to pull a few strings and get you inserted into their training program. The rest is up to you. Failure is not an option; our pack relies on you."
Thomas took a deep breath and nodded solemnly. He would not let down his alpha, or the rest of the pack. It was a great honor to be chosen for a mission such as this, and he would never forgive himself if he messed it up.
Plus, this would be the first time he'd actually move out of Rannoch. It was a chance unlike any other to see what the rest of the world was like, and he was keen to learn everything he could.
"A lot rests on your shoulders, but I wouldn't have chosen you for the job unless I thought you could hack it," the alpha said. "It's a delicate matter, and you'll understand that I prefer to keep things in the family for now…"
Thomas nodded again. Ever since Alpha Blackwood had sent his very own daughter to Edinburgh to work with the Alliance about a year ago, there weren't any other Blackwoods in the pack to take on a job like this. Thomas, being the alpha's nephew, was a logical choice. More so since Thomas's very own parents had passed away a few years back and the alpha and his wife had taken a special interest in his education and upbringing. He owed his aunt and uncle a lot, and now the time had come for him to repay them.
"Thank you, Sir. I will do my best."
The alpha rested his hand on Thomas's shoulder.
Even though his hair was starting to grey around his temples, Alpha Blackwood was an impressive looking man. His large, strong hand weighed heavy on Thomas's shoulder, even though the younger wolf was no weakling himself.
"The physical training should not challenge you too much. Focus your energy on making the others trust you. They must never suspect that you report to me."
"No problem," Thomas said firmly, even though the prospect of having to deceive fellow trainees and the squad's leadership was a worrying one. He wasn't a liar by nature.
But if his alpha commanded it, he had to obey. That was how wolf society worked.
"Good. Training begins on Monday. Pack up your things and someone will take you to the train station later today. All the arrangements have been made."
Thomas swallowed hard. Later today?
He'd been around when Heidi, his cousin, left for Edinburgh last year. He'd heard the rumors of how the whole thing went down and even watched as she got into one of the pack's Jeeps, never to be seen again. She hadn't had any more notice than this, so how could he expect anything different for himself? He wasn't even the alpha's direct offspring.
So he didn't argue, and did what he was told.
Packing did not take long. Even so, he didn't have much time for goodbyes.
He didn't permit himself to think or analyze the situation too much. These were his orders, and he would follow them to the best of his abilities.
Only when he found himself alone on the train later in the day did he take a short breather.
How strange, leaving Rannoch. Heidi had never come back home and although rumors were plentiful, Thomas had no real idea why her departure had been permanent.
Was it by choice? Had something happened to her out here?
The world outside of Rannoch was a big place. Perhaps she'd been ill-equipped to deal with it all and gotten herself into trouble. They were cousins, and not too far apart in age, but they'd never been close. Still, he couldn't help but wonder what might've happened to her.
And what would become of him? Would he be successful? Would he be able to keep his true orders under wraps and fool his fellow recruits?
What would happen if he was found out?
His train came to a halt in a quiet station and he observed a tearful reunion outside on the platform. A young couple, overjoyed to see each other again.
Perhaps the outside world wasn't all bad. He'd stood by and watched as some of his peers had paired up around him within Rannoch itself. But he'd never felt any attraction or pull toward any of the she-wolves in his age group.
This mission into the great unknown might make him cross paths with his own mate. He certainly hoped so.
She had to be out there somewhere; he just hadn't met her yet…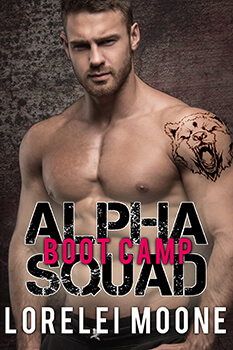 Buy Links for Alpha Squad 1: Boot Camp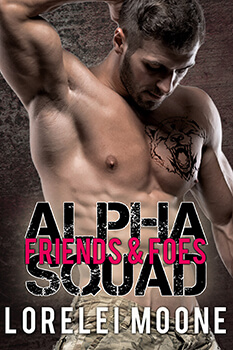 Buy Links for Alpha Squad 2: Boot Camp
Giveaway