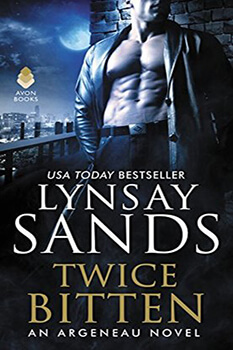 Twice Bitten
by
Lynsay Sands
Series:
Argeneau #27
Published by
Avon
on March 27, 2018
Genres:
Paranormal
,
Romance
Format:
eARC
Source:
Edelweiss
Pages:
384

Buy on Amazon
Goodreads
Thrilling, witty, and oh-so-sexy, Lynsay Sands' Argeneau novel brings together a beautiful Immortal and the man who is her destiny…

For someone who's been around for over a hundred and forty years, immortal Elspeth Argeneau hasn't done a whole lot of living. Now that she's moved away from her controlling mother, she's tracking down rogue vampires and enjoying some overdue freedom. A fling would be fun. A life mate can wait. Yet to Elspeth's surprise, her landlady's hot grandson checks both boxes.

Wyatt fell instantly in love with Elspeth four years ago. He's stunned to run into her again, especially as she has no memory of him. Then again, there are a lot of things about Elspeth that don't make sense, like the miraculous speed with which her wounds heal. And the chemistry that transforms every touch into an explosion of desire. With mysterious "accidents" besieging Elspeth, the ex-Special Forces soldier appoints himself her bodyguard. But time is running out to uncover the truth about her enemies—and rediscover the man determined to love her for eternity.
I love Lynsay Sands, and the world she weaves is just getting better and better.  Twice bitten is the 27th book in her Argeneau Series.  Like her other books, Twice Bitten is fabulous.  Even if you haven't read the previous books you won't be lost.  This can be read as a complete standalone.  Lynsay Sands has a real talent for making you fall in love with previous characters who pop up in later books. And in this newest installment our two MC's, Elspeth and Wyatt, are sure to keep you smiling.
Elspeth's a vampire who is desperate to get away from her overbearing, controlling mother Martine. Martine has the powerful ability to completely take away someone's free will.  After loosing a husband and children in her past she's driven to protect her daughters at all costs. If that means taking over Elspeth's ability to make her own decisions and live her own life, then so be it.
But after over a century of being controlled by her mother, Elspeth's had enough so she finds a way to run from her home in England straight to Canada.  She moves into an apartment and quickly becomes friends with her elderly landlady. Elspeth is settling into her life and enjoying her newfound independence.  But it's not destined to last. To Elspeth's dismay, Martine shows up on her doorstep with her two sisters in tow! On top of that, Elspeth has stumbled into a situation that will put her in extreme danger.  She just doesn't now the extent yet…
Wyatt is visiting his grandmother, who happens to be Elspeths's landlady.  He's stunned when the women he's never been able to forget walks in; but what the heck!? She doesn't seem to remember who he is, even though he can't forget her.
"I dated a lot of women before you. It was a different girl in every port kind of a deal. But none of them even touched my heart, while you flat-out owned it before I even kissed you,"
I loved Wyatt.  He's thoughtful, kind and protective.  His faith in what he feels for Elspeth is absolute.  When Elspeth finds herself in danger from an unknown foe, Wyatt doesn't hesitate to become her bodyguard and protect her at all costs. Though Wyatt is being quickly introduced to this new world of paranormal beings he seems to take it in stride.  He also doesn't let that deter him from his dedication to Elspeth or his determination to be a permanent part of her life.
Elspeth is also a wonderful character.  She's empathetic, strong, level headed and willing to talk things through. But when she finds out how far her mother has gone to manipulate her she's had enough!  She refuses to let life threatening danger and her mothers need to control get in the way of how she lives her life 😉 With the support of Wyatt, her friends and family she's putting her foot down!
Lynsay Sands has a great talent for matching her characters personalities.  It makes the romance more believable.  And for me, part of the success behind the Argeneau series is the outstanding mix of romance, mystery and the importance of family. Obviously, 27 books later, it's a formula that works! The only reason I'm giving a 4.5 instead of 5 stars is because it felt like Wyatt was taking his introduction into the paranormal world a little bit too much in stride. But no biggy.
This book is perfect for those looking for a humorous, low angst paranormal romance with some mystery and crazy loveable characters thrown in.  I can't wait for number 28!
I received an eARC of this book from the publisher via Edelweiss+. This review was voluntary and all opinions and thoughts are my own.