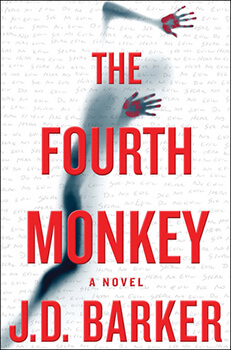 The Fourth Monkey
by
J.D. Barker
Series:
4MK Thriller #1
Published by
Houghton Mifflin Harcourt
on June 27, 2017
Genres:
Thriller
Source:
Amazon
Also in this series:
The Fifth to Die
Pages:
421

Buy on Amazon
Goodreads
For over five years, the Four Monkey Killer has terrorized the residents of Chicago. When his body is found, the police quickly realize he was on his way to deliver one final message, one which proves he has taken another victim who may still be alive.

As the lead investigator on the 4MK task force, Detective Sam Porter knows even in death, the killer is far from finished. When he discovers a personal diary in the jacket pocket of the body, Porter finds himself caught up in the mind of a psychopath, unraveling a twisted history in hopes of finding one last girl, all while struggling with personal demons of his own.

With only a handful of clues, the elusive killer's identity remains a mystery. Time is running out and the Four Monkey Killer taunts from beyond the grave in this masterfully written fast-paced thriller.
Seriously dark and twisted! This first book in the 4MK series is amazing.  J.D. Barker does a fantastic job sucking you into the mind of a serial killer. I loved the Diary! A very personal touch that I thought took this book to the next level.  I'll gush about the diary in a moment…
The basic framework of your typical serial killer trope is present.  We have Porter, the dedicated detective with a troubled past.  Nash, his sidekick, and Porter's faithful loyal team of secondary characters who back Porter in his investigation. Our twisted serial killer, who is dubbed 4MK, with an MO revolving around the premise of the three wise monkeys (here no evil, see no evil, speak no evil), with the addition of the fourth monkey (do no evil).
Porter is on the hunt for 4MK's latest victim. Unfortunately, it's rather hard to catch a killer who died right after he took his victim.  But even in death 4MK is leading Porter down a rabbit hole; leaving behind an intimate portrait of himself in the form of his Diary.
Initially I thought this may end up being a bit bland.  A typical storyline that while enjoyable, wouldn't blow me away.
However, what drew me in is how we are introduced to the serial killer through his Diary; which was left behind for Porter to find. After years of trying to catch 4MK, the diary is Porter's closest connection to his nemesis.  What starts as a way to gain the insight he needs to find the serial killer's latest victim becomes an obsession.
The diary is bizarre in the extreme.  The beginning gives the impression of a beaver cleaver type family through the eyes of a young 4MK. At least a killer's version of a beaver cleaver type family! LOL
But it quickly becomes clear that things are much more sinister.  We're held front and center watching an already disturbed mind unravel, creating the gruesome killer that I hate to love. I was both rooting for Porter and connecting emotionally to a batshit crazy killer. It's a testimate to J.D. Barker's writing skill that he made me actually kind of love this killer. (even though he's bound to give someone nightmares! 😉 )
The Fourth Monkey is fast paced and full of twists and turns that make this the most enjoyable thriller I've read in a long time.
I received an eARC of this book from the publisher via Netgalley. This review is voluntary and all opinions and thoughts are my own.