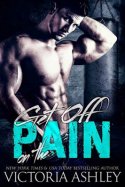 Getting Off on the Pain
by
Victoria Ashley
Series:
Pain #1
Published by
Create Space
on February 2, 2015
Genres:
Contemporary
,
Dark
,
Erotica
Format:
eBook
Source:
Purchased
Pages:
202

Buy on Amazon
Goodreads
Sexy, tattooed and inevitably dangerous. Memphis is all that and more…

I live for the pain; it's what drives me to keep moving. But there comes a time when one has to push the demons aside in order to survive.

I thought I buried them deep. I thought I was ready to finally live. Until… my brother, Alex; he throws me into the fire—right into the place I could never control myself, the one place I never want to be again.

When I put my hands on people, they get hurt. Things happen that bring me back to that night. The one that will forever torment me.

I'm doing fine, keeping to myself in order to ensure no one gets hurt by me. Then along comes Lyric, and all I want to do is touch her, to put my hands in places that I know will only lead to her being crushed by me.

She's the rush that I crave. The darkest of poison running through my veins, killing me bit by bit; like a drug I can't get enough of even though I'm almost down to my last breath.

And being around her only hurts more, but what she doesn't understand is that I welcome the pain; I get off on it, which in the end leaves me with the hardest decision of my life—one that might get us all killed…
This is the first book in the Pain Series by Victoria Ashley. It's alternate POVs and if you're anything like me don't worry, we're not left with a cliffhanger. This story is amazing. It may be a bit on the shorter side then what I typically read but it is packed full of sooo much emotion, some angst and a bit of a twist. This is the first book I've read by this author and it just sucked me in from the start. I felt the connection with the characters almost immediately.
The book opens with Memphis being released from prison after 6 long years. His life growing up was shit and he built up a huge amount of anger that he released through street fighting. Then an event happens involving his brother and that is when he ends up in prison. Memphis is a broken shell of man who is plagued by guilt for both what he did that sent him to prison but even more important, in his mind, for failing to protect his family. He's incredibly loyal and will do anything to protect his family and those he loves…and I mean anything. He wants nothing more than to start his life over and find his brother Alex, the only family he has left. When he gets home he sees his new neighbor staring at him through her window without any shame with unabashed curiosity and they both feel a connection in that moment. Like kindred souls.
Lyric works in a tattoo parlor but also works part-time as a photographer which is her real passion. She is beautiful, sassy, sarcastic and a real fighter who has demons of her own. She doesn't take shit from anyone and that includes Memphis. She is PERSISTANT. Seriously, that girl does not give up especially when it comes to Memphis. She just seemed to understand that he needed someone to not give up on him and show him that he isn't as bad as he believes himself to be. I found that soooo appealing.
Lyric simply walks into his life and won't leave even when Memphis tells her over and over again to leave him alone. She makes no apologies for it. So there's quite of angst. She just won't stop pushing him to break his walls down and help him realize that he isn't the monster he sees himself to be.
"This man has the most beautiful heart I know. I just wish he could see it…"
Memphis is definitely an Alpha male but the author was able to show us his vulnerability and struggle without diminishing that. I've seen it in so many books where that balance of showing vulnerability and dominance doesn't quite work without taking away some of the "alphaness" (I don't think that's a word but I like it! lol).
"Before I know it my hands are on his face and I'm forcing him to look at me. "It's okay to show some emotion. You can cry for your mother, Memphis. You love her." He grabs both of my arms and squeezes…."
The sexual tension is off the charts and when they finally get together it just leapt off the page. That first sex scene was out of this world erotic and emotional. I actually felt the intense emotion between the two. Memphis is tormented by his battle with both his need for Lyric and need to not hurt her. For me it wasn't just a sex scene but about Memphis taking a moment to let go and Lyric wanting more than anything to give herself freely providing him a safe haven allowing him to expose himself in a way he can't with words. The scene made me tear up, it was beautiful. Actually I'm tearing up just writing about it!!
"…being around Lyric makes me feel things I haven't felt in a long time: hope, need, desire, and selfishness."
For me, ultimately this was about forgiveness of others but more importantly yourself. To recognize that some things are just out of our hands and life sometimes puts you in difficult situations with results that could never be anticipated. It highlights the importance of family and how that can be defined.
"When you've never had much of a family, friends become the most important thinkg in life. I learned that the hard way" ~Lyric
It's also about growth and the willingness of one person to expose themselves to another with full knowledge that it could destroy them but also knowing without question that it may be the only way to help someone you love heal.
One big ray of sunshine was Memphis's brother Alex! He's so playful, mischievous and funny. I just wanted to reach into the page and give him a squeeze lol. Lyric's friend Bailey was also funny and pretty much Lyrics family. This book made me laugh, cry and my heart ache. I was truly touched. This is the first book I've read by this author and I'm so happy I did. I'll definitely be reading more of her books! My only complaint, which I'm still pouting over, was that I wanted more of them! hahaha