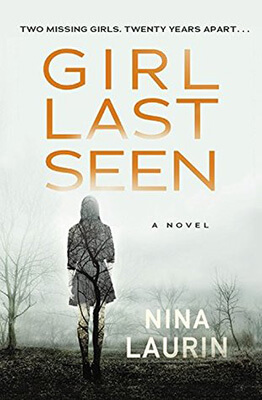 Girl Last Seen
by
Nina Laurin
Published by
Grand Central Publishing
on June 20, 2017
Genres:
Mystery
,
Suspense
Format:
eARC
Source:
NetGalley
Pages:
353

Buy on Amazon
Goodreads
Two missing girls. Thirteen years apart.
Olivia Shaw has been missing since last Tuesday. She was last seen outside the entrance of her elementary school in Hunts Point wearing a white spring jacket, blue jeans, and pink boots.

I force myself to look at the face in the photo, into her slightly smudged features, and I can't bring myself to move. Olivia Shaw could be my mirror image, rewound to thirteen years ago.

If you have any knowledge of Olivia Shaw's whereabouts or any relevant information, please contact...

I've spent a long time peering into the faces of girls on missing posters, wondering which one replaced me in that basement. But they were never quite the right age, the right look, the right circumstances. Until Olivia Shaw, missing for one week tomorrow.

Whoever stole me was never found. But since I was taken, there hasn't been another girl.

And now there is.
Girl last seen, by debut author Nina Laurin, is a deeply disturbing thriller that keeps you on edge as you become lost in a maze of twists, turns and a whole lot of emotion.
Laine is at the center of this thrilling book.  Kidnapped at age 10, she's held captive by a depraved pedophile for 3 years.  10 years later she's struggling through life trying to cope with the severe trauma she's suffered; typically through the use of prescription drugs and alcohol. She's utterly destroyed.
"I've barely been able to leave a mark on my own life."
This girl gets no breaks!  Prior to her kidnapping she's neglected by her junkie mother and after her captivity she's thrown into an institution becoming a faceless ward of the state.  Being a poor girl with no support and no family to speak of the police didn't make much effort to find her captor.  She simply isn't seen as important enough to spend a lot of resources on.
She's doing the best she can but her constant anxieties follow her around like a dark shadow she can't quite shake without "help".  Then one day Laine sees a photo of a missing 10 year old girl named Olivia Shaw who seems to bear some resemblance to her.  Her world is suddenly turned upside down as dread begins to seep into her mind.  Is her captor involved or is she just being paranoid?
Sean Ortiz, the cop assigned to Olivia's case, was the one who found Laine 10 years prior.  There is an immense amount of pressure to find Olivia because unlike Laine's case Olivia's is high-profile.  He has a hunch that there's a connection between Olivia's abduction and Laine's.  He has no choice but to track down and question Laine, but he'll have to face some demons of his own when he sees her again.
Sean carries around guilt when it comes to Laine.  He's fully aware that the effort the police put into Laine's case was minimal and can't help but feel he let her down.  Now he has to ask her for help to find Olivia and he knows he's asking a lot.  When Laine sees Sean again she's overwhelmed but despite her fears she agrees to help bringing her face to face with her past.
As the investigation continues Laine is progressively becoming more fragile.  She's trying to cope with the added anxiety and is growing more paranoid by the day.  Coupled with drugs she's heading towards a breakdown.  BUT is her paranoia warranted?
The author doesn't hold anything back!  Through Laine's troubled eyes I see what she sees, felt what she felt and it's visceral!  The emotion is so honest and messed up.  I not only question the characters motives but Laine's very account of what she's experiencing and learning about the case.  Some very uncomfortable questions arise that keep her constantly on edge.  I fell into a downward spiral with her as she struggles with her memories, anxiety, new found obsession with Olivia's case and cocktail of prescription drugs.  I was so eager to see what happened next!
The overall character development is very well done. Laine was endearing and willing to try her best to fight her own fears. Even at her most vulnerable there was a piece of her that just wouldn't give up.  I could not, however, connect with Sean.  I couldn't quite put my finger on what kind of person he was.
In terms of plot, there were minor moments when I felt that parts of the story were moving in an interesting direction and then left hanging without tying up loose ends.  It almost felt like the author wasn't a hundred percent sure which direction to go with the story. That's what kept me from giving full ratings. But it was minor so didn't detract too much from the story. Regardless, fabulous debut novel with a wonderfully satisfying ending that wasn't what I expected.
Raw, gritty and fast paced, Girl Last Seen is a highly enjoyable read that will keep the "who dunnit" lovers eagerly flipping those pages to see what happens next. Nina Laurin is definitely an author to watch out for and I look forward to future books!
I received an eARC from the publisher via NetGalley in exchange for my honest and voluntary review.