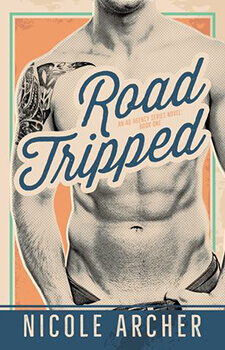 Field Tripped
by
Nicole Archer
Series:
Ad Agency #3
Published by
Twist Idea Lab
on October 30, 2017
Genres:
Contemporary
,
Romantic Comedy
Format:
eARC
Also in this series:
Road-Tripped
Pages:
278

Goodreads
I was done with games. But playing with her is so much fun.

Ten years ago, I was all set to compete in the winter Olympics. Then I lost everything—my career, my best friend, and my girlfriend.

After that, I stopped playing games for good. I swore never to go back to Colorado. Too many bad memories. Plus, she's still there.

Now I live a simple life as a creative director at Shimura Advertising in New York. All is good, until my boss cons me and my coworkers into spending two weeks in Colorado at Proton Sports' sleep-away camp for adults, pitching their business. Turns out Proton's idea of a pitch is making the agencies battle each other in a bunch of ridiculous winter games.

Guess who owns the rival company? Her. And she's out to get me.

I might just let her win.

*Field-Tripped is a standalone romance and the third book in the Ad Agency Series.
The crazy cast is back in this third installment in the Ad Agency! Like I've said before Nicole Archer is a force to be reckoned with.  I'd say up there with some of the top romcom bestselling greats! As with her first two books, Field-Tripped is full of character and charm.  The passion is intense, emotions wild but still tempered with clever dialogue and scenes that leave you in hysterical giggles.
Oh, and her books are HOT hmmm.  Anyhoo, I digress…LOL
The MC's in this installment are creative director Eli and his past love Charlie.
Eli is a former Olympic athlete who has traded in his past life for a lower key one as the creative director for Shimura Ad Agency.  He's looking for no commitments, no complications, no more heartache and an attempt at peace.
Little does he know that's about to change when Eli's boss manipulates he and his co-workers into going to Eli's hometown in Colorado.  A hometown he'd hope to never see again.  Soon a simple work trip turns into a series of winter competitions that Eli must take part in if there's any hope of securing a new client.  Then he's faced with the worst possible scenario!  He comes face to face with his ex, Charlie.
Charlie is an emotional wreck with a history of extreme behavior and feels broken. But now she wants to make a change, face life and fight for her future.  The competition sounds like just the thing to help her push her career forward so she can grab hold of that future.
But of course things can't be simple as Eli and Charlie come face to face.  Neither thinking they'd see the other again and soon becoming aware that there is a cesspool of anger, love, resentment and heartache that hasn't gone away.  Sparks fly, anger burns and let the games begin!
This book is stellar!  So why didn't I give it a full 5-star rating instead of 4.5?  I felt like it took too long for the big reveal as to what had happened between them.  It was a tad bit frustrating.  But meh!  It's minor and I adored this book.
If you're looking for a light hearted, grin splitting, second chance romance go no further!  You won't regret it.
Book was provided as part of this Blog Tour.  I've provided an honest and voluntary review.
Read the other two books in the Ad Agency Series
Road-Tripped (Ad Agency Book 1)
Head-Tripped (Ad Agency Book 2)