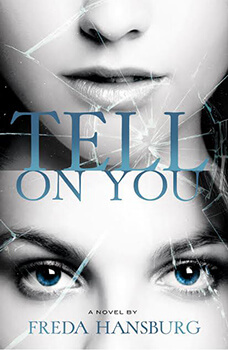 Title: TELL ON YOU
Author: Freda Hansburg
Publisher: Micro Publishing Media
Pages: 248
Genre: Thriller
Tell on You is a psychological suspense novel that best fits within the Gone Girl-inspired niche genre of "grip lit."   Jeremy Barrett's obsessive love equals that of Jay Gatsby for Daisy Buchanan, as life imitates art in his private school English class. But his angst-driven infatuation brings dire consequences as he is drawn into the machinations of his disturbed 16-year-old student Nikki Jordan, whose bad intentions rival those of her teacher.  A fast-paced, drama-filled tale, Tell on You reminds readers about the wildness and trauma of adolescence—and the self-defeating behaviors to which adults resort in times of stress. From gaslighting to vicious bullying, poisonous family privilege to the loss of a parent—Freda Hansburg draws on her experience as a clinical psychologist to explore the depths of each dark situation in Tell on You.
PURCHASE YOUR COPY:
Is Writing a Form of Personal Therapy?
BY: Freda Hansburg
As a psychologist and novelist, here's a question I can get my teeth into.
There is a treatment approach called narrative therapy that helps people construct a meaningful account of their life experiences in order to highlight their values and skills.  This is literally writing as therapy.  But what about writing per se, when the goal is to create, rather than heal?  Does the writer enjoy any therapeutic side effects in the process?
I vote yes – with a caveat.  If the writer completes what she set out to do.  If she gives up, it may be demoralizing, rather than therapeutic.  Speaking from experience, producing a novel entails extended, hard labor.  From inception to first draft is a long, dark road, akin to walking through a tunnel with a flashlight.  The writer must keep moving forward, despite limited visibility, trusting that she will emerge into daylight.  Subsequent drafts pose new demands to change, or even omit, what she has worked so hard to create.  The writer who perseveres deservedly accrues some therapeutic rewards.
Increased self-confidence.  When you finish a story, especially a book-length one, you learn that you're capable of many things.  Courage, patience, discipline, imagination.  You know you can do it, and this self-affirmation can generalize to other areas of your life.
Enhanced problem-solving.  Writing is all about solving problems.  How will I pull off this murder?  Can I misdirect the reader?  What do I do when I get stuck?  Writers who go the distance develop skills and tools to tackle obstacles without giving up.  Moreover, they learn that it's normal to be stumped and not something to fear.
Trust in internal resources.  A writer learns to draw from within and create characters very different from her everyday self.  She finds a universe of ideas, images and voices in her own mind, because she has to.  And this promotes self-acceptance.  We all have heroes and villains within and can be strengthened by confronting, even celebrating them.
Healthy narcissistic supplies.  Excuse the jargon.  But the fact is, writers enjoy attention, praise and admiration.  And they've earned it.  Most people are in awe of someone who can produce a book.  It's heady to bask in that.  Even better?  Having a reader tell you that they loved your book, or couldn't put it down (which happened to me yesterday, making my day).  When you've given people pleasure, what could be better?  It's beyond therapeutic.  I'd call it self-actualization.