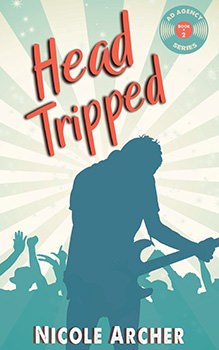 Head-Tripped
by
Nicole Archer
Series:
Ad Agency #2
Published by
Twist Idea Lab LLC
on April 8, 2017
Genres:
Adult Fiction
,
Contemporary
,
Romantic Comedy
Format:
eARC
Also in this series:
Road-Tripped
Pages:
328

Buy on Amazon
Goodreads
Violinist Effie Murphy moved to New York to pick up the pieces of her life. After six months, she's still broken, not to mention flat broke. But everything changes one weird night, when she meets Elias, the lead of one of the hottest bands in the world. Except, she doesn't know that. She also doesn't know he's leaving the country soon.

Elias hates life in the spotlight. So when he meets Effie at a random party, he pretends to be an unemployed deadbeat. Why not? He'll never see her again. Except, he can't stop thinking about the wild woman who helped him write songs that night.

*Erotic content and adult language. Not for readers under 18.

Head-Tripped is the second book in the Ad Agency Series and can be read as a standalone. However, it's a more fluid experience to start with Book 1, since many of Road-Tripped's characters are threaded into this book.
This is the second book in the Ad Agency Series by Nicole Archer.  It's told from alternate POV between music genius Effie and rock star Elias.
I was introduced to this amazingly talented author via the first book Road Tripped (see my review).  I was incredibly impressed with her witty prose and rich characters so I was ecstatic when I got my paws on this gem.
Let me tell you, she completely outdid herself!  This story is a mix of love, growth and healing that has some awesome laugh out loud moments.  There are some tough topics such as dealing with addiction, but what could have been a bit darker was perfectly tempered with humor and giggle inducing banter, keeping it light and sweet!
Effie is a musical prodigy raised in a home where she was forced by her overbearing mother to do nothing but practice her violin and focus on her music.  She was determined her daughter would become a star.  It cost her socially, emotionally and eventually physically.  Effie was essentially emotionally abused and isolated from the world around her.  Especially devastating for someone with such a free loving spirt capable of feeling incredibly deep emotions.
Add on the physical pain caused by the arthritis she was developing after years of constant practicing and Effie began a downward spiral into drug addiction and homelessness.  With the help of a friend she ends up in rehab. Two years later Effie is determined to start over and moves to New York to attend Julliard.
Elias is a rock star who has become somewhat disillusioned with his own success and hates being famous.  Worse he's not written a single song in months.  When he goes out with his friend he meets Effie!  Effie is clearly smitten with Elias but has no idea who he is and Elias loves that fact and pretends he's just a normal guy and not an international rock star.  As they spend the next few days together Elias is completed sucked into the soulful, quirky and musically brilliant mind that is Effie.  Their connection is undeniable and they literally make music together in her apartment as they lust over each other!  Seriously hot BTW:)
"He didn't even have to say anything.  All he had to do was breathe and she understood everything"
Unfortunately Elias has to go on a world tour with his band so ultimately he has to leave Effie behind no matter how alive she makes him feel.    But as the tour progresses it's clear something has to change because the band is not doing well and if they don't do something they can kiss their careers goodbye.
To try to save the band Elias invites Effie on tour to try to recreate the musical magic he and Effie made together in her apartment.  Effie wants to see him and she needs money so she goes for it and so starts the trip through Europe where they explore themselves and the possibilities of them.
I adored Effie! There was a fanciful, soulful quality to Effie that made her endearing.  But considering the way she behaved so outlandishly there were times that I was uncertain if the author would be able to keep from crossing the line into cheesy and unbelievable.  I was wrong to worry though!  The author pulled it off effortlessly.
Elias is perfect for Effie.  He is laid back and understands that Effie needs be accepted for who she is…both good and dark.
"If you love someone, you must love all of them. Even the dark parts – the craters of the moon." 
He also has his own demons to fight.  His childhood wasn't the best either but he was willing to work through it.  Regardless he ultimately becomes the steady rock someone like Effie needs.  Of course it helps that he's hot as hell!!! LOL
The secondary characters were also fabulous!  Especially Elias's adoptive mom.  She's a freakin' hilarious trouble maker with a huge heart!
Fantastic second book in what is turning out to be an incredibly entertaining series.  It's also one of the best books I've read so far this year.  If you like rock stars, unique characters and good feels, this book is for you.
I voluntarily read and gave honest review of an advanced copy of this book.
Check out the Head-Tripped Playlist