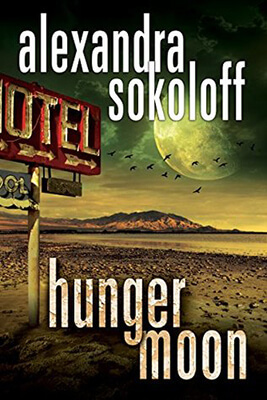 Hunger Moon
Alexandra Sokoloff
(The Huntress/FBI Thrillers #5)
Publication date: October 24th 2017
Genres: Adult, Mystery, Thriller
Revenge has no limits.

Special Agent Matthew Roarke has abandoned his rogue search for serial killer Cara Lindstrom. He's returned to the FBI to head a task force with one mission: to rid society of its worst predators. But as the skeletal symbols of Santa Muerte, "Lady Death," mysteriously appear at universities nationwide, threatening death to rapists, Roarke's team is pressured to investigate. When a frat boy goes missing in Santa Barbara, Roarke realizes a bloodbath is coming—desperate teenagers are about to mete out personal, cold-blooded justice.

Hiding from the law, avenging angel Cara Lindstrom is on her own ruthless quest. She plans to stay as far away from Roarke as possible—until an old enemy comes after both her and the FBI, forcing her back into Roarke's orbit. This time, the huntress has become the hunted . . .
Author Interview
AB: What would you say is a typical day in the life of Alexandra Sokoloff?
I'm (just!) married to another crime writer, Craig Robertson and he's Scottish, so we have a very complicated life. We split our time between California and Scotland, but we also travel a lot to crime festivals and conferences in other countries. So we're either on the road (where I write on the plane and in hotels when I can) or we're holed up in the house, writing like crazy. Luckily for us we are on very different schedules. I get up early and do most of my writing from about 7 am to 4, with breaks to work out or do other business. Craig is rarely up before noon and works well into the night. We meet for dinner! It all works for us and I wouldn't trade it for anything.
AB: You indicated in your bio that you love to dance.  I do too! Did you ever think of becoming a dancer or do you compete?
I started in theater so I was a jazz and modern dancer, and I've done that professionally, although not often! I was always more interested in directing and choreography – I just love the FEEL of dance. I never competed in ballroom – I'm more of a street dancer, especially swing. I was seriously into Lindy Hop for a while, aerials and everything. Loved it. There's not so much of it in Scotland, unfortunately.
How about you? Would love to hear!
AB: Wow that sounds so fun! I'm more of the "had a few drinks" dancer (fairly popular style from my understanding) so my career was short lived! bwahahaha.  But, like you , I love the FEEL. Makes me feel light and free.
AB: Who and/or what are your biggest influences?
I think my writing has been most influenced by Shirley Jackson, Daphne duMaurier, Mary Shelley and Charlotte Perkins Gilman – all women who have a particularly feminine/feminist slant on psychological horror and suspense.
AB: Your "The Huntress/FBI Thriller Series" as a whole has seen some fantastic reviews.  What do you think it is about the dynamic between Special Agent Matthew Roarke and Cara Lindstrom that appeals so much to readers?
Roarke and Cara are almost mystically connected: there is a romantic longing between them and they are in a sense the male and female versions of each other, united by their shared quest to hunt human predators. There is a powerful sense that they could save each other, but at the same time, to actually get together would likely mean the death of one or both, so the tragic element is always there.
AB: So far Hunger Moon appears to be on the same track to success.  Can you tell us a bit about it?
What you have to know about the whole series is that it needs to be read in order! So if you're new to the series, definitely start with Huntress Moon, which you can read for free with Amazon Prime. And then work your way through. The series is about haunted FBI Special Agent Matthew Roarke, who comes across a series of brutal murders that he becomes convinced have been taking place for the last sixteen years – and that the killer is a woman. As a former profiler, Roarke knows women don't kill like this. And as he and his team hunt her and realize what she's actually doing, they all become more and more conflicted about catching her – as do the readers.
AB: What do you think will separate Hunger Moon from the rest of the books in the series?
That's easy – the politics! This series has been extremely political from the start, but apparently some readers didn't notice that in previous books. With Hunger Moon, though, it's extremely easy to tell the politics of the reviewers. Some of them are really, really mad at me, and I knew they would be. But it's a series about a woman who kills sexual predators, and an FBI team that is passionately committed to hunting those predators and incarcerating them. We now have a sexual predator in the White House, determining national policy and appointing judges and cabinet members. Of course I'm going to deal with that in the new book. I wouldn't be honest to the characters or story if I didn't.
AB: What question do you wish someone would ask about you or your book? (then answer it 🙂
I always hope readers will come away with the same question: "What can I do to help end rape culture and sexual abuse?" I always have an Afterword at the end of the books that gives a list of organizations I donate to. There's also a link to the list on my website: http://alexandrasokoloff.com