on Tour February 12 – March 16, 2018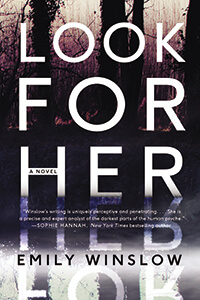 Look for Her
by Emily Winslow
Genre: Psychological Thriller
Published by: William Morrow
Publication Date: February 13th 2018
Number of Pages: 304
ISBN: 006257258X (ISBN13: 9780062572585)
Series: Keene and Frohmann #4 | Each is a stand alone novel
Purchase Links: Amazon ? | Barnes & Noble ? | Goodreads ?
Lilling might seem like an idyllic English village, but it's home to a dark history. In 1976, a teenage girl named Annalise Wood disappeared, and though her body was later discovered, the culprit was never found. Decades later, Annalise maintains a perverse kind of celebrity, and is still the focus of grief, speculation, and for one young woman, a disturbing, escalating jealousy.

When DNA linked to the Annalise murder unexpectedly surfaces, cold case detective Morris Keene and his former partner, Chloe Frohmann, hope to finally bring closure to this traumatized community. But the new evidence instead undoes the case's only certainty: the buried body that had long ago been confidently identified as Annalise may be someone else entirely, and instead of answers, the investigators face only new puzzles.

Whose body was unearthed all those years ago, and what happened to the real Annalise? Is someone interfering with the investigation? And is there a link to a present-day drowning with eerie connections? With piercing insight and shocking twists, Emily Winslow explores the dark side of sensationalized crime in this haunting psychological thriller.
Trade Reviews
"An intriguing, suspenseful, and briskly paced story with complex characters, evocative descriptions of England's Cambridgeshire, plenty of clever misdirection, and a satisfying ending."
—Kirkus Reviews
"Using multiple narrators, as she did in The Start of Everything (2013), Winslow spins the plot to a satisfying and humane conclusion, with Keene and Frohmann again proving to be a winning pair."
—Booklist
"Winslow's kaleidoscopic narrative technique, employing first-person accounts from multiple characters, makes for engaging reading."
—Publishers Weekly
"Look For Her is a nuanced, thought-provoking portrait of a crime and its aftermath. Beautifully written with an expertly twisty, surprising story, this is a must-read!"
—Chevy Stevens, New York Times bestselling author of Never Let You Go
"Surprising and satisfying, you won't be able to stop turning the pages of Look For Her."
—Karen Dionne, author of The Marsh King's Daughter

Author Interview
AB: What does a day in the life of Emily Winslow look like?
Emiliy:  I get the mornings to myself while my husband homeschools our younger son, and our older son goes to work. That's when I write, and then I take over the homeschooling in the afternoon while my husband goes to his office; usually my son and I have someplace fun and educational to go and friends to see. I also teach writing, which I started doing so that I'll have some interactions with other people built into my schedule when we eventually have an empty nest, and so no more kid activities to anchor my social life with other parents. That feels like it isn't too far away!
AB:  What would you say is your biggest quirk?
Emily: I don't drive. I'm almost phobic about it. I *can* drive, and have a licence, but we chose a house from which I can easily walk or take a bus, which I vastly prefer. I did have a great experience driving alone across the US, from Massachusetts to California, twenty years ago; that was a fun adventure. But it's been a long time since I've been behind the wheel, and I've just lost the will for it.
AB:  What are the primary genre(s) you write and what drew you to them?
Emily: I write crime novels for a lot of reasons: I love to read them; I love to be surprised by unexpected explanations; I love dealing with big, big emotions and characters in extremis; and the clarity of a "solve the crime" plot helps keep me on track, story-wise.
AB:  Do you think your experience in acting influences how you write and view your characters?
Emily:  Absolutely. One of the first lessons I learned in acting school had to do with being just your character, and trusting the other actors and director to take care of the other characters. These skills translate really well to writing first-person narrators. Narrators are inherently limited in what they pay attention to, what they perceive, and how they interpret. Those limitations are useful and an important storytelling tool. Those limits can define the character and move the plot forward.
AB:  What's your favorite under-appreciated novel?
Emily: Christina Schwarz is famous for the megahit Drowning Ruth, but I adore her less popular novel All is Vanity. All is Vanity is about an aspiring novelist making lots of desperate mistakes, and the insight Schwarz has into the desperation and dread of failure that makes a lot of writers tick is just wonderful.
AB:  Can you tell us a bit more about "Look for Her"?
Emily: Look For Her is the fourth novel in my crime series starring detectives Morris Keene and Chloe Frohmann, set in present-day Cambridge, England. There's a personal arc for the detectives over the course of the four books, but each mystery stands alone; so start with whichever one you like! In Look For Her, Morris and Chloe investigate a famous old case of a missing teenage girl. The DNA evidence found with her corpse has at last, after thirty years, found a match, and they think they've solved it…but an unbreakable alibi confuses everything they thought they knew and makes them question whether the corpse they have is even her body. The story is told by both investigators, and by psychologist Laurie Ambrose, who has two clients with links to the famous case: one obsessed with and jealous of the famous victim, and one who believes she's the victims secret daughter.
AB:  What question do you wish someone would ask about you or your book but nobody has? (And then answer it)
Emily:  I love talking about my cats. Ask me about cats! Actually, we're down to one now, but I always think of "cats" in the plural because the various cats I've lived with over 48 years have been such a wonderful presence in my life. They are perfect companions for working at home (except for the distractingly loud purring, and the insistence that my lap is for them, not my computer).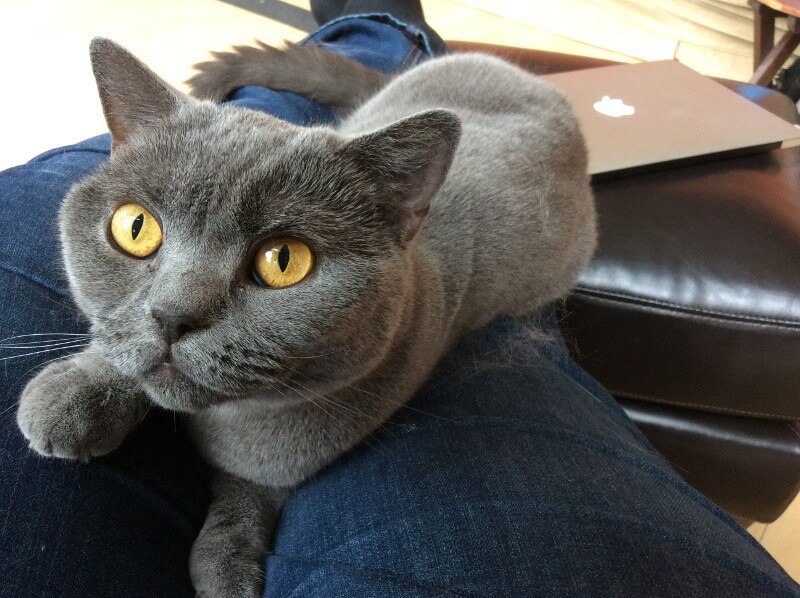 Read an excerpt
From Chapter One
Annalise Williams (Wolfson College),
University Counselling Service,
recorded and transcribed by Dr. Laurie Ambrose
My mother picked the name Annalise for me because of a girl who was killed. Her name was Annalise Wood, and she went missing when she was sixteen. My mother was the same age when it happened. Annalise was lovely, much prettier than my sister and I ever became. She was the kind of girl you look at and think, "Of course someone would want to take her."
Don't look at me like that. I know that what happened to her was awful. It just seems a very fine line between being the kind of person that others want to be with and be like and treat well, and being the kind of person that some others, just a few, sick others, want to take for themselves. That's the same kind of person, isn't it? The loved and lovely. Isn't that from a poem somewhere? That's what she was like. That's the risk when you're the kind of person who's wanted. Good people want to be close to you, but the bad people want you too.
There were two photos of her that the media used most: her most recent school portrait, and a snapshot of her laughing, with the friends on either side cropped out. Taken together, they presented the two sides of a beautiful and perfect person: poised and thoughtful, and spontaneous and bubbly. The kind of person who deserves help and attention.
Realistically, if they wanted these pictures to help strangers identify her if they saw her out and about with the bad man, they should have used photos of her frowning or looking frightened. Either there weren't any (which may well be the case; who would take a photo of that?), or they couldn't bring themselves to advertise a version of her that was less than appealing. The narrative is important. If you want the "general public" to get worked up, you have to persuade. Attractiveness and innocence must be communicated, even if emphasising those traits makes the real person harder to recognise.
In the end, she was already dead, so it's a good thing, I suppose, that they used the nice photos. They're the images that everyone remembers. My mum was a teenager when those pictures were in the paper every day for weeks, then weekly for months. Annalise Wood was the most beautiful girl in the world. Everyone cared about her. It's what any mother would wish for her child, to be the kind of person that everyone would care about and miss if she disappeared.
It wasn't until Mum was over thirty that what really happened to Annalise Wood was discovered.
***
Excerpt from Look for Her by Emily Winslow. Copyright © 2018 by Emily Winslow. Reprinted by permission of William Morrow, an imprint of HarperCollins Publishers. All rights reserved.
Tour Participants
Visit the other great hosts on this tour for more great reviews, interviews, guest posts, and giveaways!
Giveaway
This is a rafflecopter giveaway hosted by Partners in Crime Virtual Book Tours for Emily Winslow and William Morrow. There will be 1 winner of one (1) physical copy of each of the 1st three books in the Keene and Frohmann Series: The Whole World, The Start of Everything, and The Red House AND there will be 5 Winners of one (1) physical copy of their choice of ONE of the 1st three books in the Keene and Frohmann Series: The Whole World, The Start of Everything, and The Red House. The giveaway begins on February 12 and runs through March 18, 2018. This giveaway is open to US & Canada residents only.