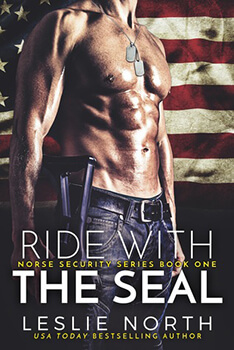 Ride With the Seal
Leslie North
(Norse Security, #1)
Publication date: May 24th 2018
Genres: Adult, Romance, Suspense
When ex-SEAL Camden Thursday enters the garage at two in the morning, he's intent on grand theft auto. Instead he's confronted with more than a hot car—there's a sexy mechanic too. His high school crush, wrench in hand, projects a "Dangerous Curves Ahead" warning far more tempting than any joy ride, but Camden isn't here to try the road less traveled. He's here to jack a car and prove he can do more than manipulate computer code for the black ops service he works for: Norse Security. So while Camden is looking to get physical on this job, he was hoping for someone to punch, not someone to plunder…

Everly Knight is the baddest bad girl in town. As the daughter of a mobster and a name in the auto industry for hot cars, she could rest on her laurels and let her reputation proceed her. However, Everly has a deep dark secret: she wants nothing more than a shiny, new, legal garage all of her own. She's just a few thousand away from cashing in and figures that one last illegal car theft could finance her legal dreams. That is until the geek from her past shows up as a hunky hero; letting Everly see that it's possible to become more than just a tough girl.

Camden may be all muscle, but it's Everly who can stall the entire operation. She holds him hostage and offers an ultimatum: Take her on the ride or find himself a sitting duck for the mob. It's not a hard choice when the bombshell revs his engine. But with warring goals and secret missions, they'll find themselves fighting for their futures and racing toward a love they never saw coming.
Interview with Leslie North
If you had to describe yourself using three words what would they be?
Leslie:  Romantic, positive, and empowered!
What's your favorite book quote and why?
Leslie:  "I cannot fix on the hour, or the spot, or the look or the words, which laid the foundation. It is too long ago. I was in the middle before I knew that I had begun."
From Jane Austen's Pride and Prejudice, because it reminds me of the feeling of getting lost in a good book… or getting lost in a hunky man's eyes.
How do you make time to write?
Leslie:  It's simple: I don't need to make time for it! I love it so much, I find myself thinking about writing and my characters even when I'm not doing it. As long as I've eaten (and my dogs have eaten, of course!) I can write for hours on end without even wanting to stop.
Can you tell us about your new release Ride with the Seal?
Leslie: My hunky hero for this book, Camden Thursday, finds himself about to commit a serious crime, grand theft auto. Instead, he finds himself locked in with his high school crush, who commits an even more serious crime on him: grand theft heart!
What actor most looks like your books MC Camden Thursday?
Leslie: I'd love to see Jensen Ackles play Camden, he's actually who I was thinking about when I was writing him, just between us girls.
What makes your book stand out from other similar books with an ex-military hero?
Leslie: Camden isn't your typical macho military man. He's a tech genius, who feels the need to prove he can be more than a hacker to his comrades. He's quick on his feet, both physically and mentally, but he finds himself outmaneuvered by his high school crush, Everly Knight.
What question do you wish someone would ask about you or your book? (then answer it 🙂 )
Leslie: I wish people would ask more about where I get my character ideas. Coming up with characters is my favorite part of the process. I do it through a combination of imagination, books, and, of course, writing a detailed character plan. Sometimes I feel like I'm discovering the characters, rather than inventing them! I love going to my local library and going through history and fiction, to get that perfect character fleshed out. Once my character is real and well-rounded in my head, sometimes even I'll surprised when they highjack the story away from me!