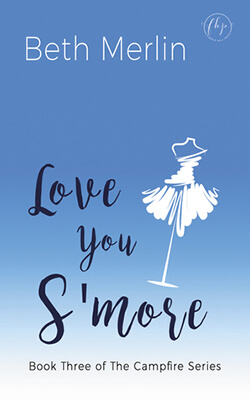 Love You S'more
by
Beth Merlin
Series:
The Campfire Series #3
Published by
Firefly Hill Press
on September 25th 2018
Genres:
Romantic Comedy
Goodreads
Having successfully designed the wedding gown of the century, Gigi Goldstein is on top of the world – that is until it all suddenly comes crashing down around her. When the paparazzi captures her and Perry Gillman in a compromising moment the night of the royal wedding, she finds herself entangled in a scandal of global proportion. Convinced her carelessness has ruined every relationship in her life, she's surprised and moved by her boyfriend, Gideon's, sudden proposal of marriage and accepts it without a second thought.

Four months later, Gigi's living at Badgley Hall contemplating an entirely new kind of life, while guilt, regret, and obligation keep calling her back to her old one. Will Gigi stay in South Gloucestershire, marry Gideon, and become the Countess of Harronsby?

Or, will unfinished opportunities and an old flame bring her back across the pond to confront her past and reclaim her future?
Goodreads / Amazon / Barnes & Noble / iBooks / Kobo
Interview with Beth Merlin
Hello Beth! Welcome to Crack A Book Cafe and sharing a bit about yourself and your newest release!  First would you tell us about yourself and what inspires you?
Beth: I was born and raised in New York and it continues to be the place that inspires me most. I love its energy, culture, food, diversity of people, history, and of course, the fashion. Although I've really enjoyed getting to write about other locations like the English countryside or London, my heart and narratives seem to always find their way back to the Big Apple.
How did you come to be a published author and what that meant to you?
In 2013, I attended a Pitch Conference in NYC where I pitched One S'more Summer to three agents and three publishers. Six requests to see the full manuscript were promptly followed by six kind and thoughtful rejections. The agents and publishers thought the concept was strong, but that the structure needed some work. I shelved the book for about a year and then picked it back up. I went through a series of revisions and then queried the book out to several agents and smaller publishing houses. I immediately clicked with Danielle Modafferi from Firefly Hill Press. She seemed to "get" me and the story I was trying to tell. My dream was to see my book out in the world and I knew going with a small independent house would give me my best shot at that. Signing with Firefly was the best decision I could've made. Danielle helped convince me my standalone story could be a series and I signed on to write the three book Campfire Series. Getting published is still one of the biggest accomplishments of my life. Every time I see another review on Amazon or Goodreads I pinch myself. Knowing the books are being read and enjoyed by so many people is a dream come true for me!
It's obvious you loved your camping days! You said you thought that the 8 years you spent going to camp were some of the most formative of your life. In what way(s)?
Beth: Camp was always magical to me in the way it let you reinvent yourself for the summer. At home, you may have lost out on the lead in the school play or lost the boy you liked to somebody else, but at camp, you got a second chance to be whoever you wanted to be. There is also something so special about living among your peers. I think that's part of why so many beloved books like the Harry Potter series take place at boarding schools. Without parental figures, you're forced to rely on your friends and yourself. I did most of my growing up over those summers.
What's your favorite memory from your sleepover camp days?
Beth: There are a lot of memories to choose from, but I would have to say Color War. I'm not even a very athletic person, but there was something infectious about the energy and spirit of Color War that you almost couldn't help but get swept up into the competitions.
Can you tell us more about this newest release in The Campfire Series, Love You S'more?
Beth: Love You S'more takes place a few months after the ending of S'more to Lose. Gigi is at a pretty low point having been involved in one of the biggest scandals to hit the UK. A lot of the book is about her journey to reconcile what she did with who she is and what she wants. Gigi is definitely a flawed character who has allowed herself to be the runner-up in her own life the same way she was the runner-up on Top Designer. Love You S'more is about her stepping up to become the person she wants to be and the one that we the readers know she can be.
Were the characters in Love You S'more inspired by people in your life either present or past?
Beth: Perry is the compilation of all the British counselors I used to have a crush on – with a little Lin Manuel Miranda sprinkled in. Alicia is a composite of some of my closest friends. Trini is a mix of Tim Gunn and some female mentors I've had. I wouldn't say any of the characters are true mirror images of people I know, but I did borrow traits from my real life.
If you could describe your main character Gigi in 3 words what would they be?
Beth: Complicated, talented, and insecure
What do you think your readers will love most in this installment of the series?
Beth: I worked hard to give the readers what I hope they will feel is a satisfying ending. I think Gigi goes through a true character transformation over the course of the series and the readers will appreciate all the trials and tribulations it took to get her there. I also think they will love all the Elizabeth stuff I was able to include. As a lover of musical theater, it was a lot of fun getting to put together my fictional Broadway show and I think that comes through.
What question do you wish someone would ask about you or your book? (then answer it 😉 )
Beth: Team Gideon or Team Perry?
I would LOVE to answer this question because I actually do have an answer BUT, I think I will just have to let everyone read Love You S'more to see where I landed.
LOL. Thanks again for swinging by Beth and best of luck with your new release!