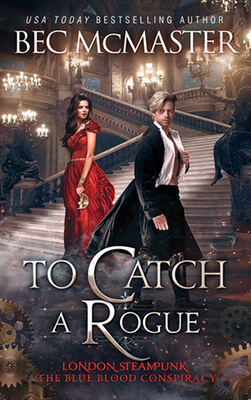 To Catch A Rogue
Bec McMaster
(London Steampunk: The Blue Blood Conspiracy #4)
Publication date: October 30th 2018
Genres: Adult, Paranormal, Romance, Steampunk
An impossible heist. A thief and a rogue. But will she steal his heart, instead?

The Company of Rogues finally knows the identity of the mastermind behind a plot against the queen—but their enemy is still one step ahead of them. When he kidnaps one of theirs, the Rogues plan a daring rescue mission that will lead them into the heart of the bloodthirsty Crimson Court.

It's a job for a master thief, and there's nothing Charlie Todd likes more than a challenge. To pull off the impossible, Charlie needs a crew, including the only thief who's ever been able to outfox him.

He broke her heart. But now she must risk it all to save his life…

Lark's spent years trying to forget her past, but the one thing she can't ignore is the way a single smile from Charlie still sets her heart on fire. When he proposes they work together again, it feels just like old times, but she has one rule: this is strictly business.

It's Charlie's last chance to prove he can be trusted with her heart. But Lark's keeping a deadly secret. And as passions are stirred and the stakes mount, it might be the kind of secret that could destroy them all…

Ocean's 11 meets Dracula, in this sexy paranormal heist by USA Today Bestselling Author, Bec McMaster. If you like sexy paranormal romances, steampunk shenanigans, and plenty of action-adventure (vampires, dirigible flights, and steamy rooftop chases), then dive into this thrilling heist with Charlie and Lark.
Goodreads / Amazon / Barnes & Noble / iBooks / Kobo
Interview with Bec McMaster
Hello Bec and welcome to the Cafe!  To start, could you tell us about yourself?
Hi! And thank you for having me!
My name is Bec McMaster and I write fantasy-fuelled romance, featuring heroines who kick some serious bustle, and dark and dangerous heroes. I live in country Australia with my partner, Byron, and my writing sidekick, Kobe, who's a beautiful English staffy.
What is it about fantasy that appeals to you so much? 
BM: Definitely those fantasy worlds! I love escaping into a well-crafted, in-depth world—it feels like there's no limit to your imagination, if you can work out how the world/magic all works.
Who are some authors in your genre that inspire you?
BM: I'm on the edge of Fantasy Romance and Paranormal Romance, so there are a few authors in either sub-genre whose works I adore. I love authors like Grace Draven, Nalini Singh, Laura Thalassa and Ilona Andrews. They all feature amazing world building, which is a must for me, with kick-ass heroines and intriguing heroes, which is my ultimate weakness.
What's the most difficult part of your writing process?
BM: Tying everything together. I don't write in a linear fashion, so I'll often start with chapter one, write what will eventually become chapter six, skip to the end… etc. And then I have to go back and make sure everything is woven together seamlessly. I'm a pantser, and I usually start with a rough outline of what's going to happen in the story in my head, so I have to excavate the plot as I go.
Can you tell us more about your newest release in the London Steampunk: The Blue Blood Conspiracy Series, To Catch A Rogue?
BM: The Blue Blood Conspiracy Series is set in an alternative steampunk-style Victorian-era world: To combat a mysterious threat against the crown, the Duke of Malloryn puts together a highly-skilled team of individuals (humans, mechs and rogue blue bloods) who call themselves the Company of Rogues.
In To Catch A Rogue, it's Charlie Todd's turn to steal his lady's heart. When Charlie's tasked with putting together a team to pull off a dangerous rescue mission in the heart of the bloodthirsty Crimson Court, he knows he needs the best. Enter Lark, his one-time best friend, and the only thief who's ever been able to outwit him. But Lark's keeping a deadly secret and as the stakes rise, it might be the kind of secret that can destroy the Company of Rogues.
It's a little bit Ocean's 11 meets Dracula, in a sexy paranormal heist.
With all the fantasy books out there how do you think this will stand out to your readers?
BM: I love putting a twist on paranormal/fantasy elements, so this series features a vampiric-style aristocracy (blue bloods) who once ruled London with an iron fist; think the British ton, if they drank blood, instead of tea. They've been overthrown by the humans and mechs (those humans forced to get a bio-mech limb or organ to survive), who were once considered cattle by the blue bloods, and now some of them want a return to the status quo.
A lot of my readers love the mix of glittering ballrooms patrolled by merciless predators, and the dark, foggy London streets where monsters stalk the night. It's a dangerous, sexy world, and I love the fact my heroes and heroines have to fight against all the odds to have their happy ever after. If you like a twist on your historical romance or paranormal romance, this might be for you.
What's your favorite part of this book?
BM: Definitely the first kiss between Charlie and Lark. They grew up together and were best friends for years, until a shocking death tore them apart, so there's a lot of unresolved tension there. They're definitely adults now, and Charlie's not afraid to put his heart on the line to win back the girl he never dared love, but Lark's a little more hesitant.
The first kiss is like a step over that line in the sand between them. They can never go back now, and there are years of pent-up frustration that kind of explode in that scene.
Where do you see this series going after this book?
BM: There's one more book in the Blue Blood Conspiracy spin-off—Dukes Are Forever—and it features the Duke of Malloryn. He's the one who created the Company of Rogues, and he's this deliciously Machiavellian character who was trapped into marriage by Miss Adele Hamilton several books ago (who has her reasons).
Malloryn will do his duty by Adele, but has warned her to expect a cold marriage bed. But when he discovers information that leads him to believe Adele is an agent of his old nemesis, Lord Balfour, he's determined to ruthlessly seduce the truth from her.
Let's just say, Malloryn's about to get his comeuppance when he goes head-to-head with the one woman who is just as devious as he is.
What question do you wish someone would ask about you or your book, but nobody has? (then answer it 😉 )
BM: Who would play Charlie and Lark in a movie of To Catch A Rogue?
Definitely Sam Claflin for Charlie, and I could see Marie Avgeropoulos (Octavia on the 100) playing Lark. She's got the right mix of tomboyish kick-ass with hints of vulnerability. Hint, hint, Hollywood (:
The Cafe thanks you so much Bec for taking the time to answer some questions for us!  Best wishes  🙂 
GIVEAWAY!
a Rafflecopter giveaway