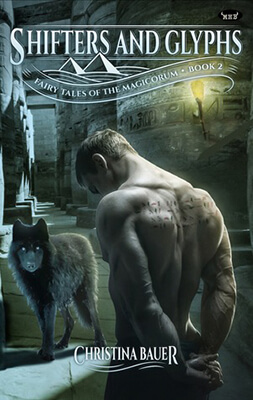 Shifters and Glyphs
Christina Bauer
(Fairy Tales of the Magicorum #2)
Published by: Monster House Books
Publication date: October 30th 2018
Genres: Paranormal, Young Adult
"A fun romp for Twilight Fans" – School Library Journal

After being raised by the meanest fairies in the history of ever, Bryar Rose is now free to live her own life. For the first time, she's attending West Lake Prep, a regular high school. Well, mostly regular. Some students are actually hidden members of the Magicorum. In other words, they're really wizards, fairies, or shifters. Bry doesn't mind, though. She's thrilled to enjoy all the new experiences of being around normal kids her age, from locker pranks to lunchtime mystery meat. Everything is going along great, except for one thing.

Bry's dreams about the pyramids of Egypt have gotten darker and more sinister. Every night, she sees her new man Knox and her best friend Elle in danger.

"Exciting and well-conceived" – Kirkus

With no other choice, Bry plans to leave school to explore the pyramids on her own. But her new man Knox discovers the scheme and is having none of it. He wants to stay by her side, no matter what. It's a good thing too, because Bry must solve the mystery of her attraction to the pyramids and soon. Otherwise, it could cost the lives of those she loves most.

And that means not only Knox, but also her best friend Elle.

"Must-read YA paranormal romance!" – USA Today

Perfect for readers who love young adult books, contemporary fantasy, fairy tales, satire/comedy, paranormal romance, fairies, magic users, shapeshifters, and coming of age stories.…
Goodreads / Amazon / Barnes & Noble / iBooks / Kobo / Google Play
Interview with Christina Bauer
As part of the launch tour for my new book, SHIFTERS AND GLYPHS, the awesome folks at Crack A Book Cafe have invited me to an interview. So without further ado, here goes!
What would you say is a typical day in the life of Christina Bauer?
CB:  Great question! I wake up and I write. Then I write some more. After that, I may take the dog for a walk before writing and writing and writing. Every so often, I post on social media. Did I mention I have a very aggressive publishing schedule? I do 🙂
Who and/or what are your biggest influences?
CB:  My biggest influence is  the Lord of the Rings by JRR Tolkien. I first read this book as a teenager, back when there wasn't much fantasy stuff out there. The character of Galadriel was a revelation! I wanted a whole book based on her badassery, and I think I've spent the years since then trying to write it.
Where do you do your best writing from?
CB:  I have written most of my books from my local Starbucks. In fact, when the place was remodelled, the staff let me keep the table I wrote from.
Why did you choose to write in your genre?
CB:  It all goes back to that first reading of Lord of the Rings. I wanted a fantasy book with teenage kick-ass heroines who both go on an adventure and fall in love. It's so awesome that a bunch of authors are writing in this space now. Fun!
Is there anything about your style of writing or genre that you find particularly challenging?
CB:  First person is my voice of choice. It allows the reader to get deep into someone's thoughts and feelings, which is important to me. The trade off is that you can't pop to off screen moments easily like you can in third person omniscient. So it's extra work to have side stories feel organic, but it's worth it!
Can you tell us more about your upcoming release Shifters and Glyphs?
CB:  This is the second book in my Fairy Tales of the Magicorum series, which takes a modern twist on classic fairy tales. In this novel, the main character Bryar Rose must discover her true fairy tale life template or she could lose those she loves most.
What do you think readers will love most about Shifters and Glyphs?
CB:  I thought readers would most love the big battle scene at the end—I worked my tail off on that!! That said, most people seem to resonate with the many twists and surprises all along the way in Bryar Rose's story. I'll take it!
If you were to make this book into a movie who would you want to play the leads?
CB:  For the human leads, I have no idea. That said, I'd love to have Weta Digital do all the special effects. There are some crazy-ass scenes in this book and Weta did all the Lord of the Rings movies.
As far as your writing goes, what are your future plans?
CB:  Right now, I'm working on an urban fantasy series called Dimension Drift. It's set in a dystopian version of New England (where I now live). The main character is a science geek, which is a lot of fun to write. Plus, her love interest may or may not be an alien. Good times ahead!!
What question do you wish someone would ask about you or your book? (then answer it  🙂 )
CB:  In my writing, I do a lot of work mapping my stories to the heroine's journey (or at least my take on it.) Reviving the many beautiful myths specific to feminine energy is a real passion of mine that I've written about on my blog.
Thanks so much for having me stop by for a virtual interview! Hope to see you on my next tour!!
Many thanks to Christina Bauer from The Cafe for taking the time to answer some questions and sharing her new release!
GIVEAWAY!
a Rafflecopter giveaway